Conversational Commerce
Conversational Commerce: Use Cases and Examples
Discover the power of conversational commerce with real-world use cases. Learn how brands are using AI chatbots to enhance customer engagement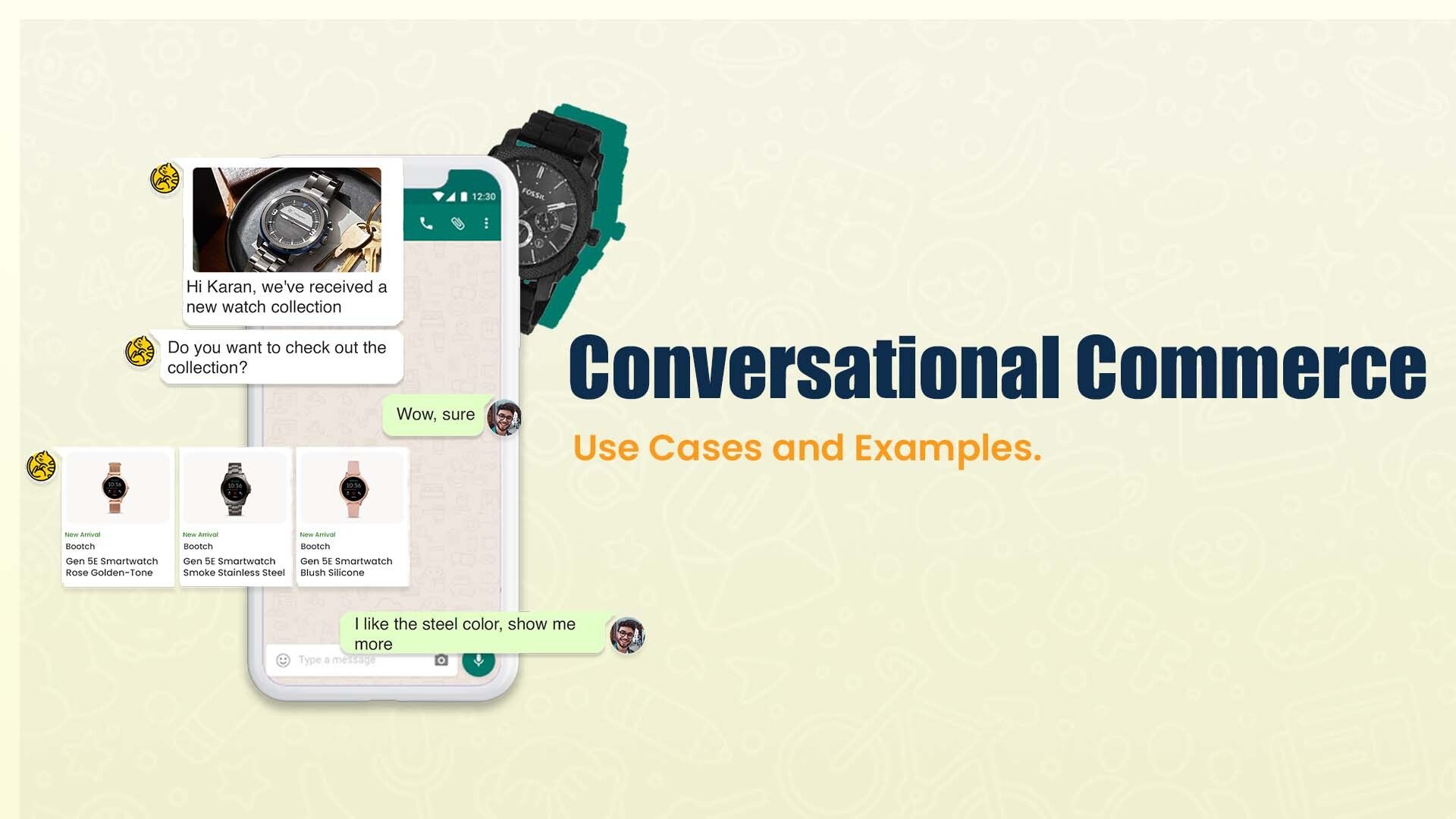 "Customer experience is the new marketing," says Steve Cannon, President and CEO of Mercedes Benz, USA.
Conversational commerce has been transforming the way customers interact with businesses. A study pointed out that 53% of respondents said that they were more likely to buy from a company and heed their advice via messaging apps such as WhatsApp or Facebook messenger. In this case, it is imperative for brands to embrace it and be ready for the future.
Conversational commerce use cases vary based on industry. However, it can be leveraged across the buyer's journey. It can help customers discover products and drive customer loyalty. Messaging, by far, has become a driving force to foster relationships and cultivate believability. A study of Speck & Elliot (1997) analyzed that Advertising messages are a potent and extremely prevalent form of communication. However, influencing consumers through advertising also requires believability. In a survey, believability was rated as having high importance in an advertisement message (Speck & Elliot, 1997). Not only must an advertisement message influence the consumer, but it must also be presented in a way, so the consumer believes its message.
The advancement of technology has allowed brands to track and understand consumer behavior and deliver messages more suited to their needs.
What is Conversational Commerce?
It can be defined as a way of purchasing products and services via chat. Customers can browse, shop and pay via chat without having to leave the messaging app. Recent research has shown that almost 55% of people feel more connected to brands that communicate via instant chat/messenger apps.
With conversational commerce, it has been possible to access potential and existing customers directly through messaging apps. Research has shown that ongoing, trusting, and personal connections that people develop with brands via conversations often lead to new interactions, more effective personalized recommendations, and higher spending. This behavior has rapidly become mainstream across the globe and this enables brands to engage with shoppers in new ways. A report found that more than 50% of enterprises will spend more per annum on bots and chatbot creation than traditional mobile app development by 2021.
How can conversational commerce be used?
Conversational commerce can be used to help shoppers chat with brands, discover products, make purchases, avail offers, receive personalized recommendations and promotional offers, and get customer support. Hence, c-commerce is all set to change the way we shop, communicate and market our brands. Reports suggest that 35% of shoppers message brands for instant responses. While 30% of users prefer messaging because of their ability to negotiate prices or offers. If you are not using conversational commerce as your ally yet, here's why you should:
✅Boost conversion
✅Building customer loyalty
✅Close potential leads
✅Getting customer feedback
How does a user start a WhatsApp Chat?
There are several ways a user can start a WhatsApp chat with your business. They are as follows:
Direct Message: A customer can directly WhatsApp your business through your Facebook Page or Website.
Website Widget: You can add a WhatsApp website widget that redirects the customer to your chat when they click on the widget.
Click to WhatsApp: You can add a click-to-WhatsApp button to your Facebook Page that redirects the customers to your business account. You can also run click-to-WhatsApp ads to get customers to start conversing on your WhatsApp channel.
CRM Notifications: Email and SMS notifications can be sent to customers with WhatsApp chat links to help the user start a conversation with your brand.
Offline OR Codes: Customers can scan your business account QR code to start a conversation with your brand.
What are some Conversational Commerce Use Cases?
Here are some of the ways in which conversational commerce is used:
#1. Product discovery
It can be frustrating for a customer to research and choose products from the endless products on an eCommerce site. With conversational commerce, you can reduce the customer's effort they need to put into purchasing. For instance, a customer messages your brand after landing on a dress ad. With the help of the NLP-powered chatbot, it is possible to interact with the customer with the right kind of questions. These may include the dress types, sizes, and cloth material that they are looking for. After narrowing down the choices, the customer receives products based on what they are looking for. This, in turn, saves the customer time and effort and helps them to discover the product they wish to purchase.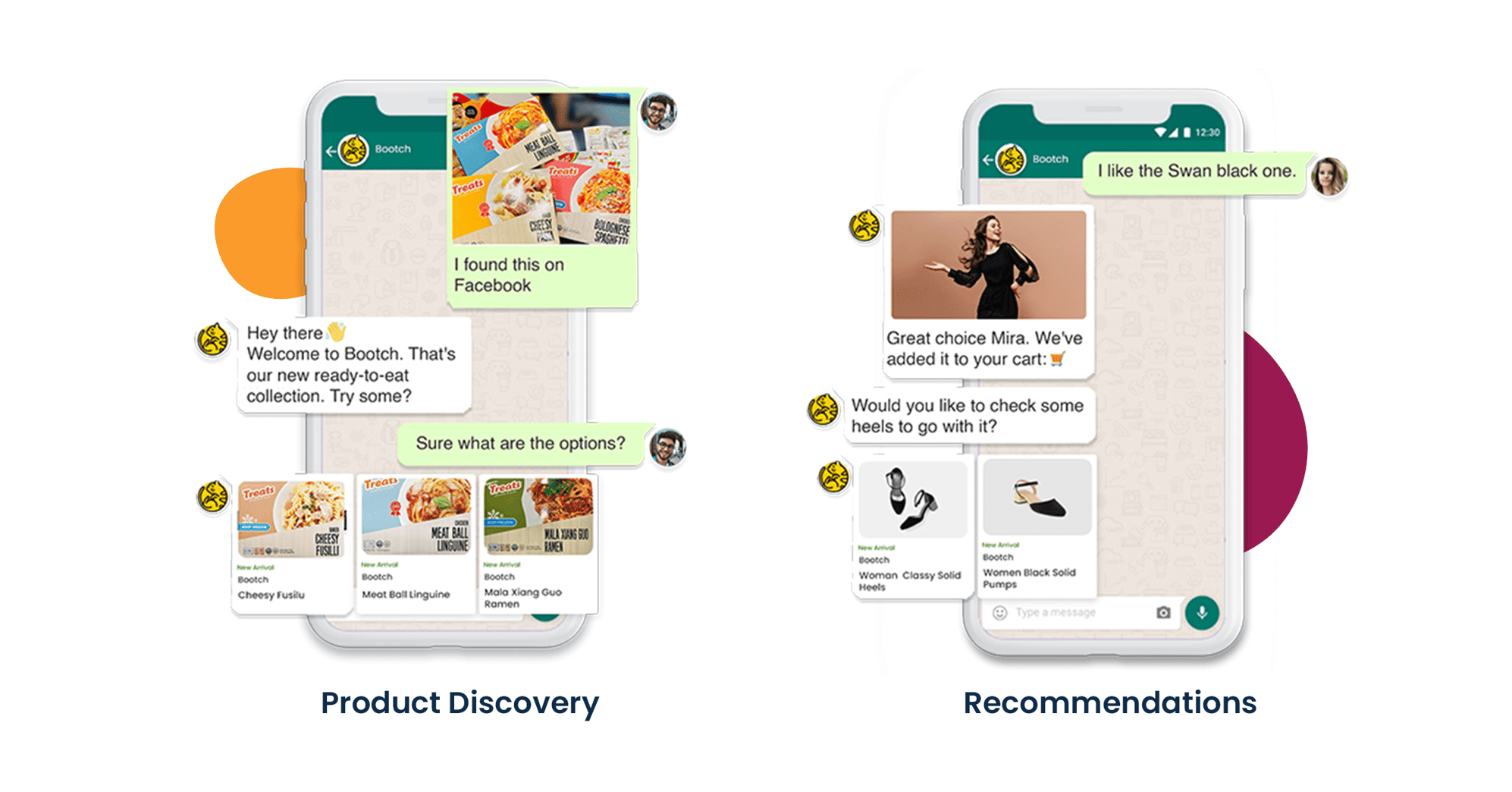 #2. Product Recommendations
An excellent c-commerce use case is offering product recommendations on messaging apps. Businesses have started to recognize the importance of automating conversations and using c-commerce to their advantage. Using recommendations through chat is an excellent way to increase your AOV and drive sales. For instance, a customer wants to purchase a gift for Valentine's day. After interacting with the customer, the bot recognizes what the customer is looking for. Let's say it's an Instax. After selecting the model the bot can also recommend a photo album to gift to their valentine in addition to the Instax, thus increasing AOV.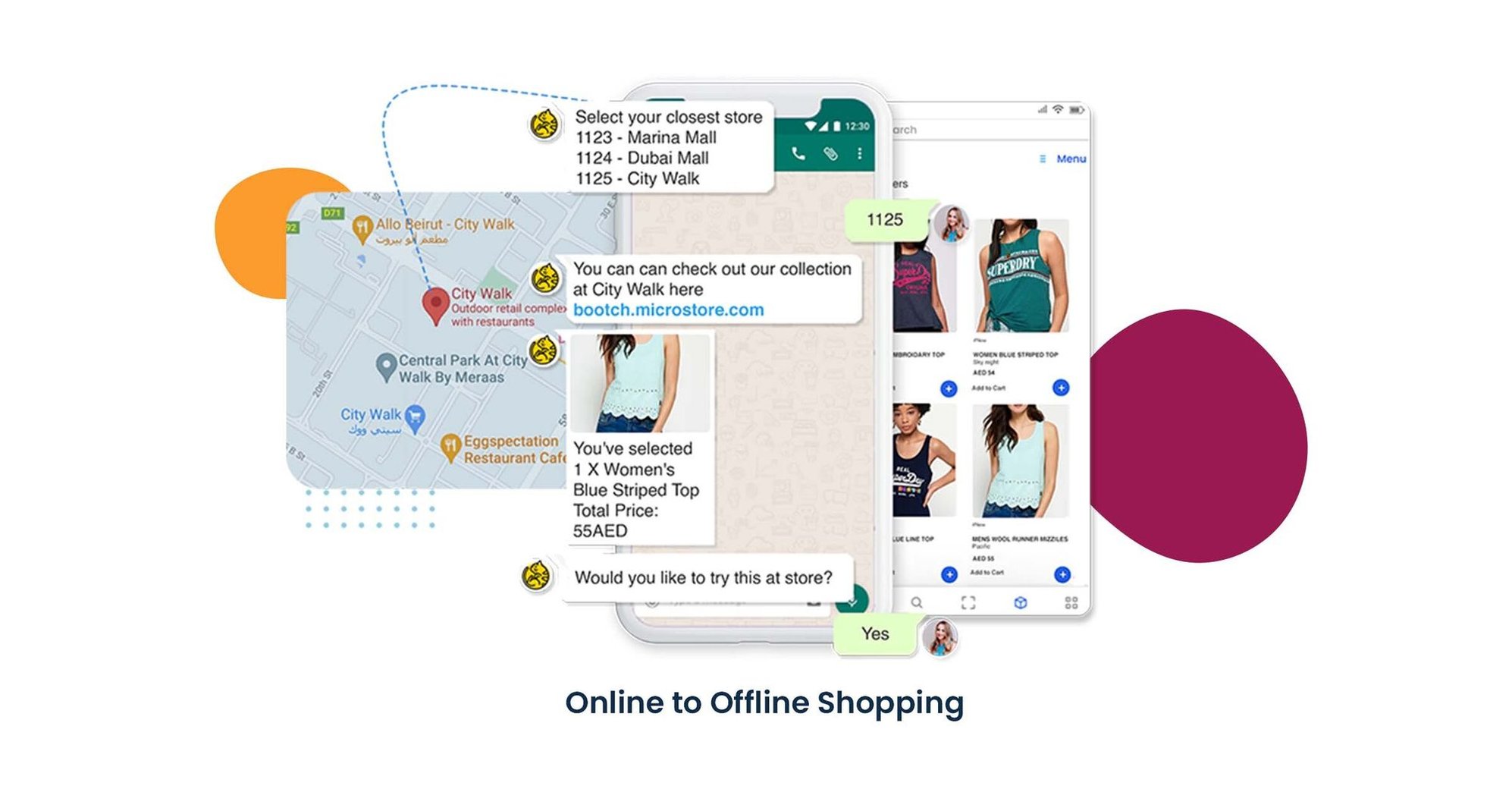 #3. Online to Offline Shopping
A 2021 report shows that almost 44% of B2C buyers say they always or often research a product online before going to a physical store. With conversational commerce, you can interact with your customers and ask for their location. Once you receive it, you can show products from the closest store. For a richer experience, the shopper can also get redirected to Vizury Micro store, which customizes itself automatically according to the shopper's needs and only shows products that the shopper is looking for.
#4. Transaction
You can send transaction updates once an order is processed with an attachment receipt via messaging apps like WhatsApp, Facebook Messenger, Instagram DM, or Telegram. It can also trigger instant responses to general FAQs. This can help your customer service executives to focus on resolving more complex and urgent issues.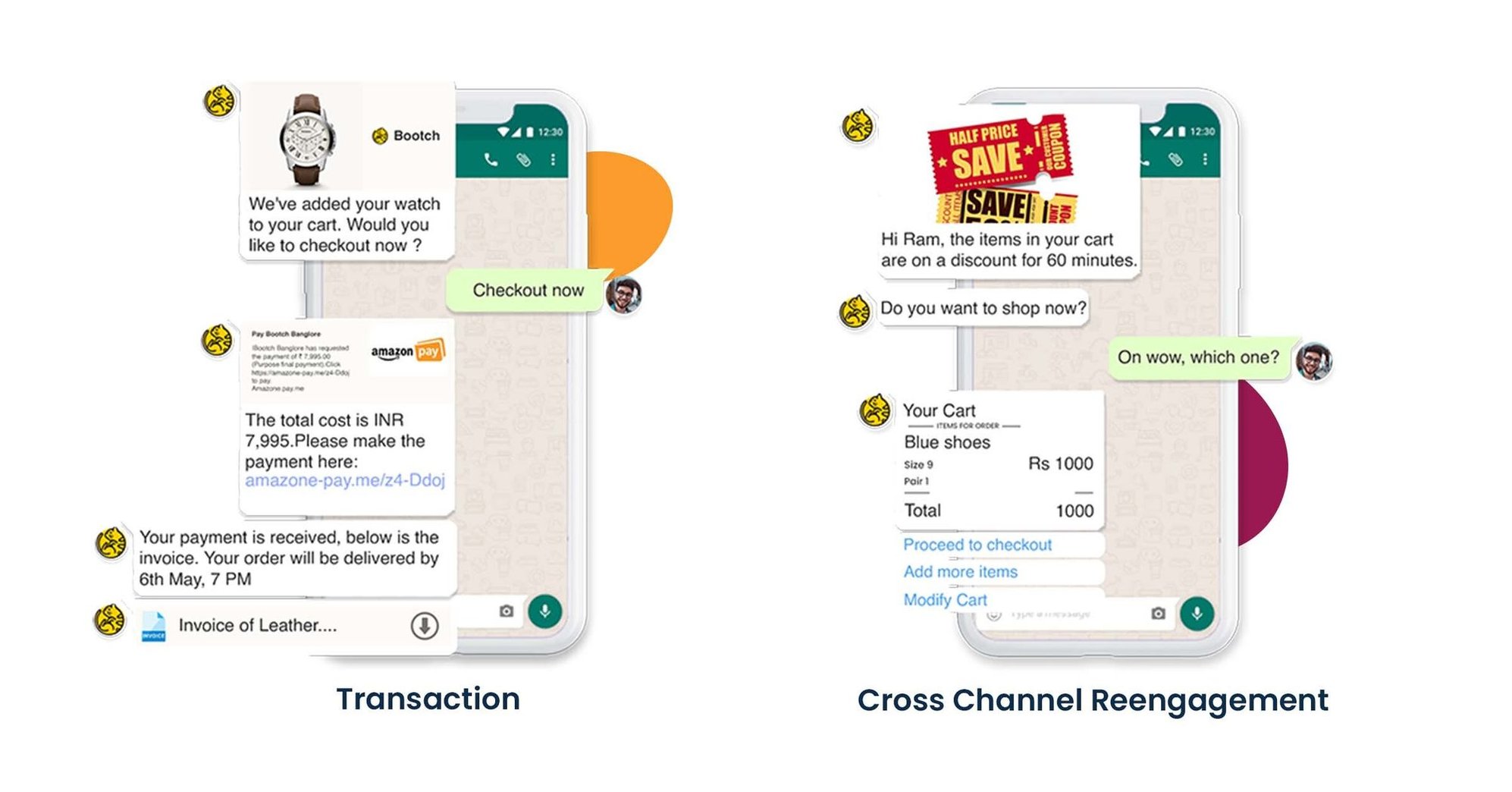 #5. Cross channel reengagement
"Cross channel marketing is about building meaningful experiences and using fine grain personalization to deliver the right message, at the right time, across the right channel and to the right individual," says Stephanie Maziol, senior product marketing manager, Adobe.
A report found that an average person receives 60 push notifications each day. Hence it is essential that a brand doesn't send the same message across all marketing channels. Cross-channel re-engagement allows you to ensure that you are using an ideal mix of channels to reach your customers. Retargeting campaigns are an effective way to reach your customers and use all channels to their fullest potential. You can send cart abandonment alerts reminding the customer about the items left in the cart and also incentivizing them to complete the purchase.
#6. Delivery and support
C-commerce is also a reliable ally when it comes to delivery and support. More than 50% of customers expect business to be open 24/7. With NLP-powered chatbots on messaging apps, they can actually create a real connection with customers and provide support 24/7. This helps brands to keep their customer satisfaction rates in check.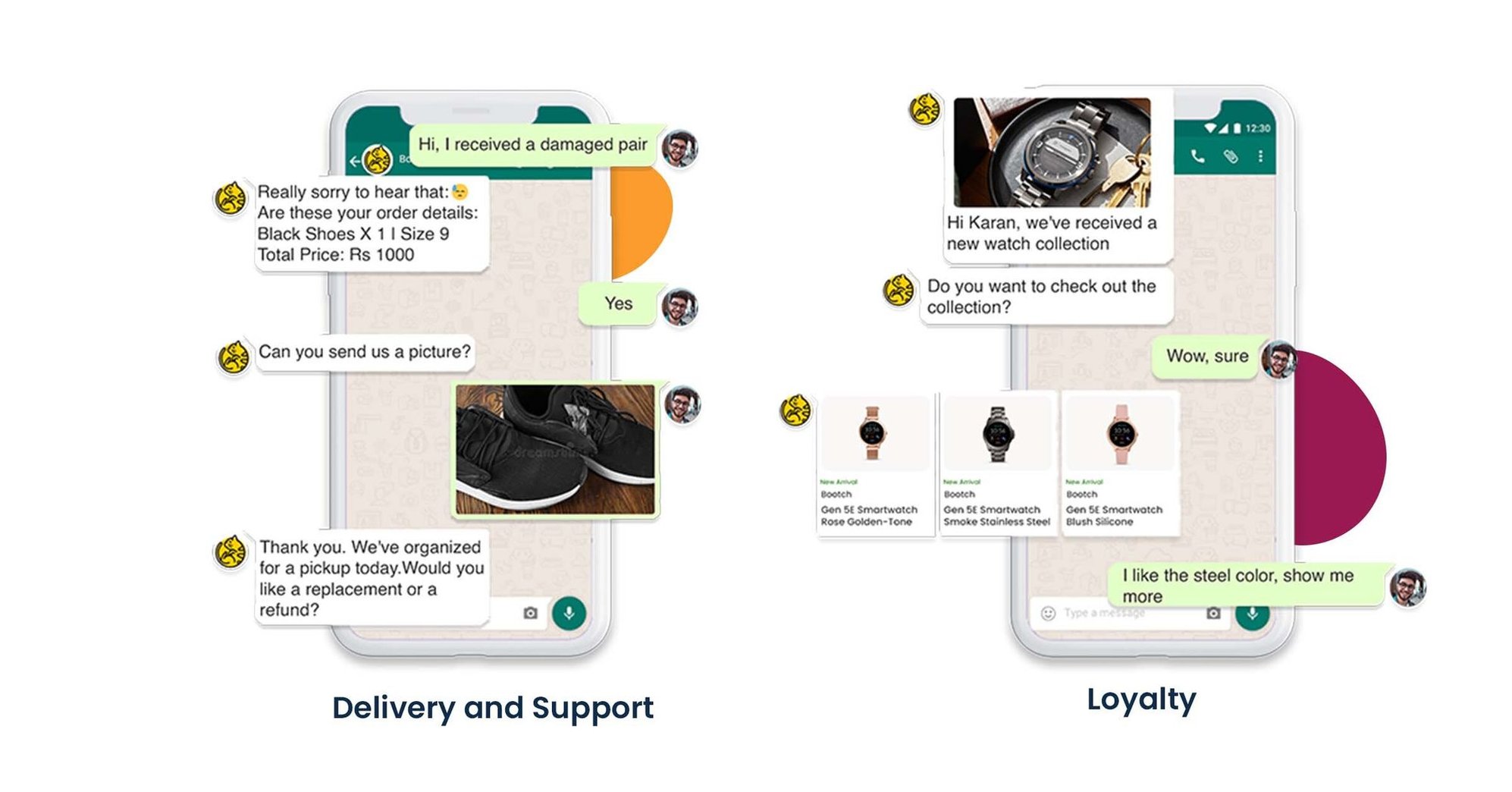 #7. Loyalty
Every customer is looking for something at every step of the purchasing journey. If you can help them get what they want in the short term such as information, updates, and offers you can get what you want in the long term i.e loyal sales. Offering customers to join your brand's loyalty program is an excellent way to maintain customer retention. You can offer customers the rewards they want such as cash backs and exclusive discount coupons upon signing up with your brand's customer loyalty program.
#8. Appointment bookings
AI has made it easier for brands to keep customers updated and modify changes if need be. It can help customers book and reschedule appointments, receive booking confirmations and more. For travel brands, customers can also browse travel plans or create customized travel plans on the go by interacting with an AI chatbot. Customers can find the best deals and plan their best vacations all in one place.
How does a WhatsApp Commerce Journey work?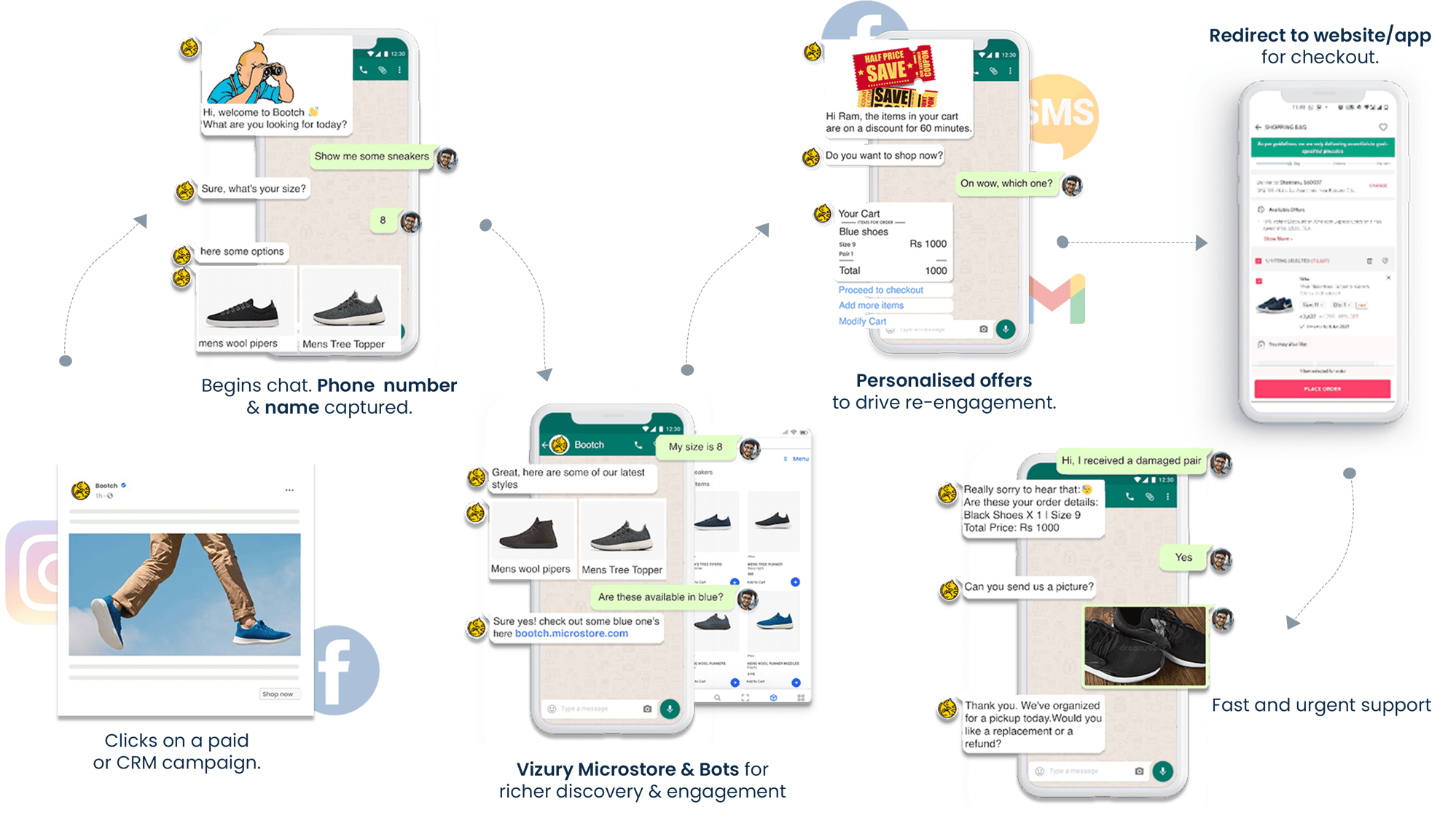 Here's how a shopper experiences a WhatsApp commerce journey:
Step 1: Customer lands on a paid or CRM campaign and clicks on the CTA
Step 2: Begins to chat with the pre-typed message prompt. Once the customer hits send, the phone number and name are captured.
Step 3: The NLP-powered bot interacts with the customer to determine their concern. It may be looking for a specific product, queries, or support.
Step 4: In case the customer drops the conversation, the channel can be used to send personalized offers for re-engagement
Step 5: Upon availing the discount coupons/offers, redirect the customer to your website/app to checkout and complete the order
Step 6: Offer customer support in case of queries or concerns
What are Some Examples of Brands using Conversational Commerce to drive Sales?
Did you know that 46% of your shoppers drop off because of unanswered FAQs? It's really simple. When a customer has a question and has to go through your FAQ page to land on what they are looking for, they are bound to drop off. No one likes to spend too much time looking for an answer when there are plenty of other options available in the market.
The average conversion rate for physical stores is between 20% to 30% which drops drastically to 10% when compared to shopping online. This is due to the fact that physical stores offer a visual and tangible experience. Hence, it is essential for eCommerce brands to be able to provide a more personalized real-time customer experience. This is where c-commerce comes into play.
Here are the brands that have posed excellent conversational commerce examples:
1. Sephora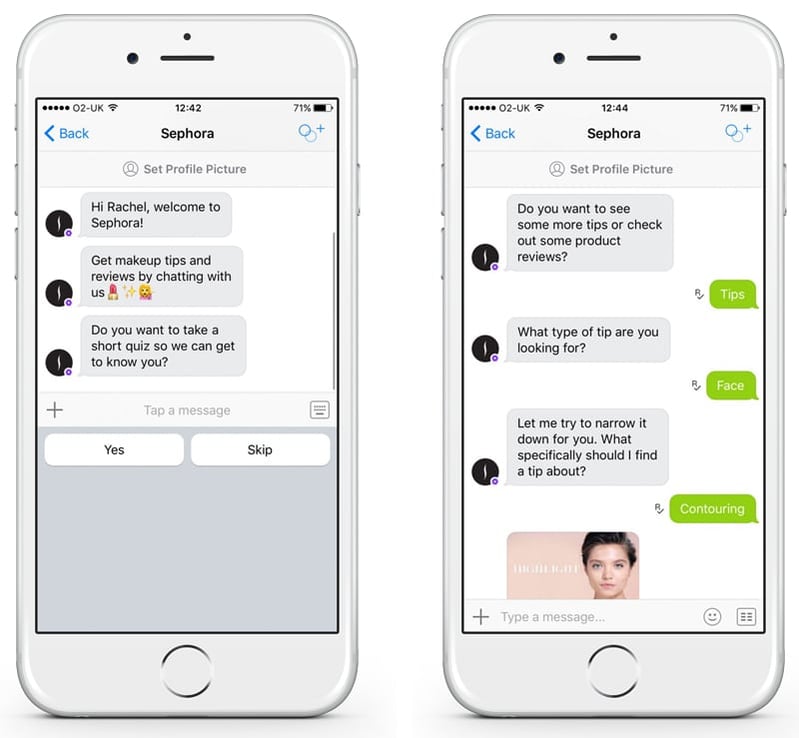 Sephora, a beauty retailer launched Makeup bot on Kik to send personalized product suggestions to their customers in order to generate leads and drive sales. They set up quizzes to better understand their customer preferences. Once the customer completes the quiz, they are able to send relevant how to videos, product reviews, application guidelines to incentivize the customer to make a purchase. In addition to these content suggestions, they also send product suggestions that one can click and shop directly on the app. This ultimately allowed them to market their content, products and drive sales.
2. H&M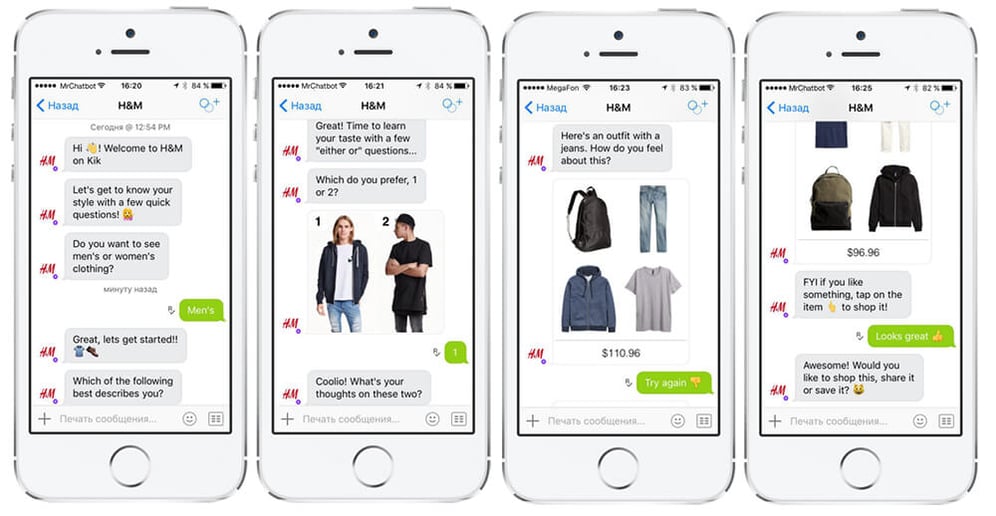 H&M used Kik to turn personalized suggestions into sales. Kik is a messaging platform that has over 300 million users. The chatbot was used to ask a series of questions to determine their tastes and preferences and send product recommendations. Acting as a personal stylist, H&M was able to drive sales via Kik. The Kik bot also saves the customer time and effort to scroll through thousands of pages to find what they are looking for.
3. Starbucks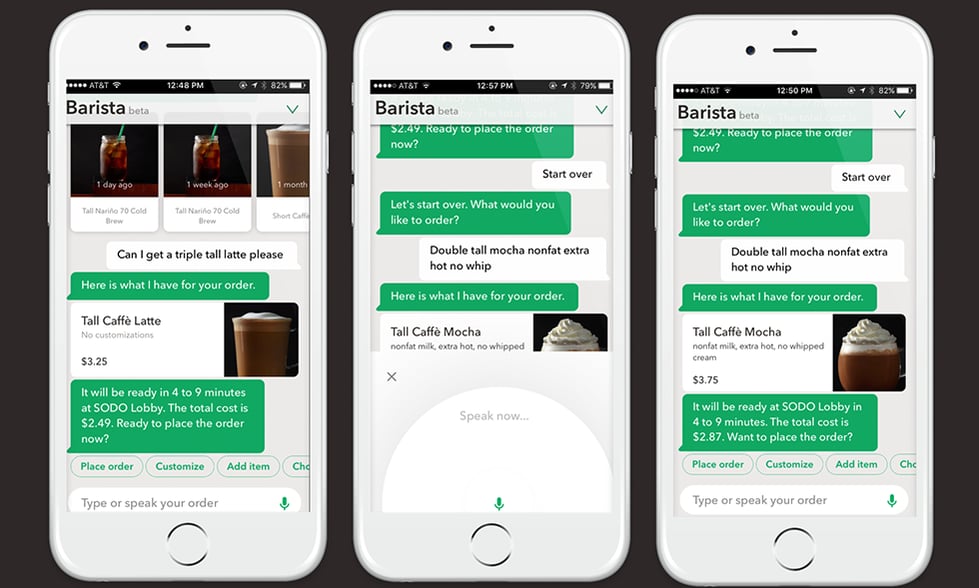 Starbucks used conversational commerce to its advantage by streamlining its morning coffee routine. No one likes to stand in queue for a long period of time. Starbucks understood this and introduced their smart barista bot where customers can order coffee and pay instantly. Once the beverage is ready for pick up, the bot sends an alert notification to the customer. This ensures immediate service and hassle-free payment without having to stand in line.
4. Patron Tequila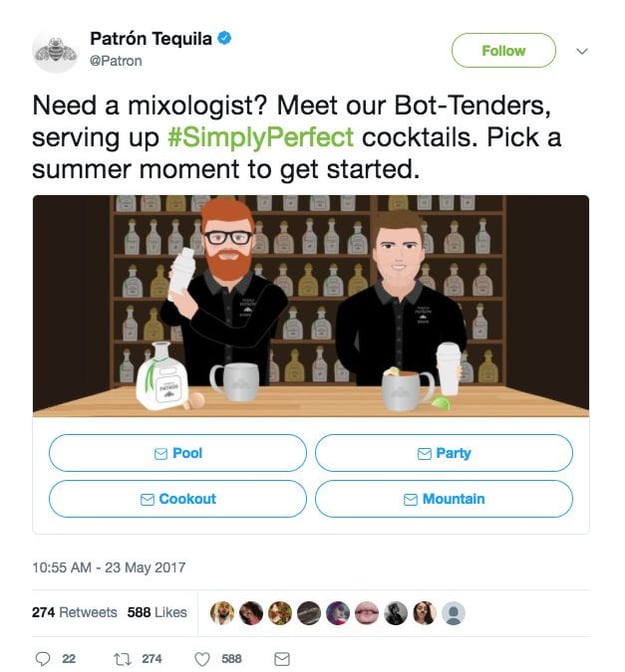 Patron Tequila used conversational commerce to its aid by offering personalized drink suggestions. They introduced the bot tender to inspire people to be creative with the brand. Users had to click on the button that matched their vibe on the Twitter post to access delicious cocktail recipes. They were then directed to the Twitter chatbot that sent them cocktail suggestions based on the answers given by the users.
The future of eCommerce and retail brands
"You can no longer segment yourself to service practices that only you are comfortable with," says Amir Zonozi, Chief Strategy Officer, Zoomph. When a customer reaches out to your brand via messaging apps for product recommendations or a general query, it has to be solved through that channel itself, as pointed out by Amir.
Hence, conversational commerce is an excellent way to use it to your advantage to market and sell your products and build long-lasting relationships with your customers. Customers value convenience and saving time. So, improving your customer's purchasing journey by offering the right kind of assistance is where your marketing investments will pay off.
Ready to get started with conversational commerce? Book your demo with Vizury today.