Customer Retention
Customer Retention Marketing
Learn everything you need to know about customer retention marketing. Build strong relationships that help you improve your retention rates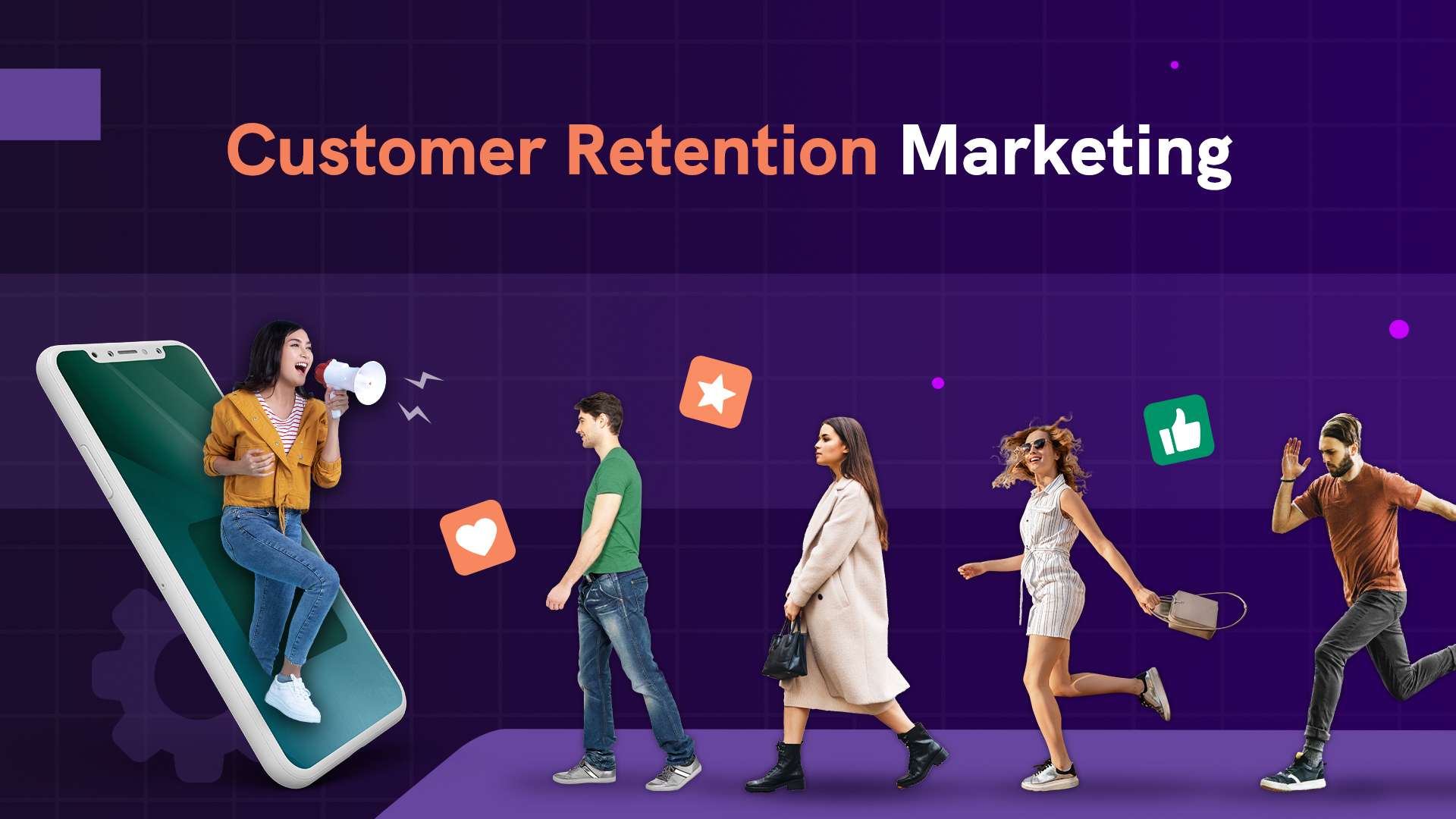 In any business, retention is one of the most important goals. After all, it costs far more to acquire a new customer than it does to keep an existing one.

An effective customer retention marketing strategy involves offering excellent customer service, providing high-quality products or services, and offering incentives or rewards for continued loyalty.

These continuous efforts can help build stronger relationships and increase the likelihood of repeat business. In this article, we will learn everything we need to know about customer retention marketing.
What is Customer Retention in Marketing?
Customer retention can be defined as a brand's ability to incentivize repeat purchases using different marketing activities over a specified period of time. However, it takes numerous efforts to get your customers to keep coming back to your store. It requires providing value with every interaction that leads to building relationships with customers.

The first step is keeping an eye on the trends, monitoring reviews and finding out what they want from your company and your product. To retain customers, you need to offer them some kind of reward - free shipping or discounts might be something you can offer them if they stick around for another year or two, or you can create loyalty programs where they receive points with each purchase that can eventually lead to a discount on their next order.
By focusing on retention, businesses can build stronger relationships with their customers and increase the likelihood that they will continue doing business with them in the future.
How to Implement a Customer Retention Marketing Strategy?
In order to retain customers, companies must offer products and services that meet the customer's needs. A customer retention marketing strategy should be implemented by following these steps:
#1. Determine the needs of the customer
Customer needs can be defined as the factors that influence customers to buy products and services. Customer-centric companies are 60% more profitable than companies that aren't. And 76% of customers expect companies to understand their needs. To create value for your customers, it is crucial to understand customer needs and align products based on them. You can understand customers by gathering information through regular communication and creating unique customer profiles with marketing automation tools. In addition to opting for a data-driven approach, you can also collect first-party data to understand your customer's needs such as customer interviews or surveys.
#2. Offer helpful content that helps customers solve their problems
To ensure that your customers understand the know-how of your products, it is essential to empower them with helpful self-help resources. For instance, if you are a skincare brand you can send videos on how to use your best-selling products. You can also send a step-by-step guide on how to follow the perfect skincare routine with some of the recommended products from your store.
#3. Create a personalized experience
Personalization is more than just addressing customers with their names. 71% of customers feel frustrated when their experience is impersonal. It's about tailoring a unique experience based on different factors such as demographics, preferences, purchase history etc.
For instance, you can send personalized birthday offers wherein the customer gets a 40% discount on a minimum purchase of X. You can also send personalized offers based on purchase history or browsing history. Sending personalized offers will not only make your customers feel special but also motivate them to keep doing business with you. Your customer retention marketing strategy must take into account the following:
✅Gaining insights into prospective and existing customers
✅Using data to enhance experiences
✅Strategizing personalized follow-ups
When customers have a positive experience with a business, they are more likely to recommend it to others and give positive reviews online. This can help attract new customers and improve a business's overall marketing efforts.
#4. Build trust with timely feedback and product guarantees
It is of utmost importance for brands to create consistent experiences that build strong relationships. Hence, it is important to stay connected with customers even after their first or second purchase. For instance, if a customer purchased a product from your store, you can initiate automated feedback forms for them to leave a review.
#5. Provide incentives for continued loyalty
Brands that prioritize customer experience are the ones that ace the competition. Customer experience is one of the most influential factors for customer loyalty and retention. The best retention marketing approach to ensure continued loyalty depends on the customers' specific needs and goals of your business. You could offer special discounts, free products or services, or other rewards to customers loyal to your business for a certain period. This can help to show your appreciation and encourage them to continue doing business with you.
You can also consider creating a loyalty program that allows customers to earn points or rewards for their purchases, which can then be redeemed for discounts or other perks. This can provide an added incentive for customers to continue shopping with you.
Conclusion
The most valuable asset that a company has is its customer base. The more customers you retain, the more revenue you generate. Achieving a 100% customer retention rate is difficult because of the various factors that could cause customers to leave such as competitors and technology changes.
But if you are looking to get your customer retention marketing right, it is essential to strategize every interaction your customer has with your brand. Book a demo with Vizury today to know how you can do it for your brand!