WhatsApp Marketing
Benefits of WhatsApp for your Business
WhatsApp is swift and easy for one-on-one communication with customers. Check out our list of 8 benefits of using WhatsApp for your business.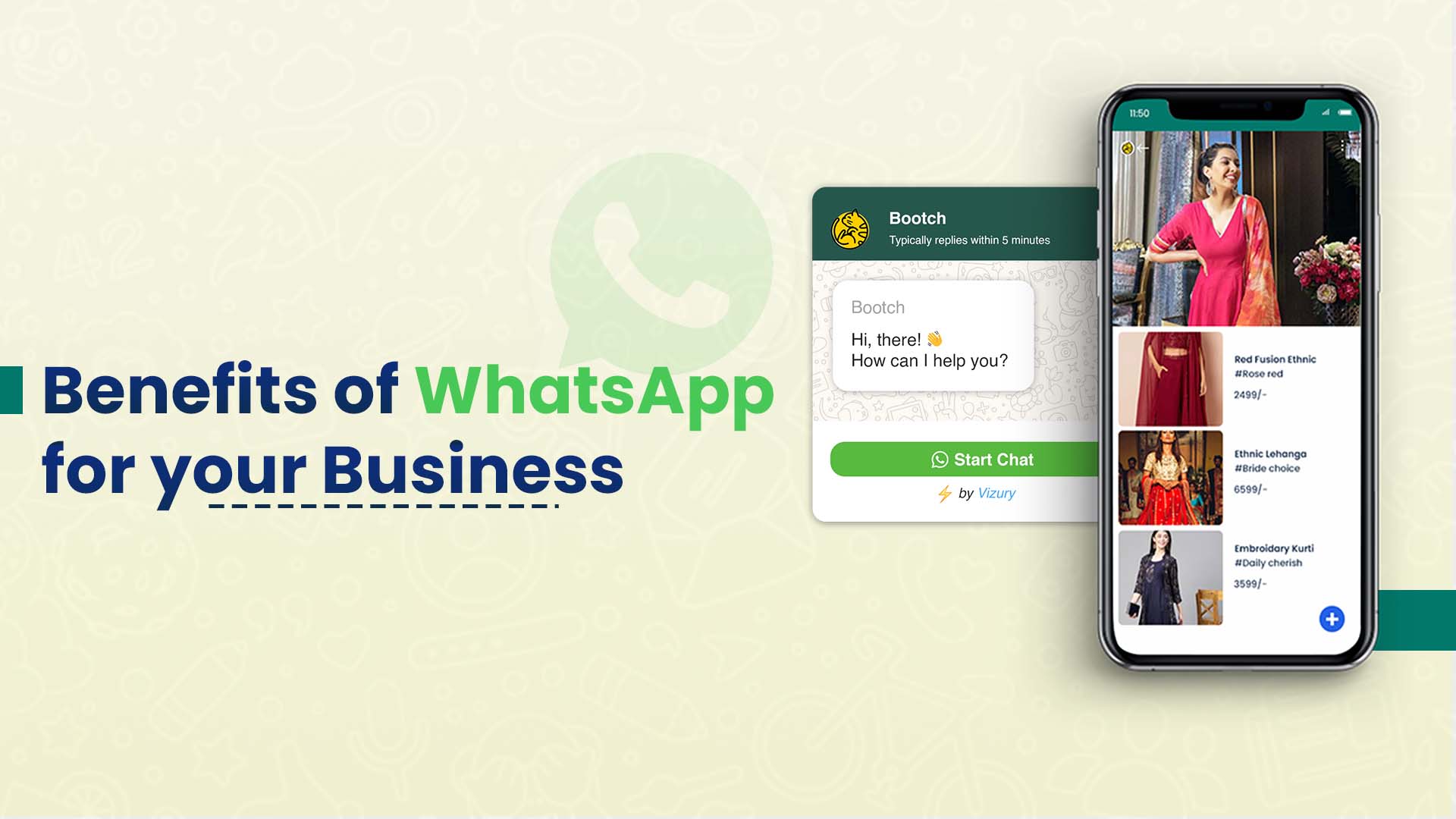 Back in 2014, when Facebook acquired WhatsApp for $19 billion, many people had apprehensions about WhatsApp adding any value to Facebook's already impressive portfolio of messaging and social media apps.
Fast forward to today, WhatsApp has billions of users worldwide. Realizing its massive potential, Facebook launched WhatsApp Business in 2018. Now brands can utilize this channel to respond to customer queries and promote their products through quick one-on-one communication.
Today, over 5 million companies use WhatsApp to connect with their customers directly. Most of them are small and micro-businesses. However, there are 32.5 million small businesses across the planet. Clearly, only a small percentage of them are leveraging the phenomenal benefits offered by WhatsApp.
This article, therefore, aims to bridge that gap. It will introduce you to the top 8 reasons why your brand must be on WhatsApp in 2022 and beyond.
Benefits of WhatsApp
From engaging with customers to processing transactions, the advantages of WhatsApp are limitless. Some of them are:
#1. Swift Communication
One of the most prominent WhatsApp benefits is swift and easy one-on-one communication with customers and leads. When you start to learn about WhatsApp, you will find that the opportunities of growing your brand is limitless. It has rolled out several business-centric features, such as:
Messaging analytics: WhatsApp Business gives you access to basic analytics reports that include information like the number of messages sent, received, delivered, and read. Therefore, you can measure key campaign metrics in real-time by including WhatsApp in your marketing and customer service strategy.
Automated responses: WhatsApp lets users create, save, and reuse standard answers to common customer queries. These responses can be automated, so you don't have to type every message from scratch for frequently asked questions. For example, you can save the address of your brick-and-mortar store as 'address.' Whenever a prospect inquires about your business's address, you can type in "/address" to generate the automated message.
Advanced end-user control: You get end-user control over conversations, including generating results, initiating conversations, and sharing details.
#2. Mobile-First Marketing
There are 7 billion mobile users worldwide, and according to Backlinko, WhatsApp has over 2 billion users. Research suggests that about 73% of them are on Android, while 22% are on iOS.
What do these statistics tell you? That an overwhelming majority of people are accessing WhatsApp through their smartphones. This makes it extremely easy for brands to stay connected with their customers.
Moreover, these people are also purchasing products online through their smartphones. Therefore, you must prioritize mobile-first marketing. Also known as mobile-centric marketing, this strategy focuses on the mobile touchpoints of your brand.
It's all about creating contextually-relevant, real-time, and personalized customer experiences across mobile devices. Although WhatsApp may have certain pros and cons, it happens to be one of the most significant mobile touchpoints for any brand.
#3. Speedy Customer Service
Customer service through back-and-forth emails has always been cumbersome. It's messy and time-consuming. And despite your best efforts, customers may still miss the email. It's natural to feel frustrated in such situations.
When it comes to customer service, WhatsApp has proved to be a boon for brands. It allows customers to get quick resolutions to their problems in real-time. Using WhatsApp, you can also easily collect their feedback and use it to streamline your customer service further.
Speedy customer service via WhatsApp offers many benefits, such as reduced customer churn rate and increased market visibility, brand loyalty, and trust.
#4. Excellent User Engagement
Did you know that WhatsApp Business enjoys a 70% engagement rate?
There's a high chance that your WhatsApp message will be received, opened, and read within a few seconds. Moreover, your customers can have two-way communication with you just like they would in a brick-and-mortar store.
Hence, if you're struggling with a poor response rate on email or other messaging apps, you must give WhatsApp a try.
#5. Assured Security
WhatsApp stays abreast of all compliance guidelines and constantly evolving security regulations across different countries. The real-time messaging app adheres to local laws to prevent severe penalties.
This means that if your brand is using WhatsApp, you are at no risk of violating local and international laws. Additionally, the chat platform uses end-to-end data encryption technology to protect users' privacy. Customers, too, feel comfortable interacting with a brand on a globally accepted, familiar, and secure platform like WhatsApp.
It's a major WhatsApp benefit that no brand can afford to miss.
#6. Permission-Based Messaging
How many emails have you marked spam or deleted because you never subscribed to them? Hundreds of thousands, we suppose. That's what usually happens when people are marketed to without their consent.
There's a reason why WhatsApp Business has such a high engagement rate. Unless the user has chosen to receive your messages, you cannot contact them via WhatsApp.
This means that when they share their WhatsApp number to receive messages from your brand, they have shown interest in your product or service and have given their consent to market to them.
This is known as permission-based marketing, one of the most incredible WhatsApp benefits. Consequently, you will create a highly-segmented audience base that will most likely be your repeat buyers.
#7. Product Catalog
The user interface of WhatsApp has grown to become more visual in recent years. You can create a catalog of your products or services using WhatsApp Business to show your customers. This catalog would be visible on the brand's business profile and you can include a product code, description, price, title, and website link for each product.
Thus, customers don't have to completely rely on messaging to get product information. They can just view the catalog, visit your website, and complete the purchase.
As per the latest findings, over 40 million WhatsApp users view brand catalogs every month. That's how powerful the feature is!
#8. Diverse Features
Even though it's primarily a messaging app, WhatsApp offers a ton of other features, including:
Calling: You can connect with customers via video calls or voice calls. WhatsApp is especially beneficial for international calling since it does not cost anything other than internet charges. For example, if you are a B2B brand, you can utilize video calls to give free product demos.
Status: Brands can also create short videos explaining how to use a particular product and upload it to their status. Another way of leveraging this feature is to upload product images, discounts, real-time updates, etc.
Sharing information: WhatsApp lets you share audio files, PDFs, videos, GIFs, etc., with your contacts. Use these features to engage with your customers. For example, you can share a case study as a PDF or send a voice note to troubleshoot a problem. Moreover, if they are keen on finding your brand's physical location, you can easily share it via WhatsApp.
Broadcast messages: WhatsApp allows you to send a message to multiple recipients simultaneously using the broadcast message feature. This is ideal for sharing announcements or general updates concerning your products or brand.
Groups: You can also create an online community on WhatsApp. Using WhatsApp groups, you can connect the most valued customers together and share early deals, product previews, and loyalty discounts with them.
Final Note
If you're not leveraging the benefits explained above, you're missing out on turning billions of WhatsApp users into your customers.
In the coming years, WhatsApp's user database is only expected to increase, which means it will become more crucial to establish your brand presence on the popular messaging app.
Don't forget, WhatsApp is also a part of Meta, which owns many other apps like Instagram and Messenger. Therefore, if your brand is already present on the other Meta platforms, it makes sense to utilize and make the best out of WhatsApp too.
Speedy communication, streamlined customer service, high security, product catalog, permission-based messaging, etc., are only some of the reasons why your brand must connect with customers on WhatsApp.
So what are you waiting for? Ready to power your brand with WhatsApp commerce? Book your demo today!