WhatsApp Marketing
5 Ways to Boost Customer Experience with WhatsApp
WhatsApp has transformed the way brands communicate with customers. Learn how to boost customer experience with WhatsApp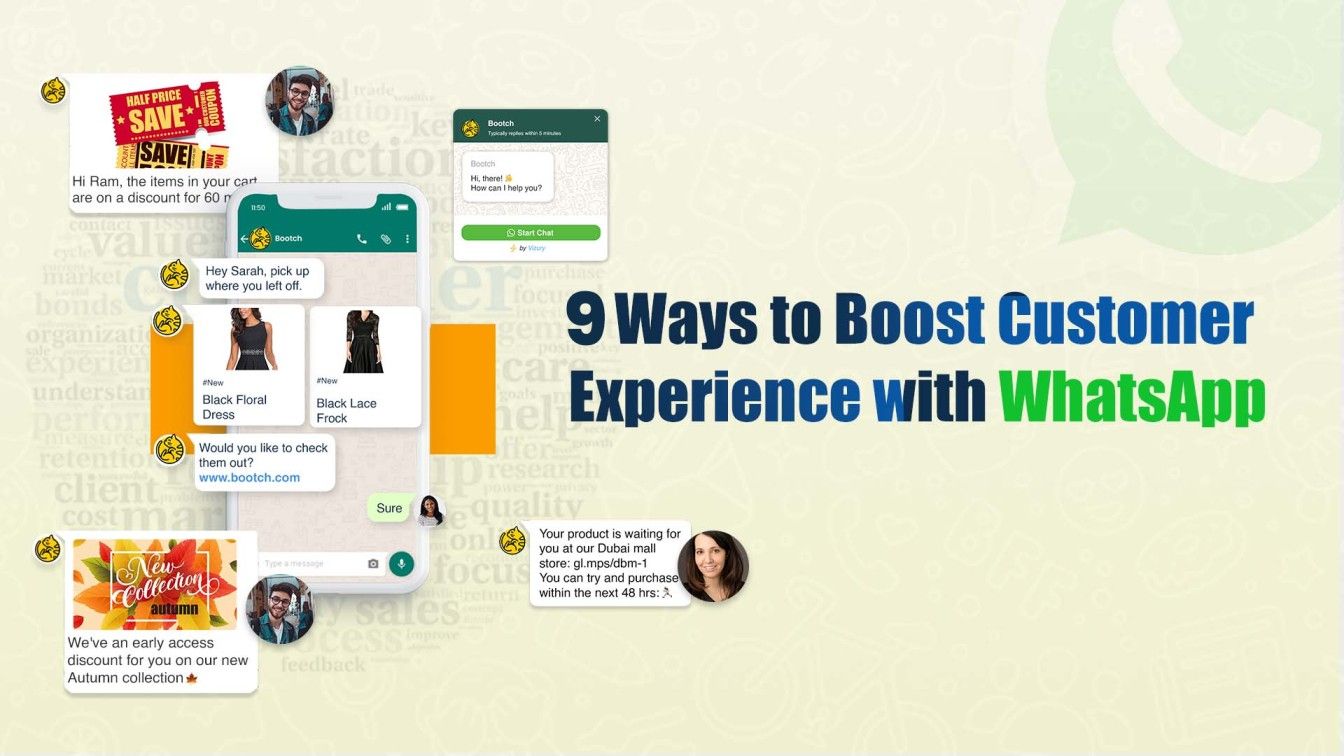 Remember the last time you shopped with your favorite brand? How did it feel? Was it easy for you to browse products? Was your shopping experience a little bit easier for the wide range of delivery options they offer?
Is your favorite brand's loyalty program top-notch? Do they treat you like family every time you shop at their store?
Every interaction between a customer and a brand poses an opportunity to deliver exceptional experiences. Exceptional experiences breed happy customers.
And a happy customer is more likely to be a loyal customer. Hence, a positive customer experience is crucial to sustaining a business. With 89% of businesses competing primarily on customer experience, brands are looking for new ways to stand out from the crowd.
WhatsApp has by far become the most powerful channel of communication because it is an app customers are accustomed to and comfortable with. Although modern consumers are already using WhatsApp to communicate with their favorite brands, only 7% of professional marketers are using WhatsApp to promote businesses.
Index
How can Customers Reach you on WhatsApp?
In an era of accelerated digital transformation, successful businesses know how to create stand-out customer experiences. Now, you can scale your marketing efforts without spending thousands of dollars with WhatsApp. If you are new to WhatsApp marketing, it is essential to know customers can reach you on WhatsApp. Here are a few ways to power your WhatsApp marketing efforts:
✅Website widgets
✅Click to WhatsApp Ads
✅Email & SMS blast
✅Contact forms
✅Social media
✅Click to chat links
✅QR codes
✅Live chat
Note: To safeguard users from spam, WhatsApp requires brands to collect WhatsApp opt ins from customers. Customers must expect to receive such updates. In addition, specific instructions must also be provided for users to opt out, if need be.
Why Use WhatsApp to Craft Better Customer Experiences?
A recent study states that nearly 80% of American consumers say convenience, speed, human touch, and knowledgeable help are critical elements of a positive customer experience. The end-to-end encryption of WhatsApp offers businesses a private, secure, and fast way to redefine communication with customers. Whether you want to send regular order updates or enhance the customer journey, the messenger offers businesses multiple features to boost their sales funnel.

Here are some features of WhatsApp that you can leverage for your business:
✅Supports more than 60 languages

WhatsApp is available to a worldwide audience in 40 languages on iPhone and up to 60 on Android. It creates a digitally inclusive environment where brands can connect with their target audience from anywhere in the world and eliminate the language barrier.

✅Showcase your catalogs

A WhatsApp catalog is a professional and convenient way for businesses to showcase their inventory to their customers and enhance the shopping experience.

✅WhatsApp API availability

You can now integrate WhatsApp Business API to your CRM software like Salesforce to get all the data about your customers in one place. You can analyze your WhatsApp marketing strategy and use innovative methods to reach your target audiences using this data.

✅Make things quicker with chatbot messages

Nearly 46% of customers expect businesses to respond to their queries in less than four hours, so you need to find the fastest route to connect with them. Thankfully, you can now add quick replies and automate them for your customers through WhatsApp to make them aware that you will be back and tend to their queries.

✅Use rich media integration to interact with customers

From text messages to GIFs, images, videos, and other documents, you can send media-rich attachments to your customers to help them learn more about your products and services.
How to Engage Customers on WhatsApp?
From choosing the tone of the message, using appropriate emojis to deciding the message length, you should pay attention to the details when it comes to campaigns that help in conversion. There are several ways you can use to engage with customers on WhatsApp. They are as follows:
#1. Promotional Alerts
Modern customers prefer convenience. Customers no longer need to look for emails in search of discount coupons. WhatsApp allows you to collect user information to send targeted promotional alerts that incentivize conversion.
Let's take an example. This brand sent a monthly offer to the customer based on their purchase history and even offered a discount code to incentivize them to complete a purchase.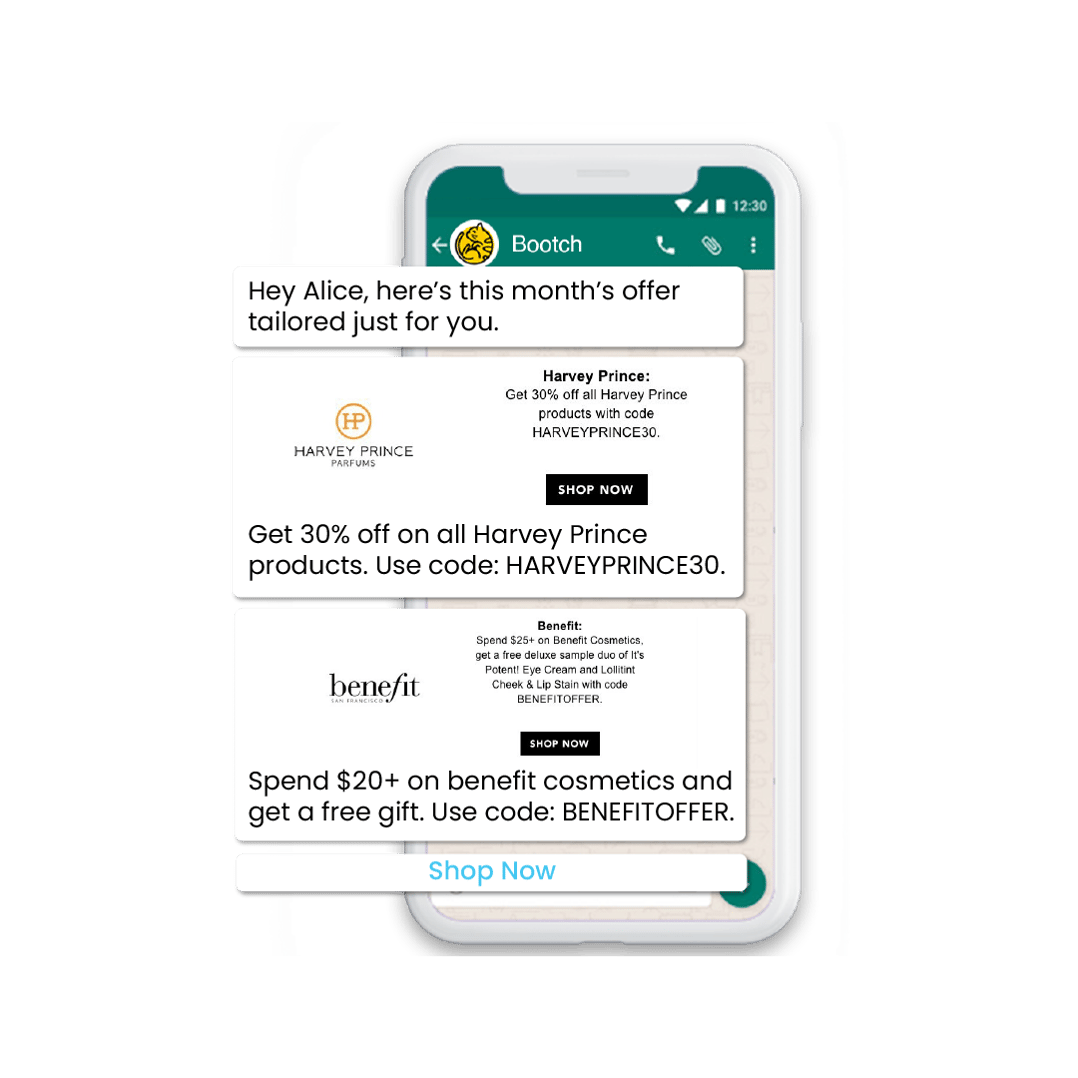 #2. Abandoned Cart Alerts
Mobile users have a higher abandonment rate of 85.65%. This shows the importance of optimizing your e-commerce store for your mobile users. Most customers need multiple data touchpoints before they are ready to commit to a purchase. You can gently remind your customers through WhatsApp that they have items left in their cart and nudge them to complete the purchase.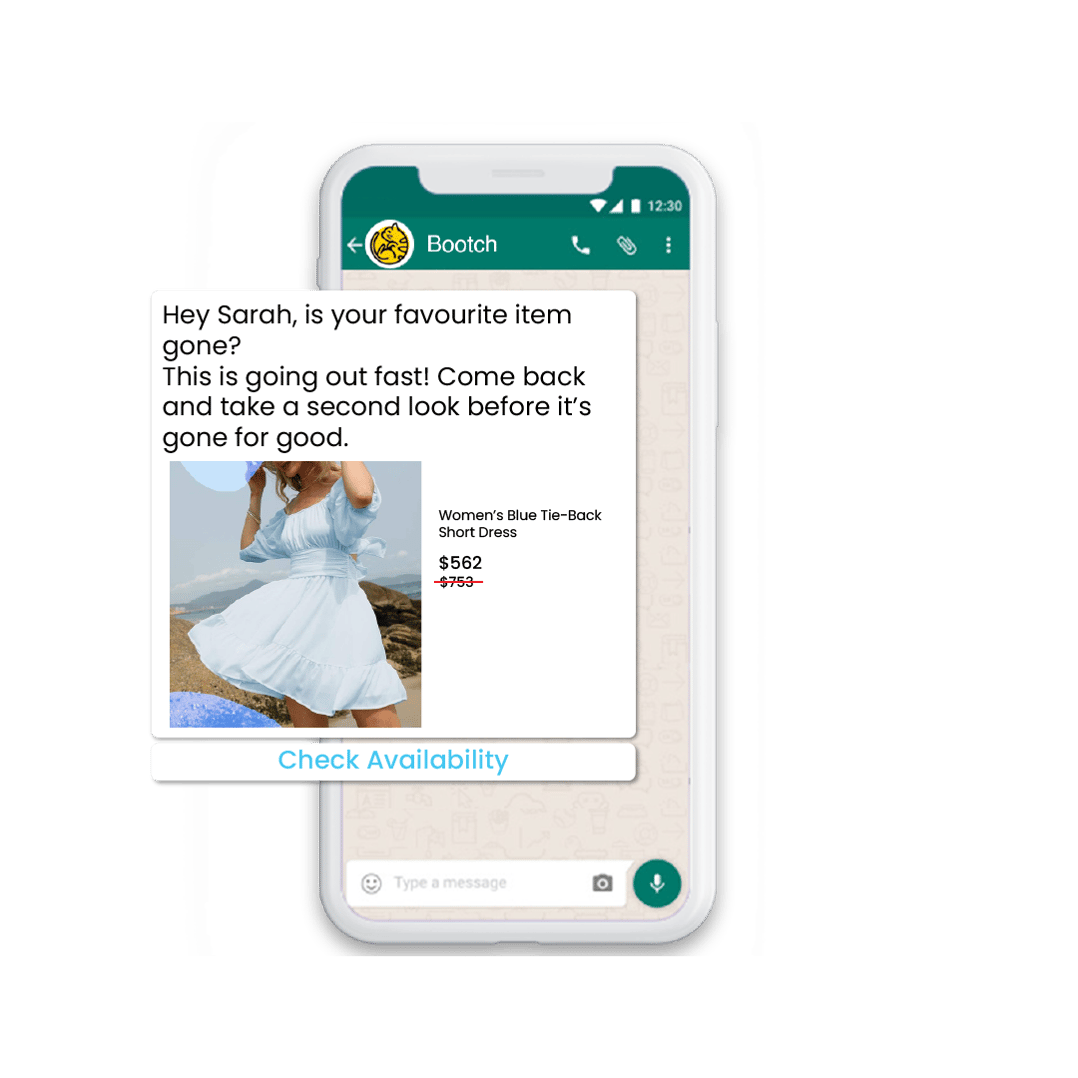 For instance, the streaming giant Netflix created a campaign in 2017 that kept users engaged with personal recommendations through its WhatsApp campaigns. The company targeted users who have canceled their subscriptions with new show announcements and reminders to win them back. In the end, improving the customer experience is making a concerted effort to make the conversion process as seamless as possible.
#3. Product Discovery
Shoppers would rather switch brands than risk convenience. A great way to boost customer experience on WhatsApp is to ease the shopping process by helping customers discover products that they are looking for. The WhatsApp chatbot can ask questions to understand what the customer is looking for and send products based on the enquiry. For instance, a customer is looking for a white shirt. The bot can ask whether they want a cotton shirt, whether they want it in prints etc. and deliver options for the customer to choose.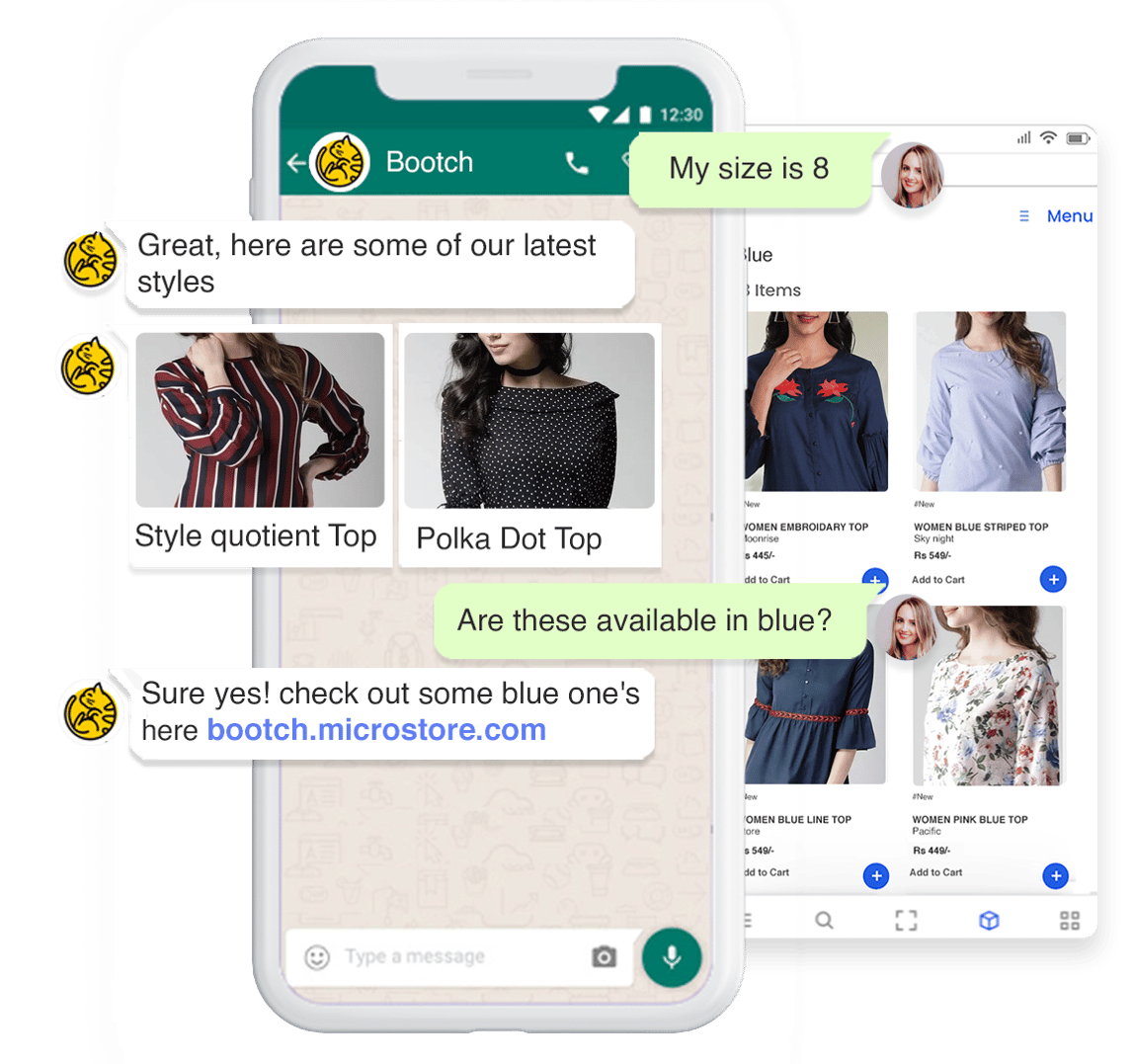 #4. Recommendation
Recommendations are a great way to increase your average order value. Lets take an example. A customer enquires whether a dress is available in size S. The WhatsApp chatbot can respond to her query. Once the customer places the order, the bot can further send jewellery recommendations that complement the dress. The customer can browse through the recommendations and add it to her cart.
#5. Reminder Alerts
Reminders are a great way to nudge customers to take action. You can send appointment reminders, recharge reminders and more. Customers can confirm their bookings or reschedule on chat and receive reminders to recharge their phones.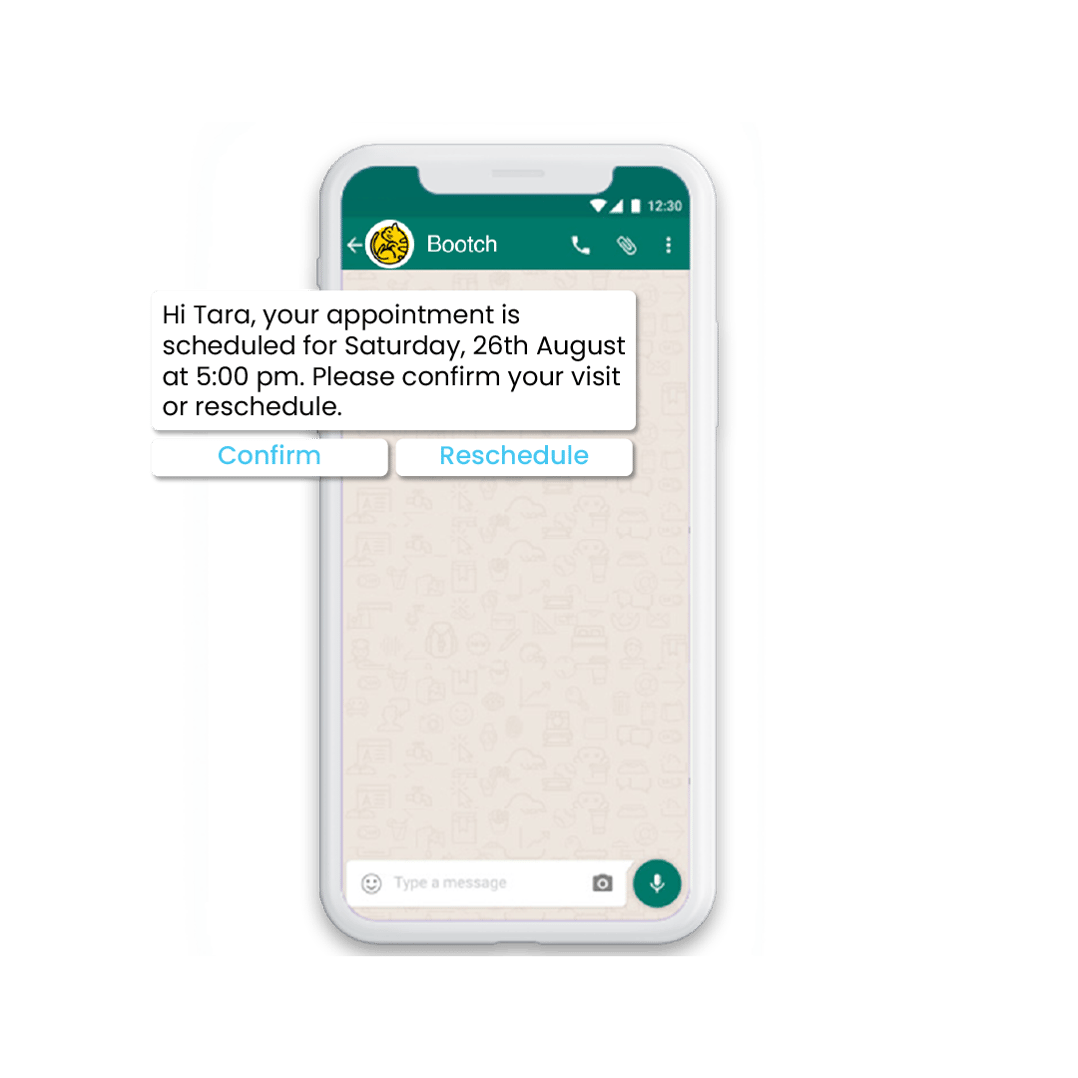 #6. New Feature Alerts
Although marketing with WhatsApp helps you modernize your approach to engaging with customers, you can employ new ways to take the customer experience one step further.

For instance, 84% of customers reported that the ability to communicate directly with a brand would motivate them to participate in their online community. Through WhatsApp groups, you can create a community and encourage discussions. Similarly, you can use the voice messaging feature to communicate with your customers for a faster resolution. In addition, you can send alerts for new features, festive season sales etc to customers who have been interacting with your brand.
#7. Contextual Alerts
Customers can block or remove your brand if they constantly receive irrelevant messages. Any WhatsApp promotional messages sent to customers must be contextual and personalized. Hence, it is essential for brands to send relevant messages based on purchase history, browsing history, preferences and more. For instance, a customer purchased a pair of shoes last week. You can send an alert recommending a product based on their previous purchase such as a dress or shoe cleaner after the product is delivered.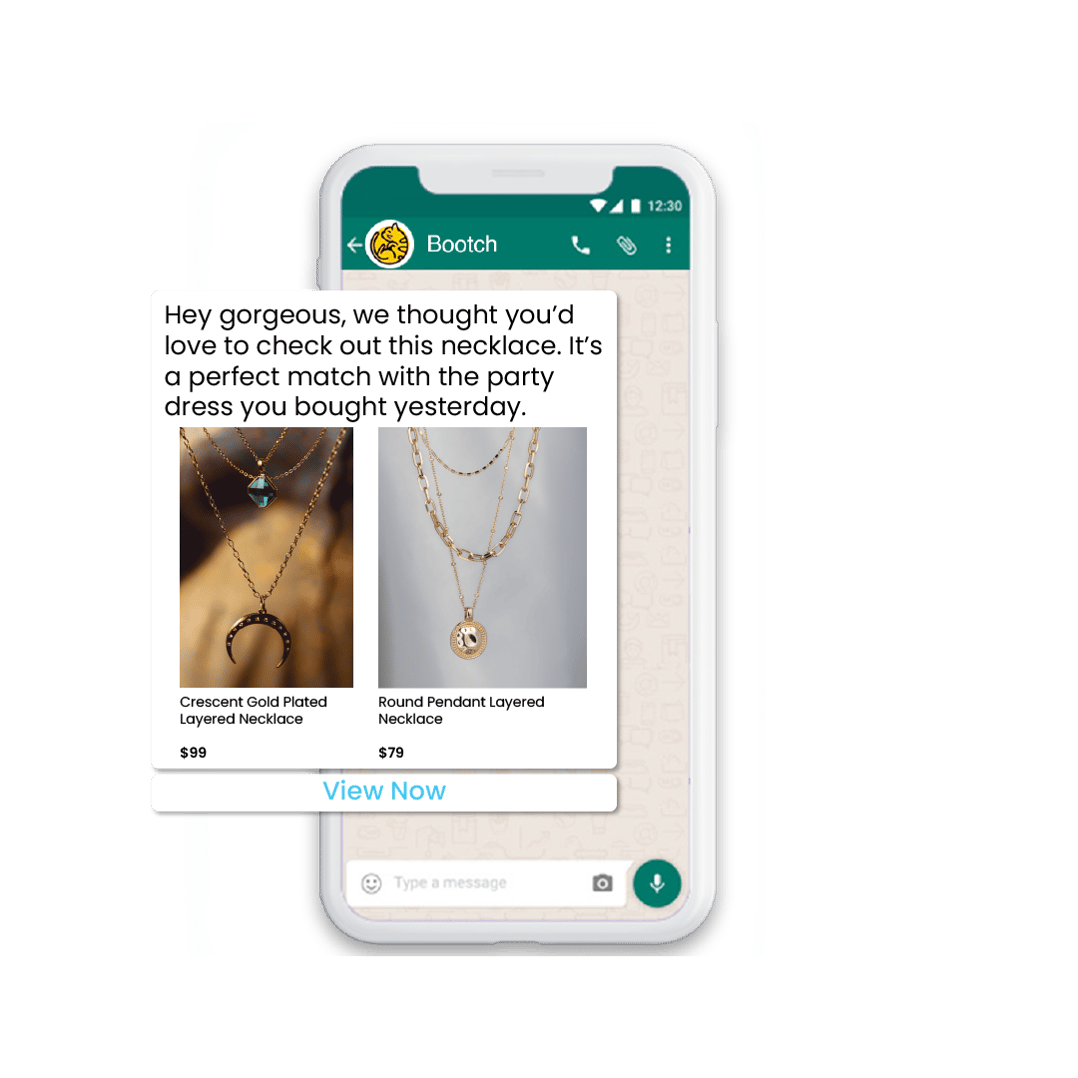 #8. Customer Feedback Alerts
Customer satisfaction is an essential part of any brand. You can send customer feedback forms on WhatsApp to understand your customers better. Based on the feedback, you can take the necessary measures to improve customer experience. In fact, 52% of people believe that companies need to take action on their customer feedback.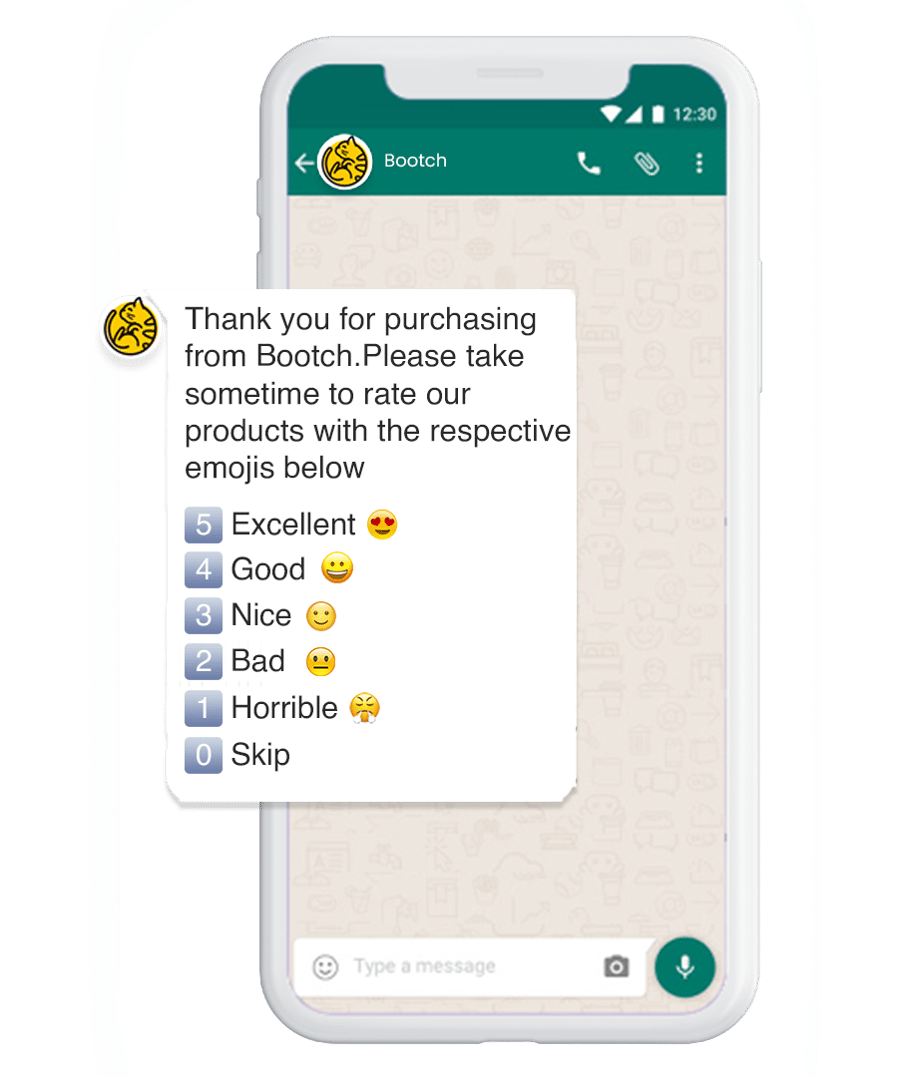 #9. Status Update Alerts
WhatsApp is an excellent tool to send transactional updates to customers. Whether it's an order update or a delivery update, you can now send updates to inform the status of your customer's order. Send confirmation updates every time a customer completes their purchase. You can also update them about the availability of specific items they may have wishlisted and more. In addition, you can also send other important information, such as a delay in delivery or early arrival.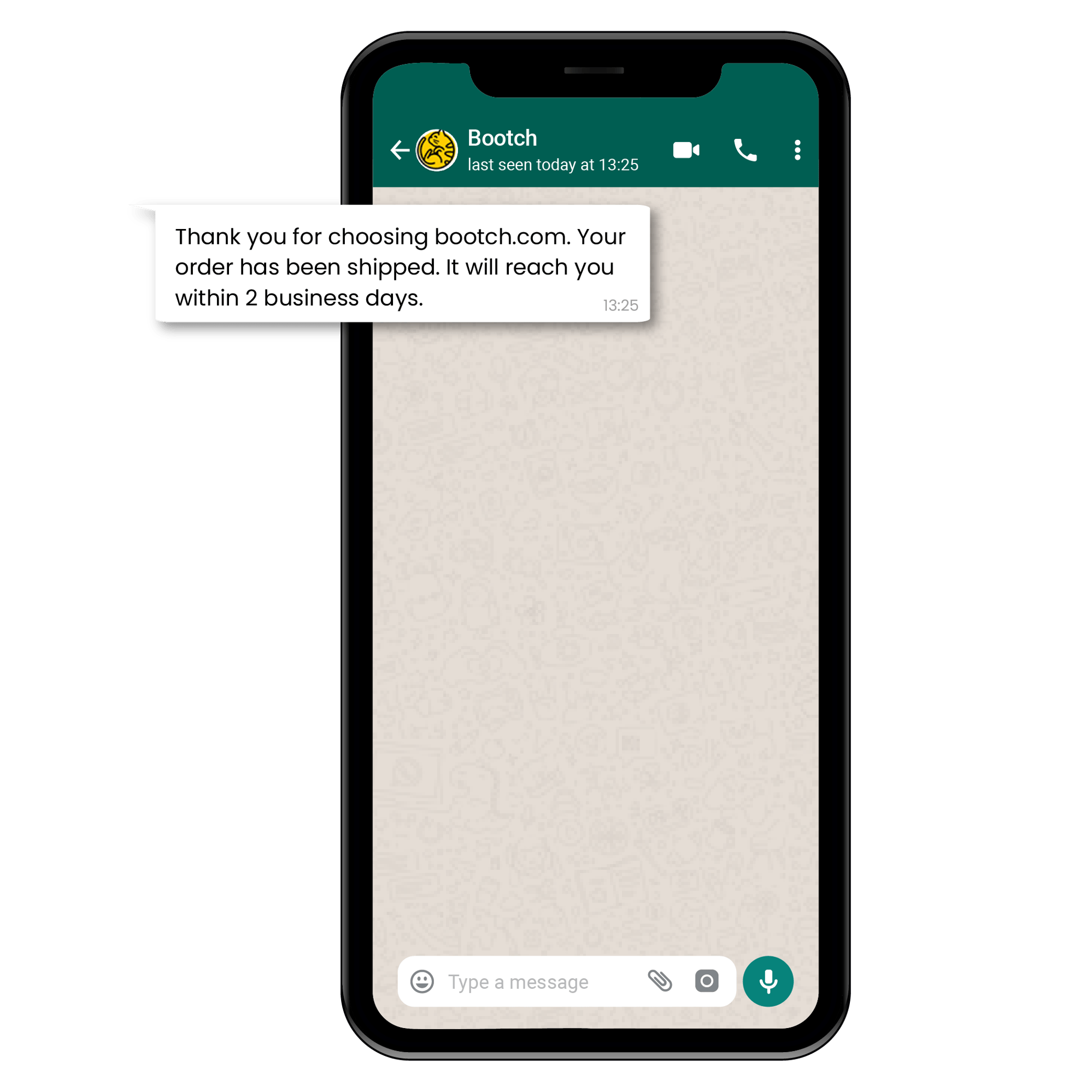 Unlock your Brand's Potential
WhatsApp has transformed the way brands communicate with customers. The reliable messaging platform has created a digital ecosystem for a seamless customer experience for brands. At this point, every company is investing and betting big on an omnichannel marketing strategy. So using WhatsApp marketing is a cost-effective way to drive conversions, improve sales, and build a lasting relationship with your customers. Are you ready to level up your WhatsApp marketing game? Book your demo with Vizury today