Customer Retention
How to Use Technology for Customer Retention?
From recovering abandoned carts to processing transactions, it has become easier for brands to drive customer retention with technology. In this article, we will learn about ways to empower customer relationships with technology.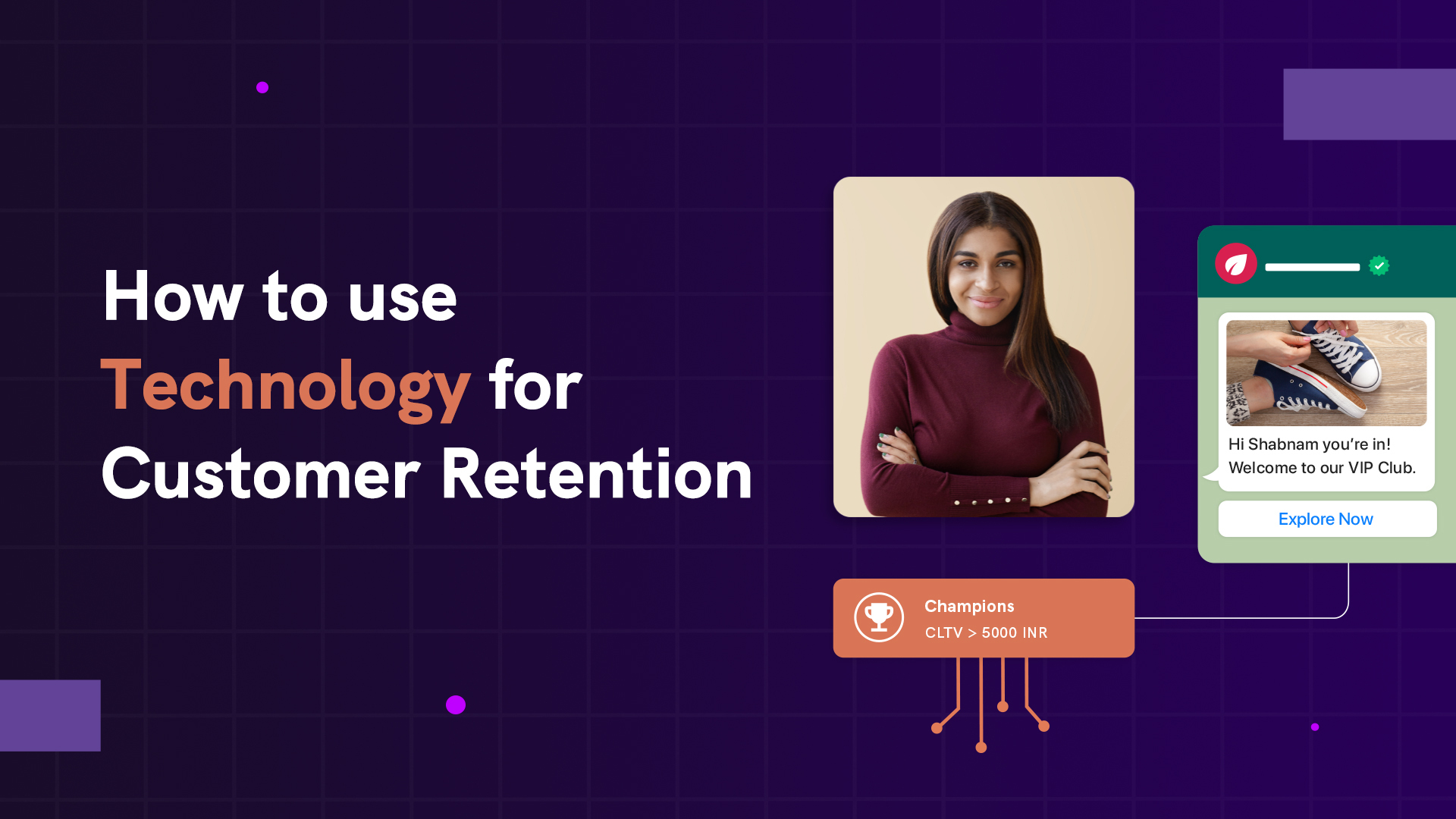 The way your customers think and feel about your brand plays a major role in improving your revenue. Did you know that repeat customers bring 3 to 7 times higher revenue per visit compared to new customers?

But how do you power conversations that incentivize repeat purchases?

Leveraging technology has enabled brands to drive meaningful conversations anywhere and anytime across the buyer's journey. From recovering abandoned carts to processing transactions, it has become easier for brands to drive customer retention with technology.

In this article, we will learn about ways to empower customer relationships with technology.
How do Technologies enhance Customer Relationships and Retention?
Modern consumers want more in terms of convenience, speed, and delivery when it comes to shopping with their favorite brands. In addition, customers don't want to feel like they are just a number. Leveraging technology allows brands to understand customer needs and wants without making them feel like a number.

Technology has become the game changer for driving communications online. Businesses can now interact and engage with customers in more efficient ways. It has allowed brands to power experiences that satisfy customers and ensures that they remain loyal. In fact, a study by KPMG showed that customer retention was the most significant driver of revenue growth.

The rapid adoption of technology and artificial intelligence has changed the way people shop. Customers want to be able to browse, ask questions, and process payments on the go. In fact, an IBM report found that larger companies are now 100% more likely than small companies to have deployed AI in their organization, compared with only 69% in 2021.

For instance, if a customer enquires about a product on your social media, an AI bot can promptly answer their queries and help the customer move to the next step. Once the customer browses what they are looking for, the bot can add the products to the cart. The bot can further ensure that the customer converts by having meaningful conversations that incentivize them to purchase.

Although technology may be a blessing, overdoing it may not work well in your favor. In fact, an MIT study found that more features help attract customers but also decrease retention. In this case, if you are sending irrelevant messages to customers, they are more likely to block you. Hence, it has become increasingly important to deliver targeted and personalized conversations that help you further enhance customer relationships.

As technology makes it easier for customers to shop and pay, it becomes even more difficult to stand out from the crowd. Hence, it is crucial for brands to cater to customer needs across their journey and ensure to deliver exceptional customer experiences. This will not only enhance customer relationships but also retention.


How can Technology help in Customer Retention?
Technology plays a major role in shaping our lives today in more ways than one. We use it every day to make our lives easier and more convenient. Brands are constantly on the lookout to find innovative ways to use technology in their business models to replace human interactions, create new business opportunities and improve customer retention rates. In fact, customers are more likely to switch brands if a brand is sending irrelevant messages or is unavailable when they need support. Let's take a look at how you can improve customer retention with technology in the following use cases:


Customer support
Customer support is the essential ingredient for building a sustainable business. Chatbots, real-time messaging, and AI bots are revolutionizing the way brands are interacting with customers. In fact, 63% of consumers expect businesses to know their unique needs and expectations.

Although customers still care about the price and quality of products, it has also become of utmost importance to also deliver exceptional customer service. This means being available 24/7, responding to customer queries instantly, and on time resolution. For instance, a customer raised an inquiry about a dress available in size S. The bot can instantly respond to the customer and help out the customer with any further queries before making the purchase.
Modern loyalty program
Customer experience plays a major role in the overall success of an organization. How your customers think and feel about your brand is important to take into account while designing experiences that convert. In fact, 65% of respondents would become long-term customers of a brand if they can provide positive experiences throughout the customer journey.

In order to build great customer relationships further, it may be time for brands to launch a modern loyalty program. Although traditional methods have proven to be successful, it may be wise to level up from what you've been already doing. For instance, a simple points-based program allows customers to shop and accumulate points that they can later use to get discounted or free items. However, other programs such as cashback or fee-based reward programs have also proven to work well to improve customer retention.

The advancement of technology has changed consumer behavior. Modern customers expect loyalty programs to be more personalized. They expect their marketing offers and rewards based on their interests.

An excellent example of this is Starbucks. In 2008, Starbucks ran its loyalty program on the old-fashioned punch card wherein customers were rewarded for their in-store purchases. As consumer behavior evolved, they ran their program using the Starbucks app wherein could register gift cards to earn benefits.

Over the years, loyalty programs have evolved as customers' needs and want changed. Today, the company is leading in customer loyalty, wherein 53% of all store sales are generated from the Starbucks rewards program.

A great way to use technology for customer retention is to power conversations using WhatsApp. With over 2 billion users worldwide, WhatsApp is increasingly becoming a popular mode of communication between brands and customers. You can send loyalty alerts such as early access to sales, information about your loyalty programs, etc to drive conversations. Here's an example -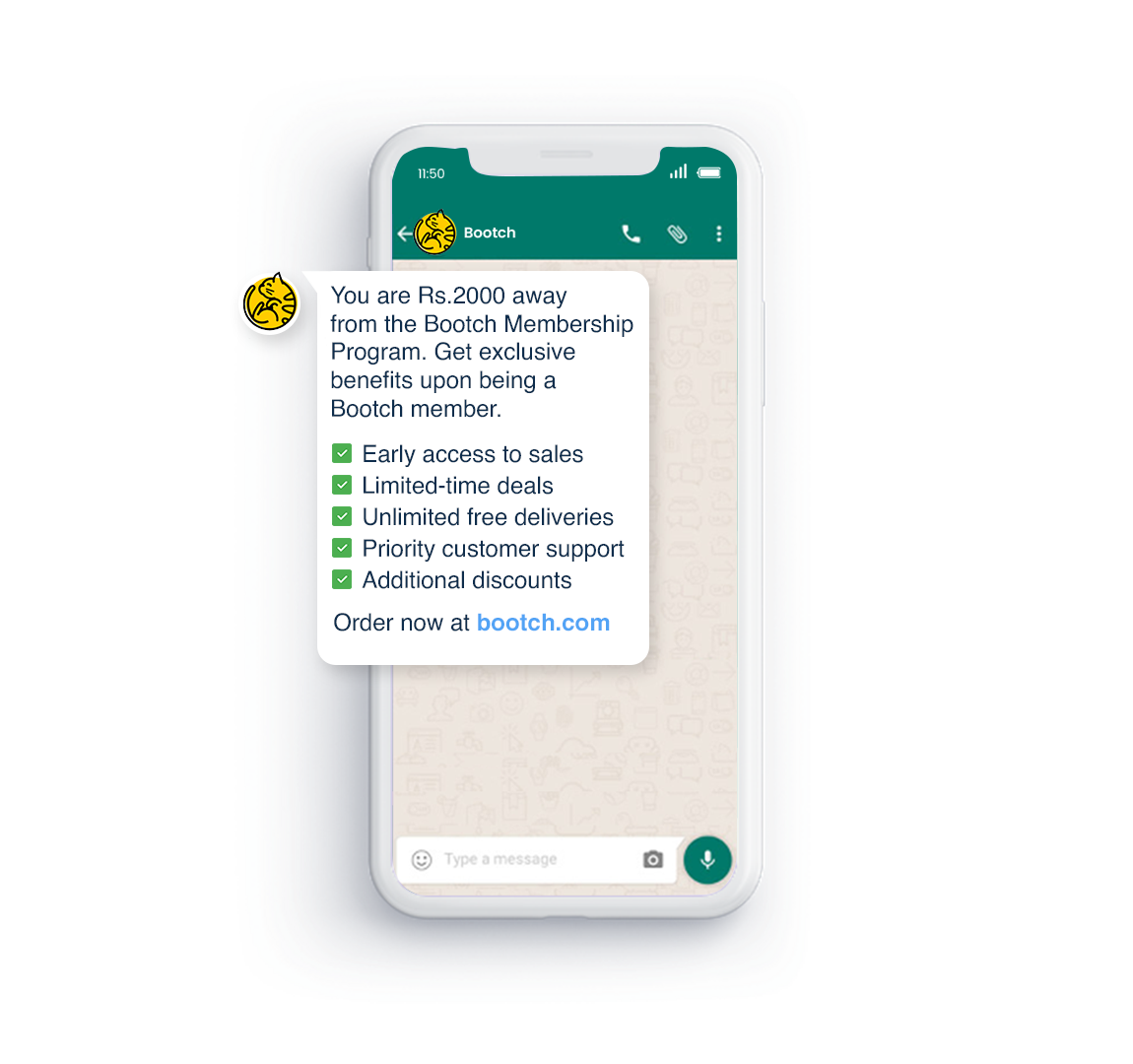 In this case, the brand is educating the customer on how much they need to spend to finally become a member. In addition, they are also highlighting all the benefits once they become one.
Ease of payments
Customers love convenience and expect a seamless experience while shopping with their favorite brands. In fact, 97% of consumers have backed out of a purchase due to inconvenience. In addition, with technological advancements, people prefer to shop and pay on the go without having to wait. Hence, it is essential for brands to be able to ensure that customers can browse, shop and pay with ease. Customer retention with technology is easier with mobile payments. Customers can go pay in-store or online with ease.
A great example of this is Decathlon. The brand has made it easier for shoppers to check out at ease. Customers can scan the products on their app and process payments on the go without having to stand in a long queue. Customers can also scan their items on the kiosk and choose to pay from their preferred mode of payment. You can also allow customers to make payments seamlessly via WhatsApp by integrating with payment vendors such as Razorpay. Once a customer clicks on the payment link, they automatically get redirected to the payment page and complete their transaction directly on the app.

An excellent shopping experience will not only help brands get repeat customers but also help power customer retention and loyalty.
Irresistible Deals
Promotional offers are an excellent way to incentivize customers to make a purchase. However, modern customers expect relevant communication from their favorite brands. In addition, most consumers are looking for offers when shopping online. Here are some interesting stats that may convince you to leverage technology for customer retention. A 2018 survey by coupon marketplace RetailMeNot found that:
✅94% search for a deal or offer when shopping online.
✅93% would make a repeat purchase with a retailer that offered good discounts
✅48% will avoid brands that do not provide offers
✅67% of consumers have made a purchase they weren't originally planning to make solely based on finding a coupon or discount.
A great way to keep your customers engaged with irresistible deals and give them the final nudge to purchase is to use the recency-frequency-monetary segmentation on your customer database. This will allow you to create exceptional experiences and build a loyal customer base.

Recency - Analyze and create segments based on recent customer actions such as category/page visits, and actions performed. For example - If a customer has visited your website in the last 24 hours and left an item in the cart, you can send a personalized message reminding them about the item left in their cart. In addition, you can also add a 10% discount coupon for the next 60 mins to incentivize the customer to complete the purchase

Frequency - Analyze, identify, and segment customers based on how frequently they've purchased from your store. For instance, if a customer purchased a pair of shoes 2 months ago, you can send a personalized alert telling the customer that this black dress would go perfectly with the shoes you just bought. You can also give additional discount coupons that the customer can use while making this purchase.

Monetary - Analyze and segment customers based on their purchase behavior, high-value orders, and propensity to make bulk purchases. These segments allow you to target high-value customers who need a nudge to purchase from your store. For instance, you can send alerts to a customer segment with a min of $40 AOV and offer them a 30% discount on a minimum spend of $50.
Recover abandoned carts
Research shows that 69.82% of online shopping carts are abandoned. In addition, e-commerce stores lose $18 billion in sales revenue annually because of cart abandonment.

It is an inevitable fact that shoppers will abandon their carts due to some reason. So how do we deal with this challenge?
Customer retention with technology has made it easier for brands to segment and target these audiences to bring them back to their store and incentivize a purchase. For instance, a customer left an item in their cart. With the help of marketing automation software, you can send an alert to inform the customer about the item left in their cart. In addition, you can give a 10% discount coupon valid for the next hour to incentivize the customer to make the purchase.

Sending the right message at the right time can not only help you improve revenue but also customer retention. In addition, taking into account all the customer retention metrics for your business can go a long way in helping you understand how you should further proceed when it comes to getting customers back to your store.
Customer Retention with Technology Case Study
Swvl is a multinational mobility service provider that offers tech-enabled ridesharing services. It operates privately-owned buses and allows commuters to reserve and pay for rides through its app. Swvl operates in 115 cities in 18 countries across Latin America, Europe, Africa, and Asia.

Although users downloaded their app, Swvl observed a high churn among its first-time users. The main objective for Swvl was to improve repeat booking and enhance customer experience.

Swvl partnered with Vizury to launch hyper-personalized campaigns on WhatsApp based on user behavior and intent, allowing customers to book their rides and stay up to date on ride details. In addition, they also powered conversations to activate recent app installers to nudge them with the right message at the right time. These conversations not only helped Swvl engage with customers but also helped improve customer retention.

By partnering with Vizury and designing exceptional experiences on WhatsApp, Swvl was able to get

✅23% growth in repeat purchases
✅12x return on investment
✅87% + engagement rate


Conclusion
The more customers you can retain, the more money you can make. With customers looking for better places to spend their time and money, strategic use of technology will not help customers with what they want but will also ensure customer retention. Strategize your customer retention efforts with the right technology with Vizury. Book your demo today.