Conversational Commerce
Conversational Commerce on Instagram
Unlock the potential of conversational commerce on Instagram. Learn how to use Instagram's features, to improve customer engagement and drive sales.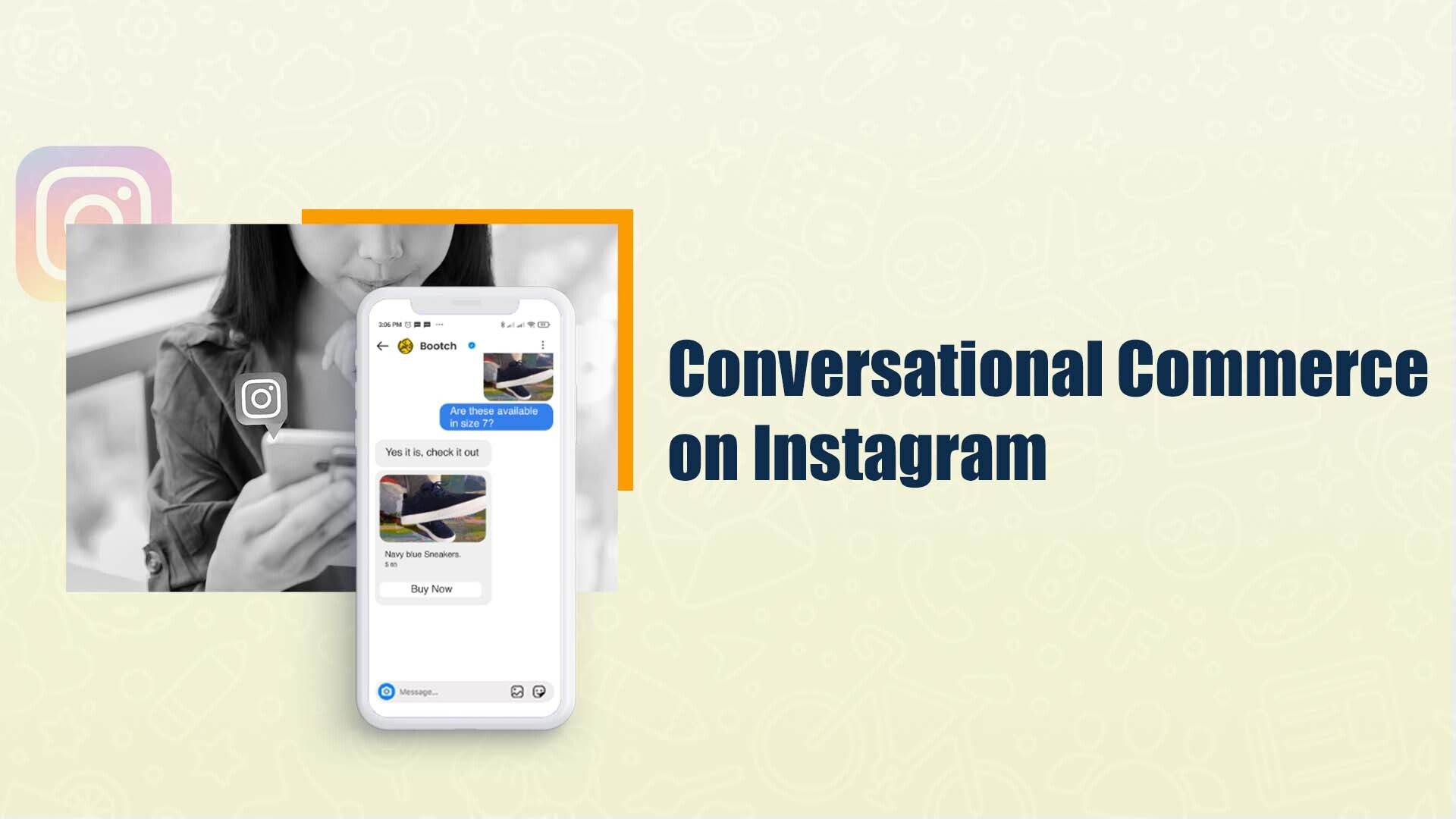 Conversational commerce is the game-changer for brands looking to engage with shoppers in fresh ways.
It's coming out to be a superpower to shorten the distance between desire and delivery. Excellent conversations are delivering next-level brand experiences across industries with fashion and beauty leading the charge.
Adopting conversational commerce on Instagram DMs will not only allow you to sell your products with a conversational flow but will give your shopper the convenience they need to complete their purchase.
Although Instagram has played a major role in gaining brand reputation and catering to the discovery stage of the buyer's journey, conversational commerce has paved the way to cater to other stages as well.
In fact, a survey found that 54% of people said they made a purchase at the very moment or right after they saw the product or service on Instagram.
What does Conversational Commerce mean?
Conversational commerce can be defined as a way through which brands can engage with customers via social media apps. A great conversational commerce example is Starbuck's smart barista bot. This bot allows customers to order and pay for coffee and sends alerts to the customer whenever the coffee is ready to be picked up
What are the Behavioral Statistics on Instagram?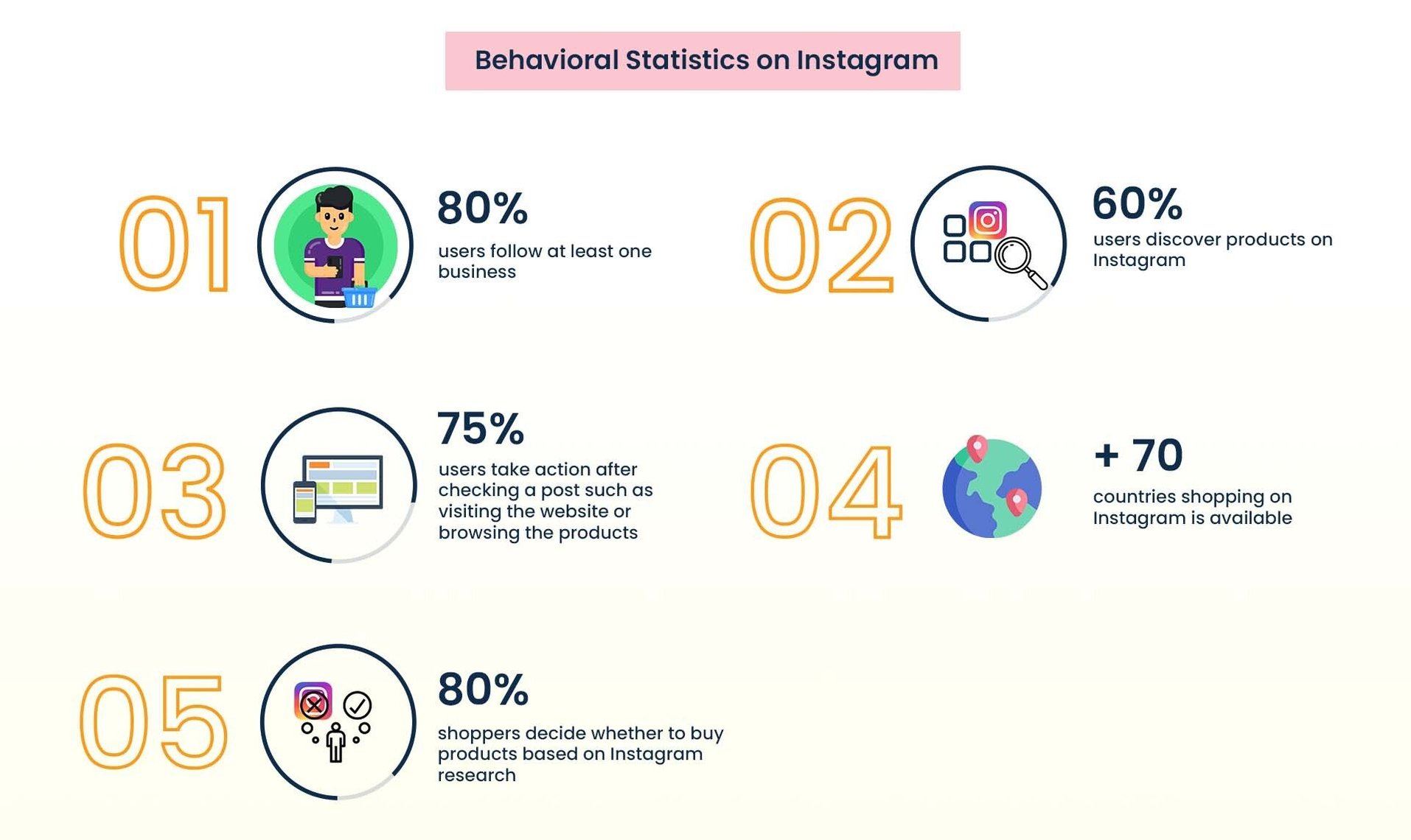 How does Conversational Commerce Work on Instagram?
Conversational commerce is an excellent way to sell products online via chat but how do you get started?
You can start by setting up Click to Instagram Direct Ads on Facebook. Here's the step by step process:
Step 1: Go to Ads manager on your Facebook page. Click "create ad"

Step 2: Under objectives, select Messages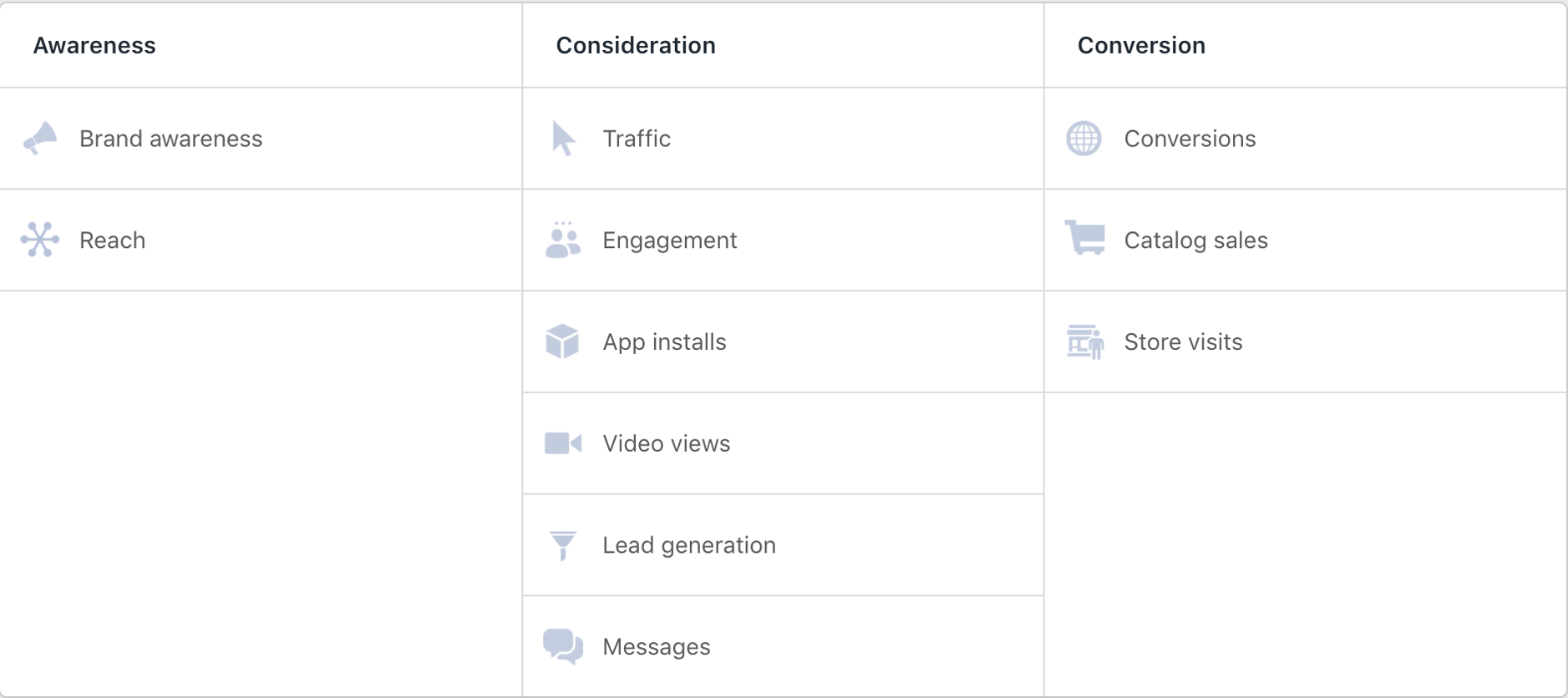 Step 3: Under messaging apps, choose Instagram Direct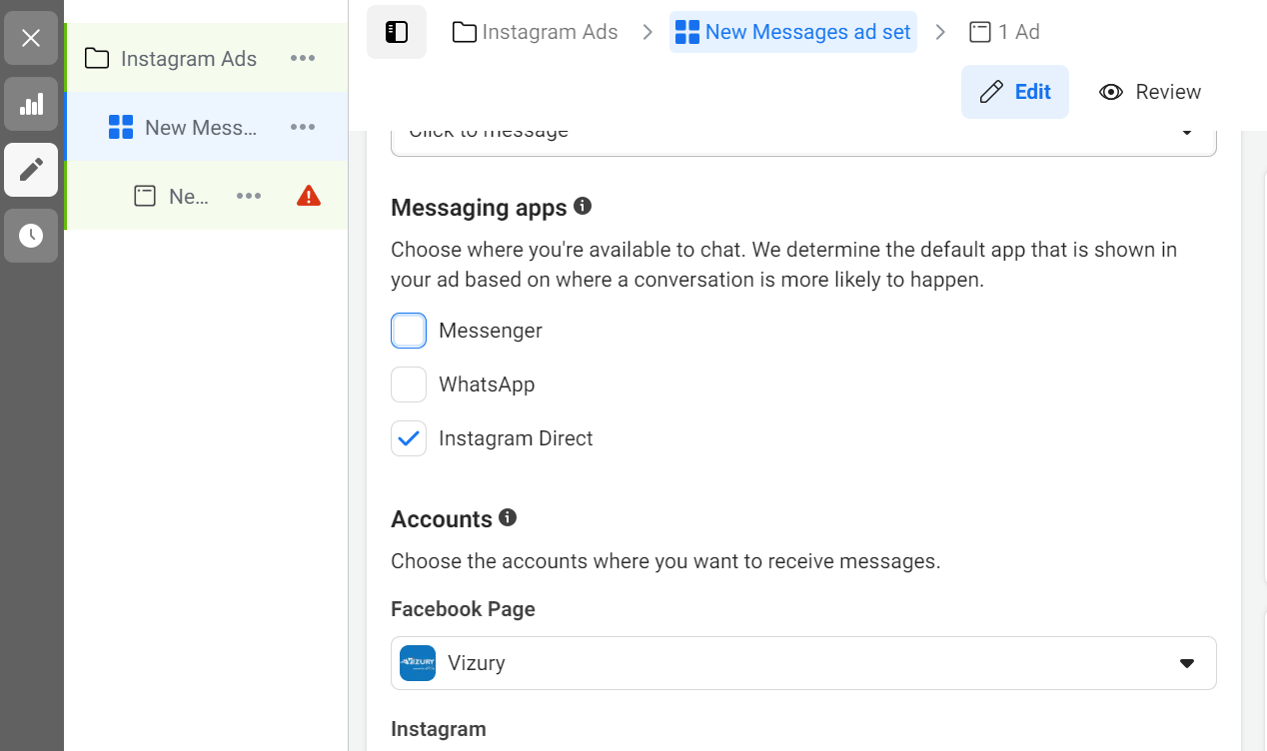 Step 4: Select audience, budget, and schedule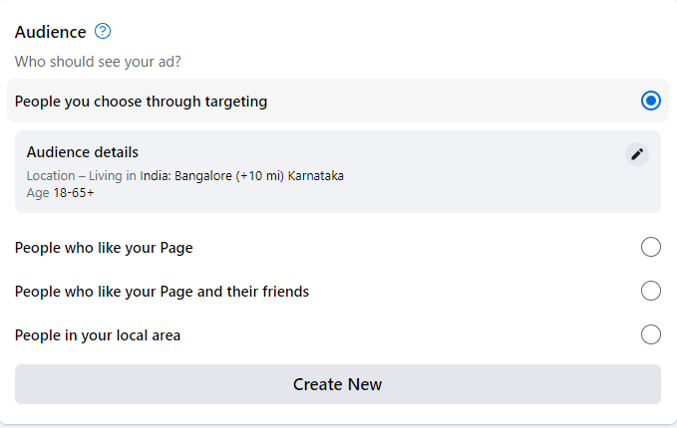 Step 5: Next, upload the ad image, text, and headline. Complete your ad setup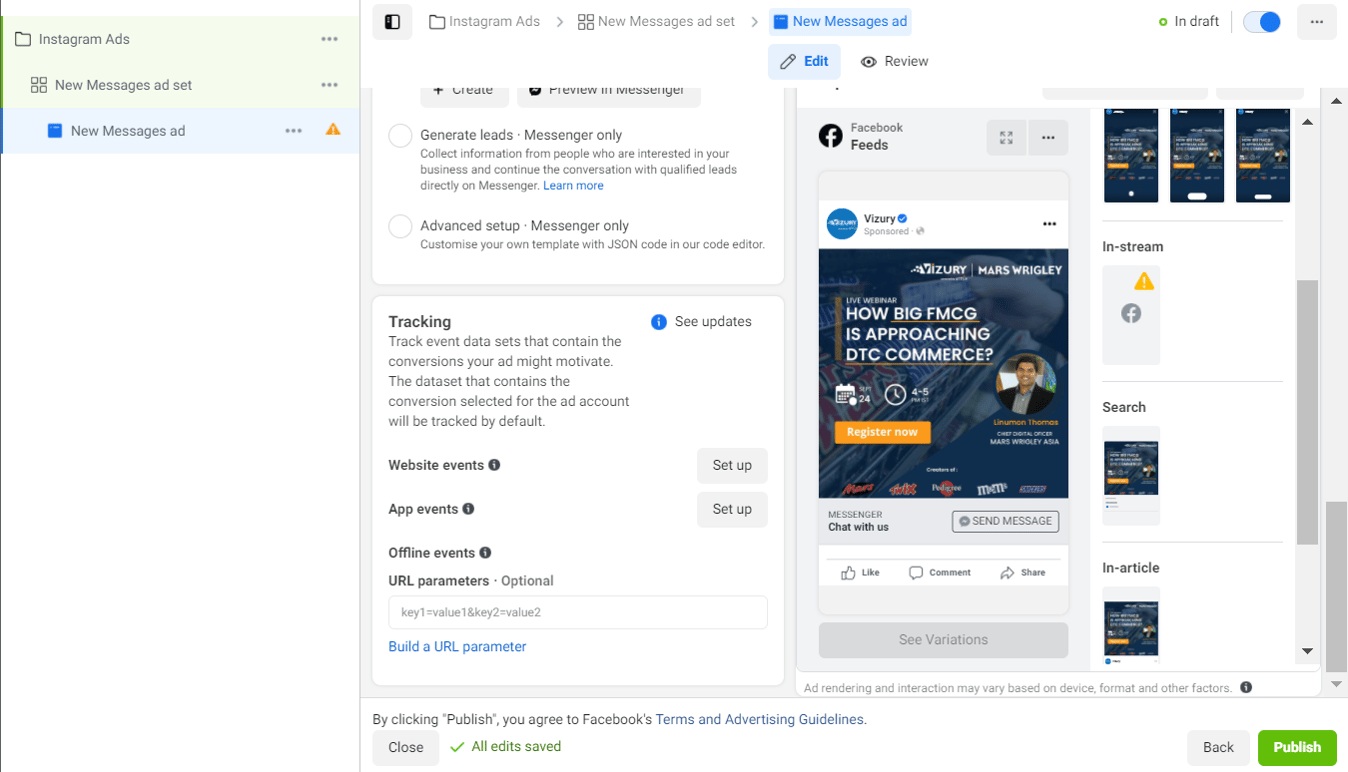 Step 6: Set up your message template.
Step 7: Once updated, you can review the ad and click on publish.
Read also Instagram Chatbots: Use cases and examples
Next, once a customer lands on your ad and clicks on the send message button, your brand can chat with the potential lead, understand what they are looking for and make a sale using conversational commerce.
Here's an example of how conversational commerce on Instagram works-
For instance, a brand promotes its autumn dress collection in the ad. A customer lands on the ad and clicks the send message button where she automatically gets redirected to the Instagram DM.
Once she sends the automated message, the conversational AI bot interacts with the customer to determine what the customer is looking for. Let's say, in this case, the customer is looking for a different color.
The NLP-powered bot automatically sends dresses based on the customer's preferences. Once the customer chooses, the bot adds it to their cart. Next, it sends a digital payment link directly on the app so that the customer doesn't have to leave the app. The customer makes a purchase and your bot makes a sale without requiring any human intervention.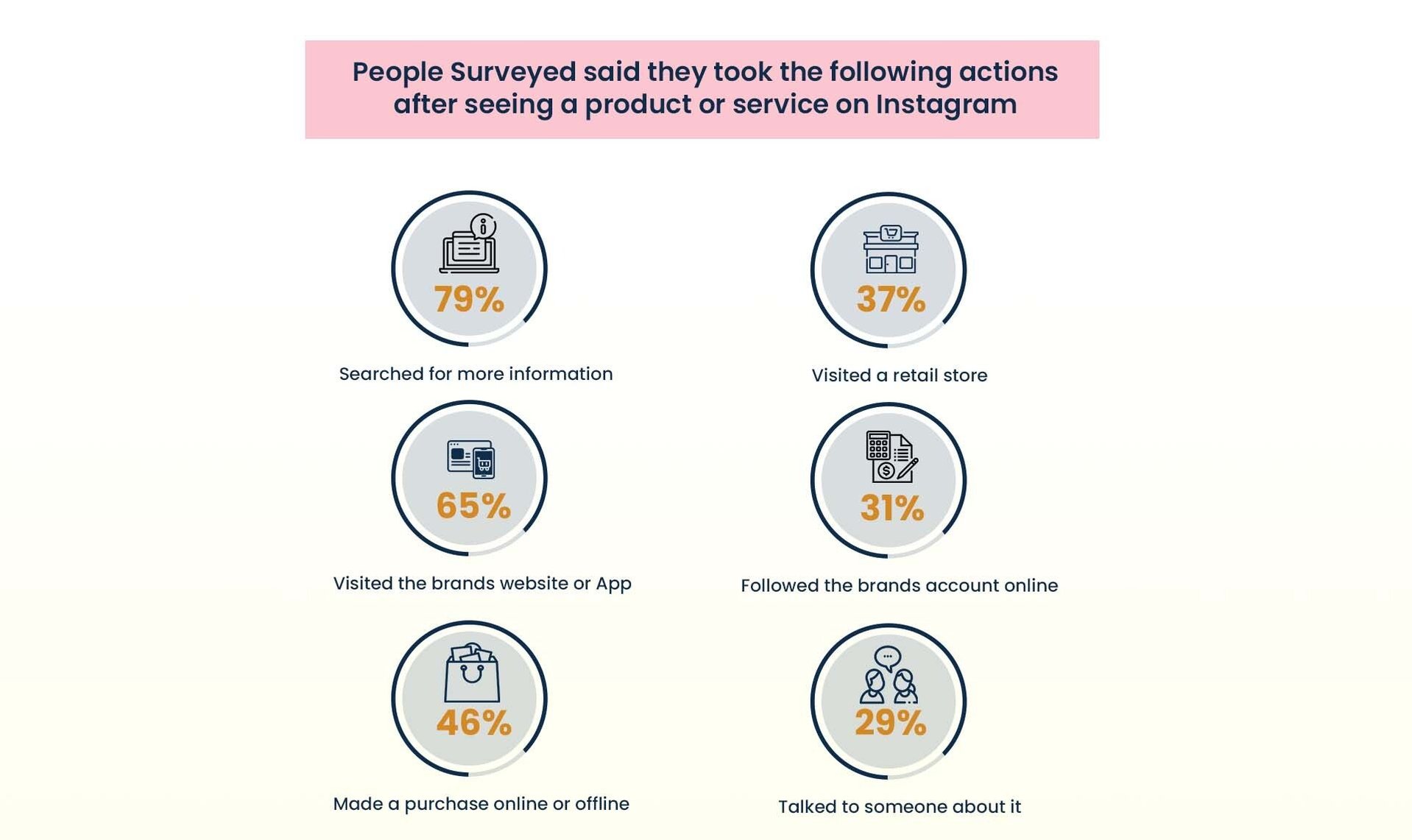 Click to Instagram Direct Ad Examples
If you are still unsure of how to design the perfect ad that makes your audience click on your ad, here are some examples to get started:
1. Discount Code Ad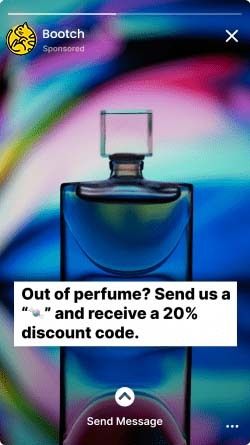 It goes without saying that offering a discount code always works. Create an ad asking your audience to send a DM to receive a 30% discount coupon. Once your Instagram DM gets a reply, your AI-powered chatbot will start engaging in conversation with the potential customer and help you make a sale.

2. Giveaway Ad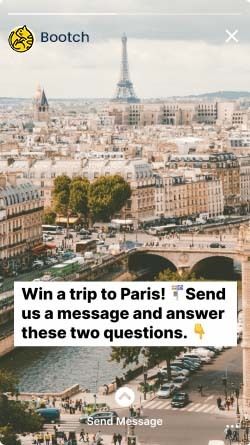 Announce that you are hosting a giveaway and your audience can enter by sending an emoji. It is also an excellent way to collect leads. Once they've entered, the bot can conversationally collect contact information which can later be used to drive sales.

3. Sending Free Goodies Ad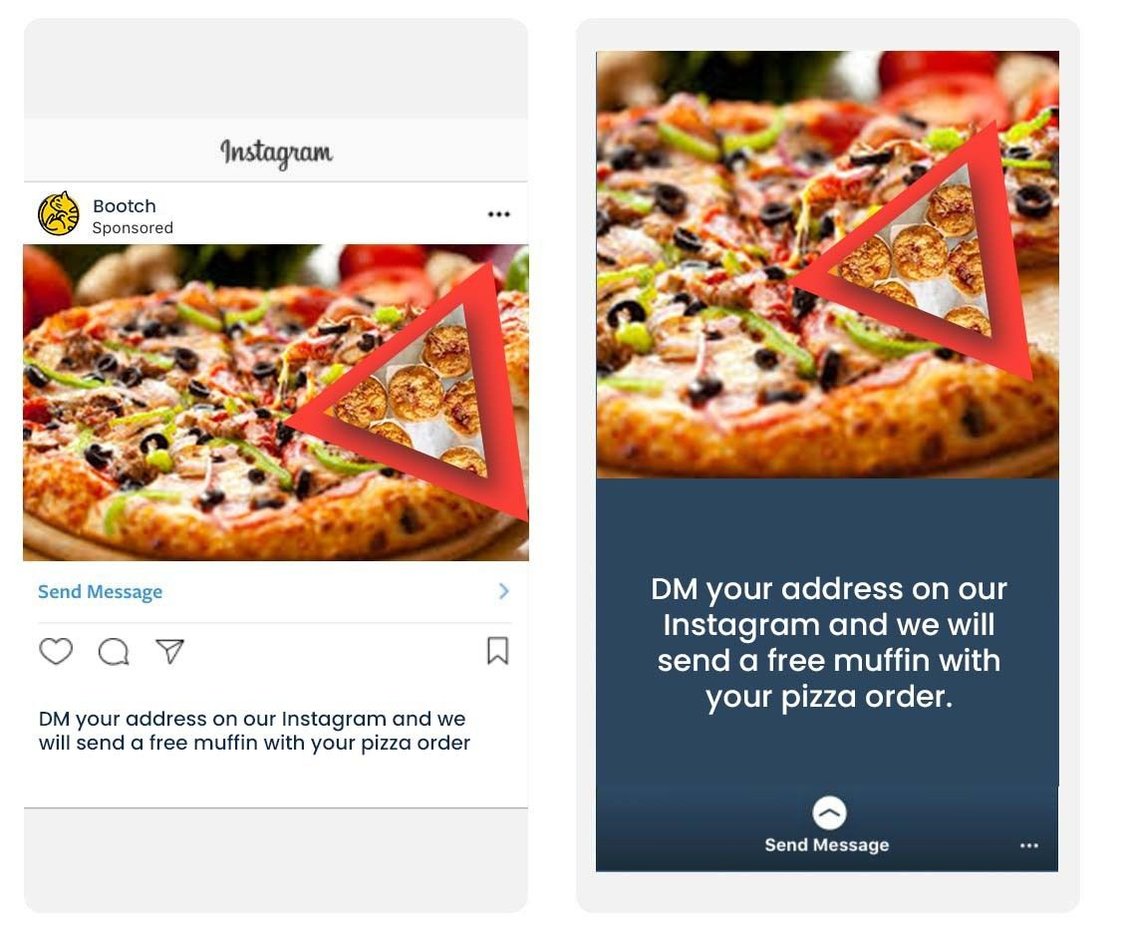 Create an ad that sends free goodies when they purchase from your store. For instance, the ad can say "DM your address on our Instagram and we will send a free muffin with your pizza order". For this process, you should use tools to post to Instagram from desktop, schedule your posts accordingly, etc
Once the customer places the order, the bot can send a payment link, and voila...you just made a sale. Your bot can also send a discount coupon that can be used in their next purchase and this will also make the customer keep coming back to your store.
Read also How to Create Facebook Ads that Click to WhatsApp?
What to do if the Customer Drops off Mid-Conversation?
Not all customers that DMs you are likely to purchase from your store. They may drop off mid-conversation. In this case, you can retarget them via email, SMS, Facebook, WhatsApp, push notifications.
Once your AI bot conversationally collects contact information from your potential customers, you can retarget them on other platforms using marketing automation tools like Vizury.
Here's how the process works: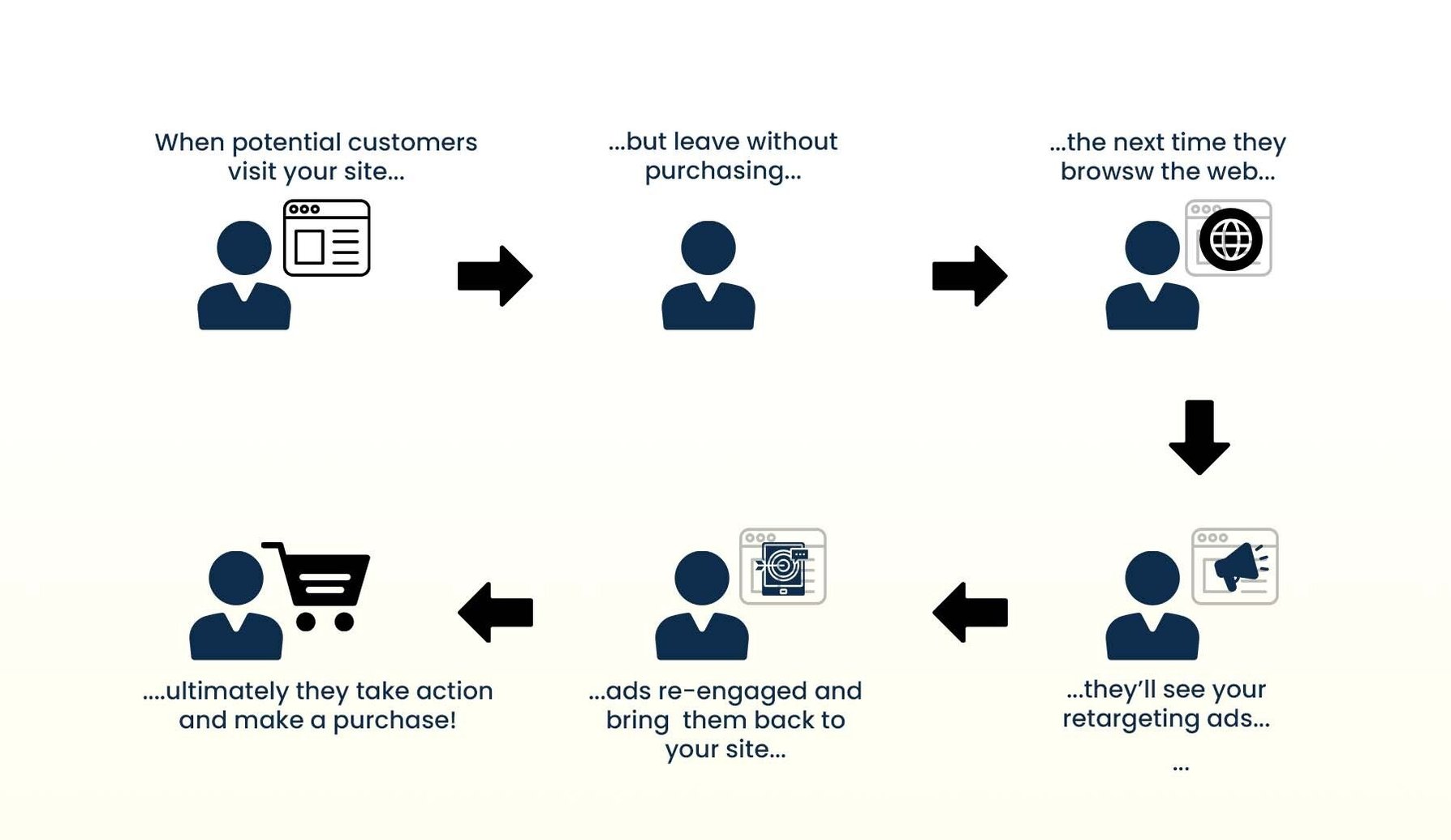 How will Conversational Commerce on Instagram Help?
By using Instagram DMs as a communication channel, your brand will not only be tapping into a trend but also be participating in a major shift in how a customer interacts with brands in the modern era.
The AI-powered chatbots integrated with your Instagram can analyze customer queries using natural language processing and reply instantly. Building guided workflows can help your brand attend to the majority of customer queries and convert them into sales.
Here's how it can help:
#1. Upselling
It can often be a tedious task for any customer to look through thousands of products from your ecommerce website. Enabling conversational commerce on Instagram will help the customer find what they are looking for.
For instance, Lara finds a dress ad on her Facebook feed and clicks on the "send message" button to enquire whether the dress is available in size "M". The bot immediately responds to her query and immediately sends a payment link to help her complete the purchase without having to leave the app.
In addition to this, the bot can send discount coupons, offers that can incentivize the customer to purchase more than they originally intended thus increasing your AOV.
#2. Reduce Cart Abandonment Rates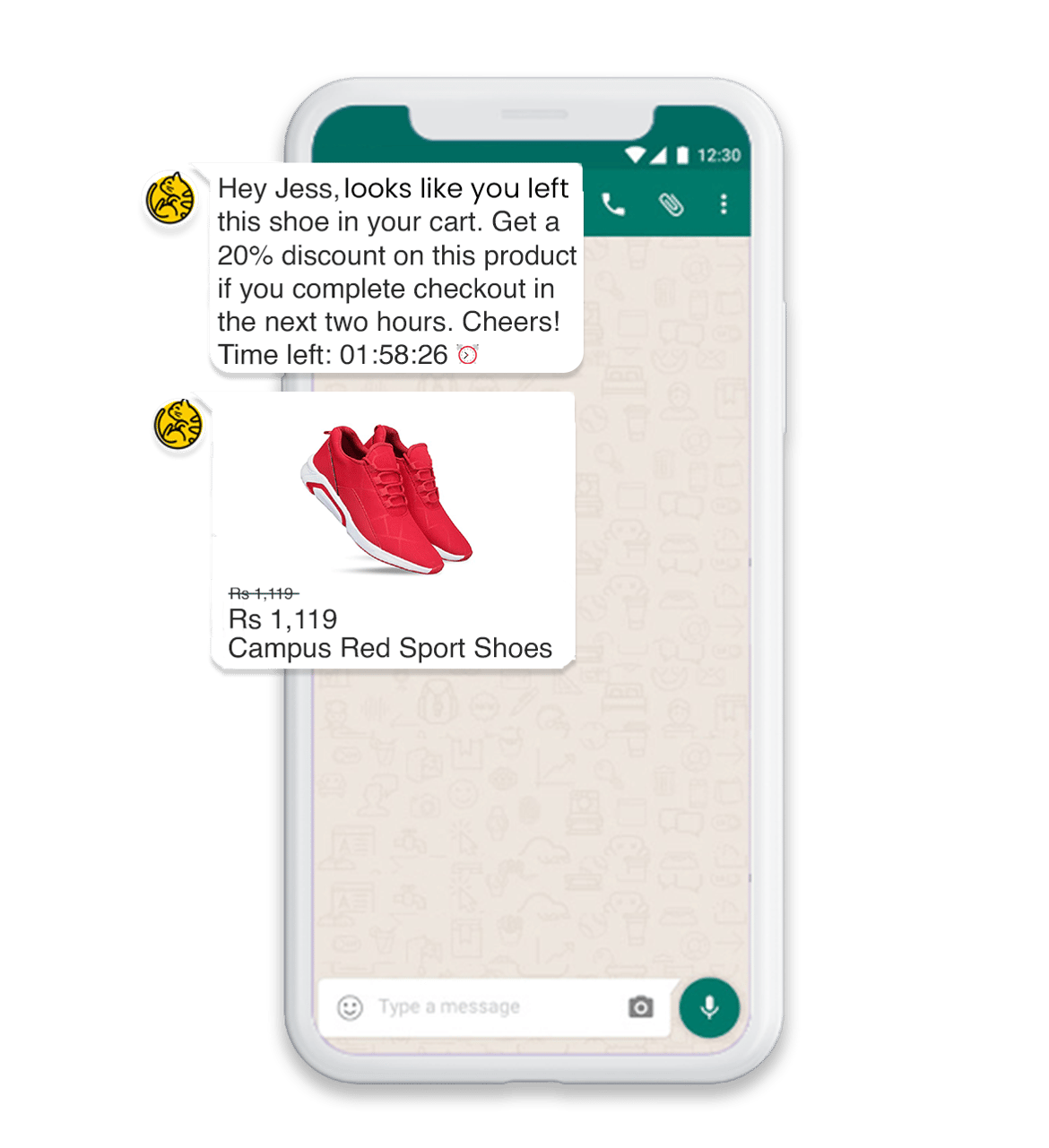 A study found that e-commerce brands lose $18billion in sales revenue each year because of cart abandonment. Having a conversational AI-powered chatbot on your Instagram reduces the possibility of cart abandonment since it proactively engages with the customer, understands what they are looking for, and converts them into a paying customer.
#3. Build Customer Loyalty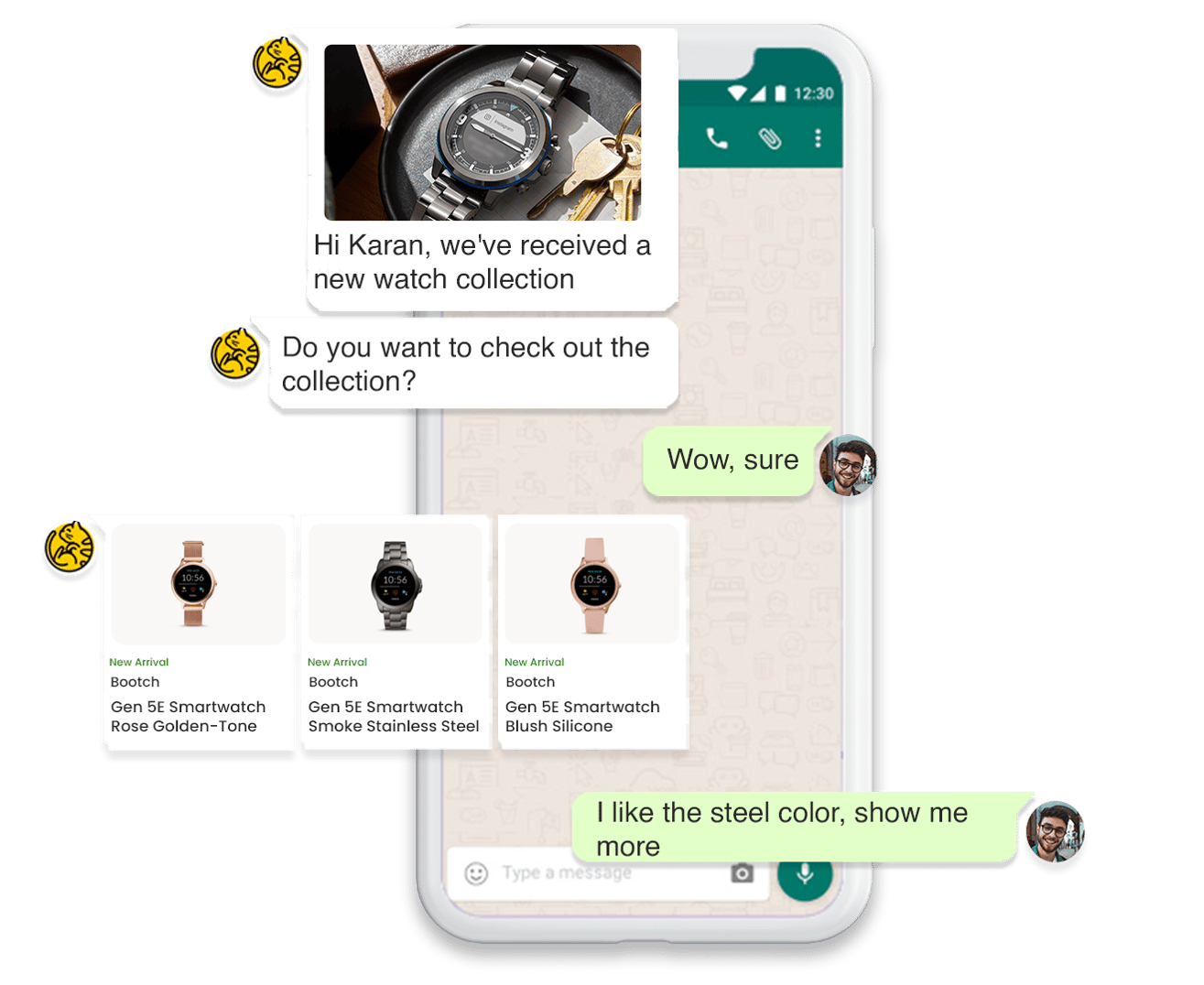 A great differentiating factor for brands is creating unique brand experiences. Creating an excellent customer experience leaves a lasting impression and ultimately creates brand loyalty.
Your NLP-powered conversational bot can send to specifically targeted customers. For instance, you can send out discount coupons to customers who have spent a specific amount on buying products from your store.
#4. Increase Conversions
Automation has transformed how brands engage with customers. Brands can actually turn the buyer's journey into a two-way conversation and increase conversions in the process.
Conversational commerce on Instagram can be an excellent way to provide real-time conversations that help your customer with their purchase. For instance, if a customer has a query about a product, they can DM your Instagram and get a response almost immediately. This in turn will solve the customer's query and the customer can move forward with their purchase.
Your New Cash Register: Instagram
Consumer expectations are evolving with advancements in mobile technology. Hence, they want businesses to meet them on their terms and be where they are. Conversational commerce on Instagram has paved the way for creating more direct paths for commerce.
Brands have started engaging in conversations with customers to spark an interest that leads to action. As more consumers adopt shopping via messaging apps, brands can use conversations to help them throughout their buying journey to enable shopping anywhere and anytime.
If you want to learn more on how you can power your Instagram with conversational AI, leave a hey at hello@vizury.com