Conversational Marketing
Conversational Commerce: The future of effortless shopping
Our guide walks you through the potential of Conversational Commerce in-depth and how retail and eCommerce stores can use it to connect with customers.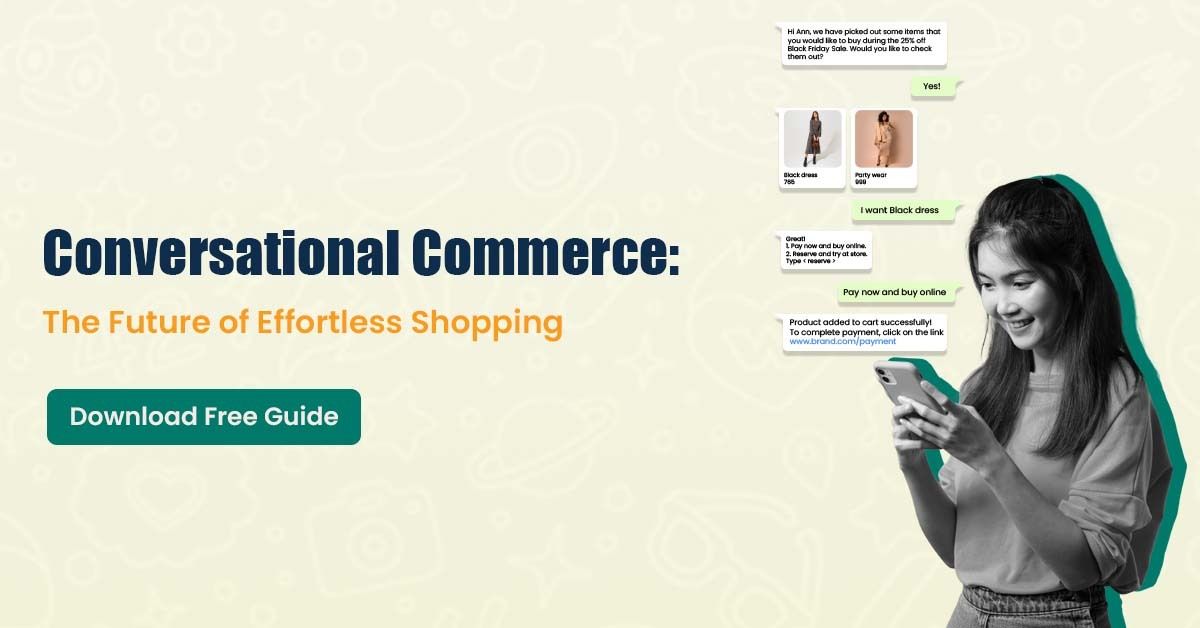 Consumer behavior is evolving, and we now live in a world where people move on the second they have to wait for a response. Even better, customers are no longer asking queries. They won't come to you; instead, you need to go to them and present them with the knowledge they seek.
Providing a quick helping hand to consumers can go a long way, especially when queries get answered in real-time.
With the increasing use of messaging platforms, conversational Commerce has emerged as a means for businesses to use chat apps to sell their products and connect with their customers on a 1:1 basis.
Conversational Commerce aims to provide convenience, personalization, and assistance to people who are on the go and have less time to spare.
Virtual assistants can provide customers with relevant product recommendations based on their needs and prior purchase patterns. It can display user reviews to influence consumers of a product's suitability and assist customers by responding to FAQs regarding the product.
By implementing the best conversational commerce tools and methods, brands can communicate with consumers at each stage of the buying cycle, improve customer experience, and turn each engagement into a long-term relationship.
These interactions can provide customers with important information and alerts like cart recovery, purchase confirmations, delivery confirmation, travel details, among others.
Along with personalization, an omnichannel engagement is preferable because it considers all channels when developing a marketing strategy, allowing consumers to have a unified experience across all channels.
For example, by interacting with the virtual shopping assistant, a customer planning to visit a brand's retail outlet can easily search for products and receive personalized recommendations. Positive interaction with the virtual assistant increases the likelihood of a successful purchase during the store visit.
The way people connect with brands has changed dramatically in recent years. Because of their popularity and trust, popular messaging applications like WhatsApp, Facebook, WeChat, and Line are quickly becoming key customer communication channels as more people go digital.
Be it a first-time visitor or an existing loyal customer, the future of increased conversion for brands is the right message delivered through the right channel at the right time.
Our latest guide discusses the potential of Conversational Commerce in-depth and how retail and eCommerce stores can use it to remain competitive and genuinely connect with their customers.
Here are the major highlights from our latest Guide - Conversational Commerce: The Future of Effortless Shopping
Various use-cases and market scenarios to maximize the effectiveness of your retail strategy.
How to create your conversational marketing strategy from scratch.
How to combine various offline and digital activities to boost your overall sales.
And a lot more. Get the guide today!