Customer Experience
Amplify Retail Customer Experience with Conversational AI
Transform the way you interact with customers and amplify their retail customer experience with conversational AI.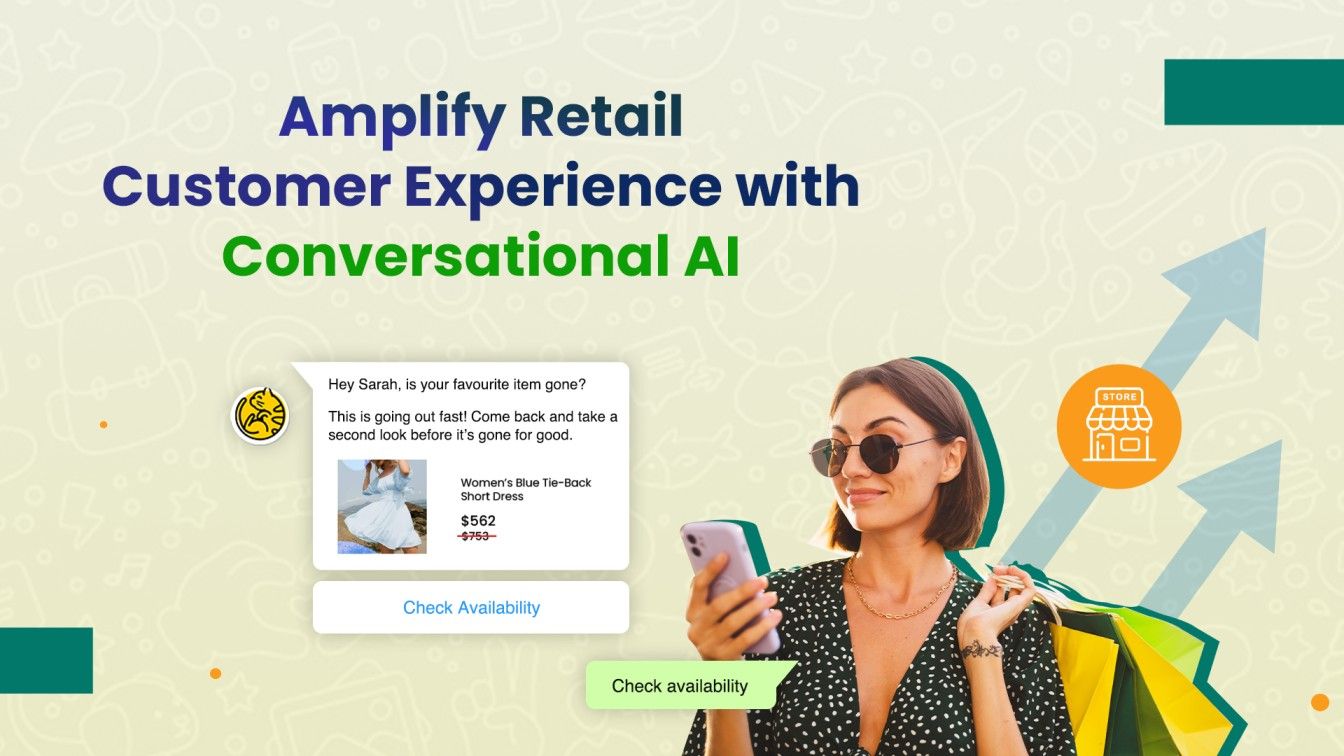 The Robot uprising has finally begun. As of 2022, PwC reports that 76 percent of business leaders have implemented widespread or limited adoption of artificial intelligence into their company operations, and this number only appears to continue growing, based on market estimates.
Whether it's daily necessities or luxury items, customers want convenience while shopping. Hence, retailers need to cater to the changing customer needs and offer meaningful shopping experiences. To deliver an exceptional retail customer experience, brands need to reevaluate their loyalty programs and analyze their marketing and advertising efforts.
What is Retail Customer Experience?
Retail customer experience can be defined as customers' entire experience from the discovery stage to the loyalty stage with a retail brand. This experience can occur either online, offline, or both. As customer journeys have become non linear, retailers need to review how they are catering to changing customer demands. The dynamic changes in the retail industry have led retailers to prioritize customer experience and ensure consistency across all touchpoints.
How can Conversational Bots improve Customer Experience?
Whether the customer is shopping offline or online, it is crucial for the retailer to ensure a seamless journey across channels. With customers wanting to pay more convenience, the use of conversational bots is rapidly rising. In addition, brands can cater to their customers better due to the ability to collect data.
Customer support: Conversational bots are a great way to power your customer support efforts. A customer having any query or complaint, can raise a request and get help instantly. In fact, 71% of customers already expect brands to offer customer support over messaging channels — improve your user experience by meeting an existing customer desire. They can also handle multiple conversations at the same time and respond to them in real-time.
Lead generation: Conversations are a great way to build relationships and deliver exceptional customer experiences. AI chatbots are easily capable of understanding customer needs and delivering exactly what they are looking for. Hence, the bot can improve customer experience by collecting information on potential leads and nurturing them to complete the action. For instance, a customer asked whether a dress is available in size S to the conversational bot. The bot can conversationally try and understand what the customer needs and cater to their queries accordingly. The bot can ask what color they are looking for, and what is the occasion and recommend products accordingly.
Personalization: Personalization plays a major role in revolutionizing customer experience. In fact, a Mckinsey Report said that 71 percent of consumers expect companies to deliver personalized interactions. Chatbots can tailor a conversation based on what a customer is actually looking for. You can personalize interactions based on the buyer's journey, taste, preferences, buying behavior, and more to ensure a seamless experience.
How Retail Companies are using AI?
The retail industry has taken a drastic turn, thanks to advanced data and predictive analytics that are helping these companies take data-driven decisions. AI in retail has empowered businesses to deliver exceptional customer experiences and improve customer retention. In fact, it is estimated that $40 billion of additional revenue was driven by AI in retail in a 3-year span.
These data-driven retail experiences have heightened customer expectations. Modern consumers prefer speed, convenience, and consistency. All of these expectations can be met using AI-based chatbots. From product discovery to product purchase, all of it can be handled by conversational AI bots. For instance, for customers looking to gain confidence in a purchase decision, automated assistants can help browse and narrow down options for customers. It can recommend products based on their needs, preferences, and purchase history, and add items to the cart. It can even go one step further and help the customer complete the purchase on the go.
A great example of AI in retail is the popular makeup brand, Sephora. You can step into the Sephora store to find the makeup that suits you without putting anything on your face. The COLOR IQ scans the customer's face and gives personalized recommendations for foundations and concealer shades that suit the customer's skin tone. LIPIQ does the same with finding lipstick shades based on the customer's skin tone.
Connected Retail is the new trend
"It's an exciting time for consumers and retailers alike. Connected Retail technologies will not only make for a vastly improved shopping experience for customers but retailers and suppliers who embrace and implement them effectively will see a significant boost to their bottom line. In this sense it's a genuine win-win situation," says Corniel van Niekerk, Senior Manager at Deloitte.
The connected retail market was valued at USD 27.84 billion in 2020 and is expected to reach USD 78.21 billion by 2026, registering a CAGR of 18.43% during the forecast period (2021 - 2026). The wave of innovation has paved the way for consumers to have a far more productive and pleasant experience at retail stores. Shopping is more gratifying when there are shorter shopping queues, a wide selection of goods, personalized and relevant offers, and the ability to get out-of-stock items home-delivered.
For instance, a customer may have a dinner party coming up and get a discount voucher on an ingredient they had bookmarked on the app. Once the customer visits the store, the personalized experience continues as the customer starts to add products to her cart, she immediately receives a recommendation on the best wine that will pair with the recipe she is about to make for her house guests.
In addition, technology allows retailers to monitor customer flows and allocate resources to ease the purchase process. Retailers are now going big on self-service checkouts to give shoppers an easier and more seamless option to complete checkout.
"The coming Connected Retail revolution will combine the best aspects of the online and bricks and mortar shopping experience, making for happier, more loyal customers who spend more at the store," says Corniel.
An excellent example of connected retail is the popular sports chain retailer, Decathlon. The brand delivered an exceptional shopping experience by enabling customers to scan and pay or opt for buy online pick up in-store. Customers can self-checkout by scanning items added to the cart and pay via the mobile app or use the store kiosk to process transactions.
How to use WhatsApp in Retail?
The abrupt shifts due to the pandemic have led retailers to opt for other ways to serve customers. In order to adapt to the changing needs of consumers, retailers need to rethink their omnichannel offerings. And WhatsApp has paved the way for retailers to drive exceptional retail customer experience and boost revenue outcomes. Some of the ways retailers can use WhatsApp are as follows:
#1. Promotional messages
It is a great way to engage with customers. However, the best way to write promotional messages is to personalize the messages based on user behavior. You can send WhatsApp promotional messages on deals, new collection launches, and more.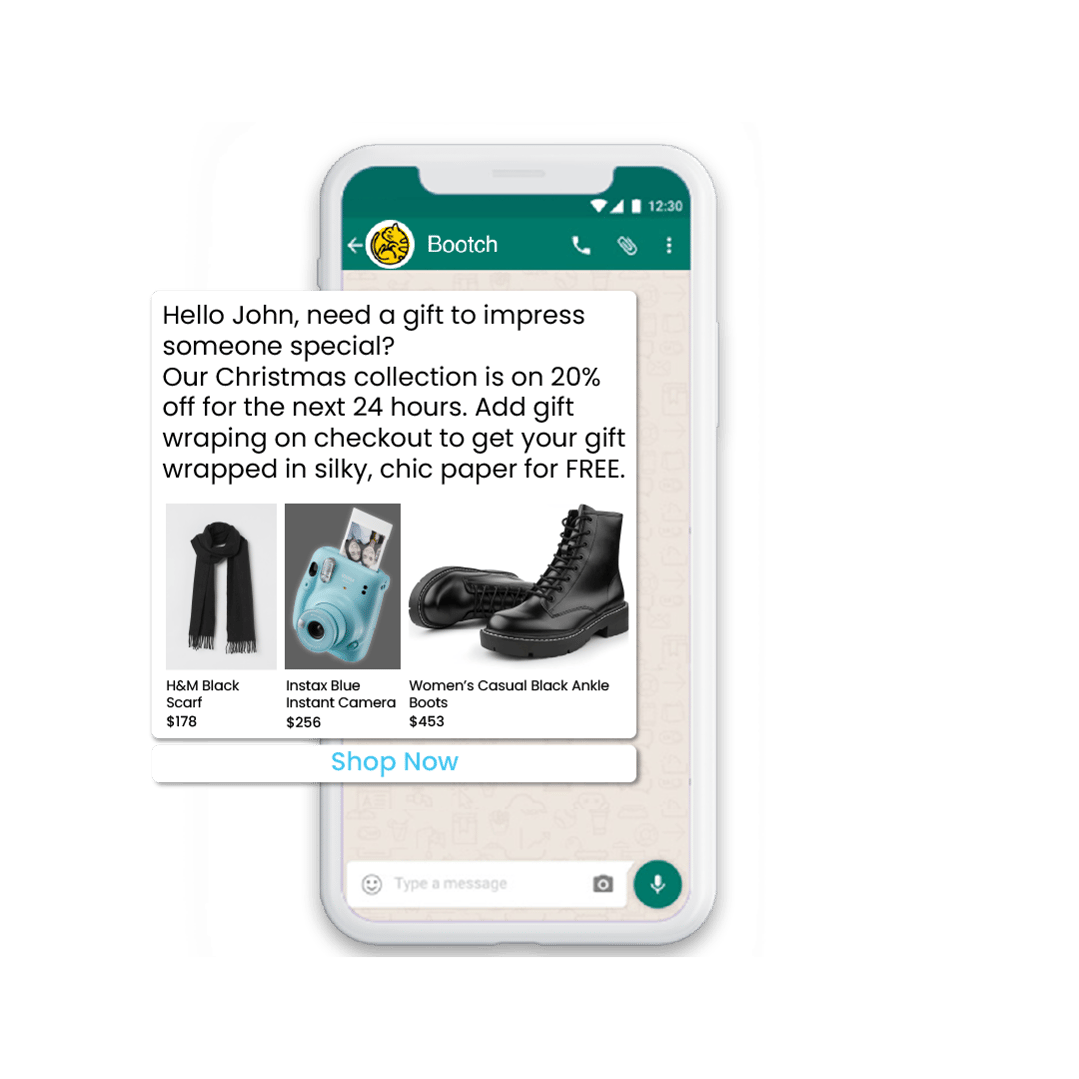 #2. Hyper-local shopping experience
You can now leverage WhatsApp to help shoppers book appointments at their nearest store. Shoppers can discover, engage and shop products and can opt for buy online pick in-store, same-day delivery. WhatsApp can also help shoppers find their favorite brand's nearest stores. This allows retailers to increase footfall by connecting digital shoppers to your retail stores. A great example of this is Sephora. Sephora leveraged conversational commerce on messenger to help customers book a consultation appointment at their nearby store.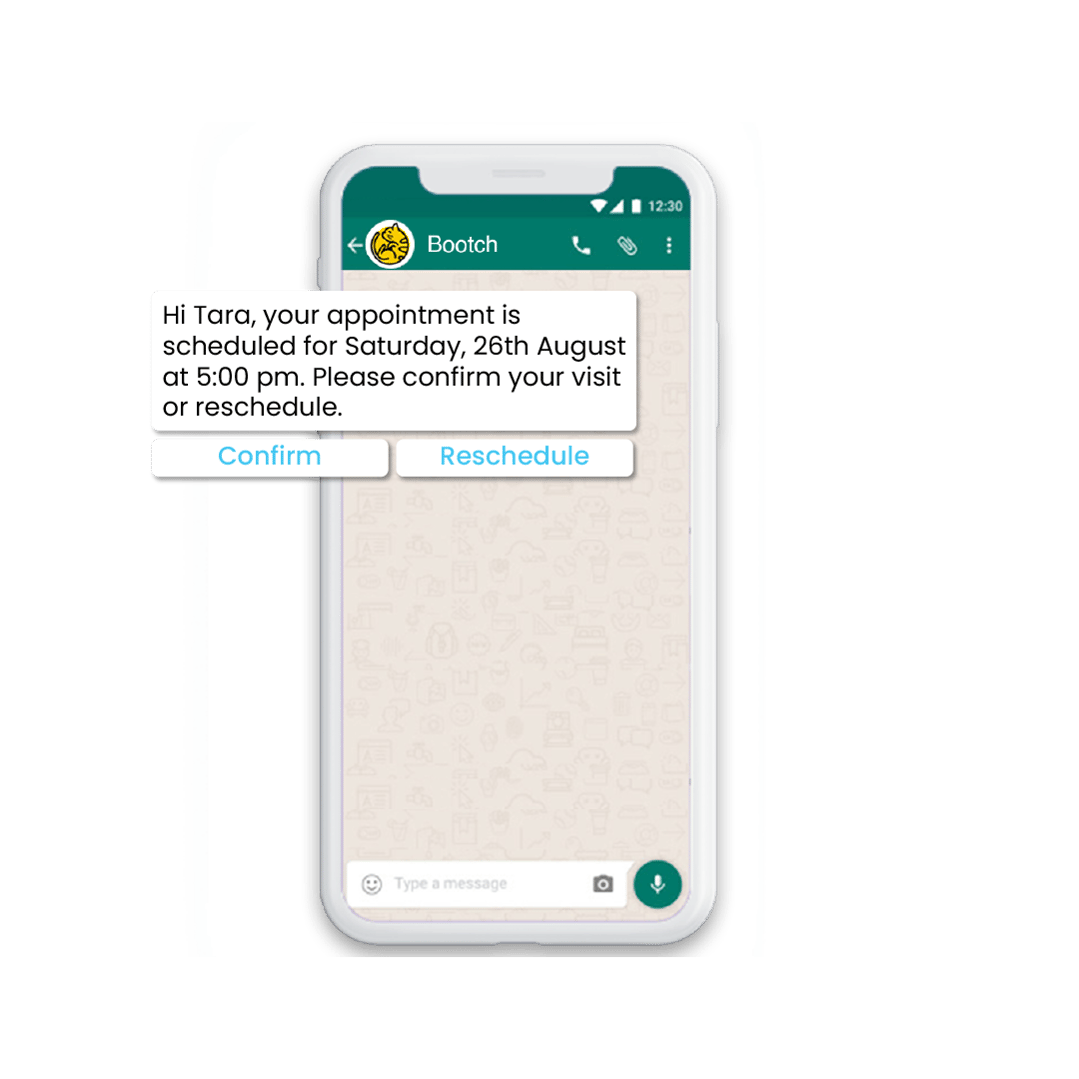 #3. Loyalty programs
Research found that loyalty programs can boost revenue from customers who redeem points by 15 to 25 percent annually, by increasing their purchase frequency or basket size, or both. WhatsApp's ability to drive meaningful conversations is what can help power loyalty among your customers. Engaging with frequent shoppers with offers, deals, and discounts can go a long way in fostering meaningful relationships and driving customer loyalty on WhatsApp. You can run a loyalty program that allows customers to check their loyalty points, how they can sign up, get early access alerts, and more.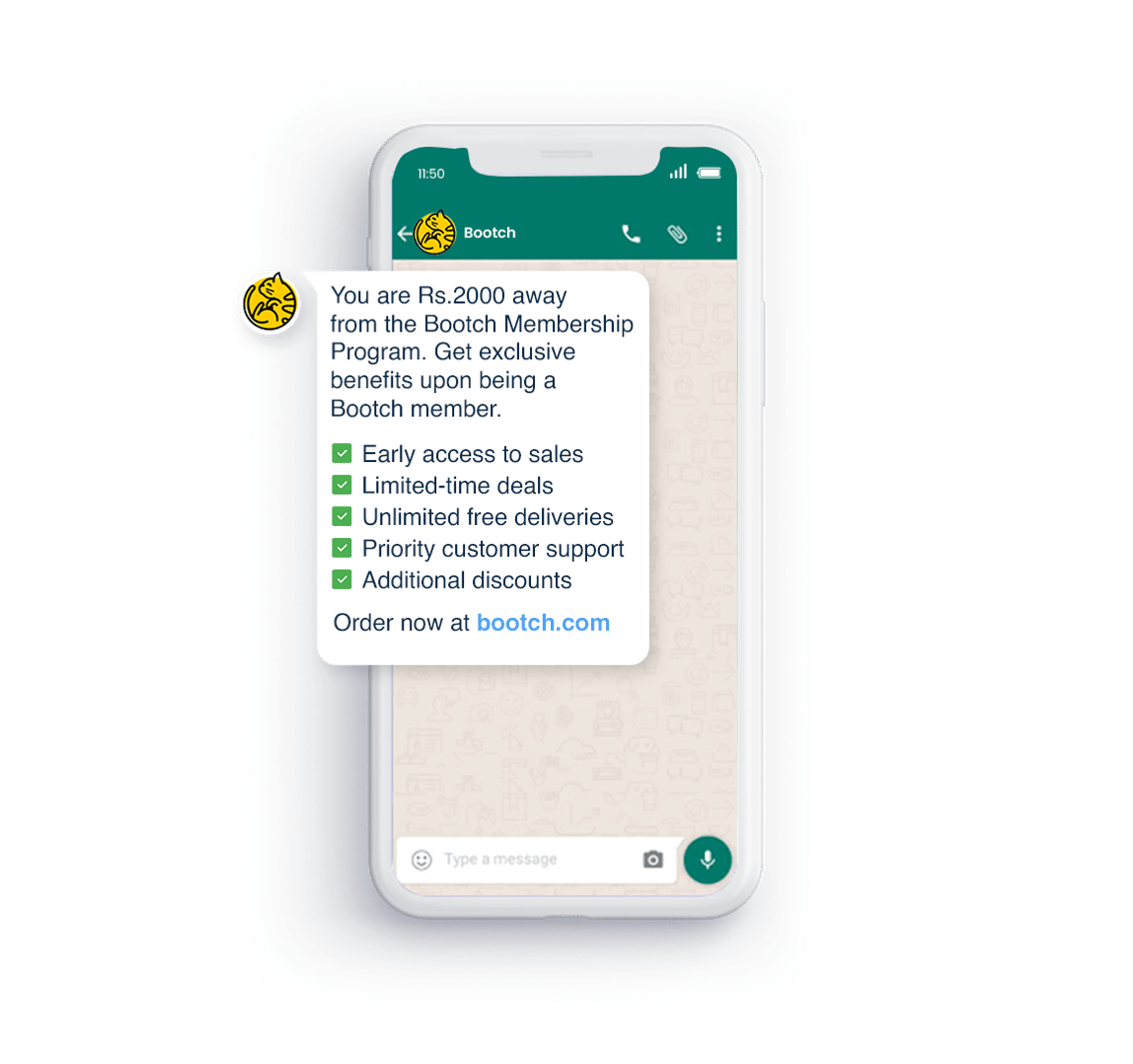 #4. Order and delivery updates
A great way to leverage WhatsApp for retail is to send order and delivery information. Customers can initiate conversations to track their delivery or businesses can use WhatsApp template messages to send order and shipping confirmations.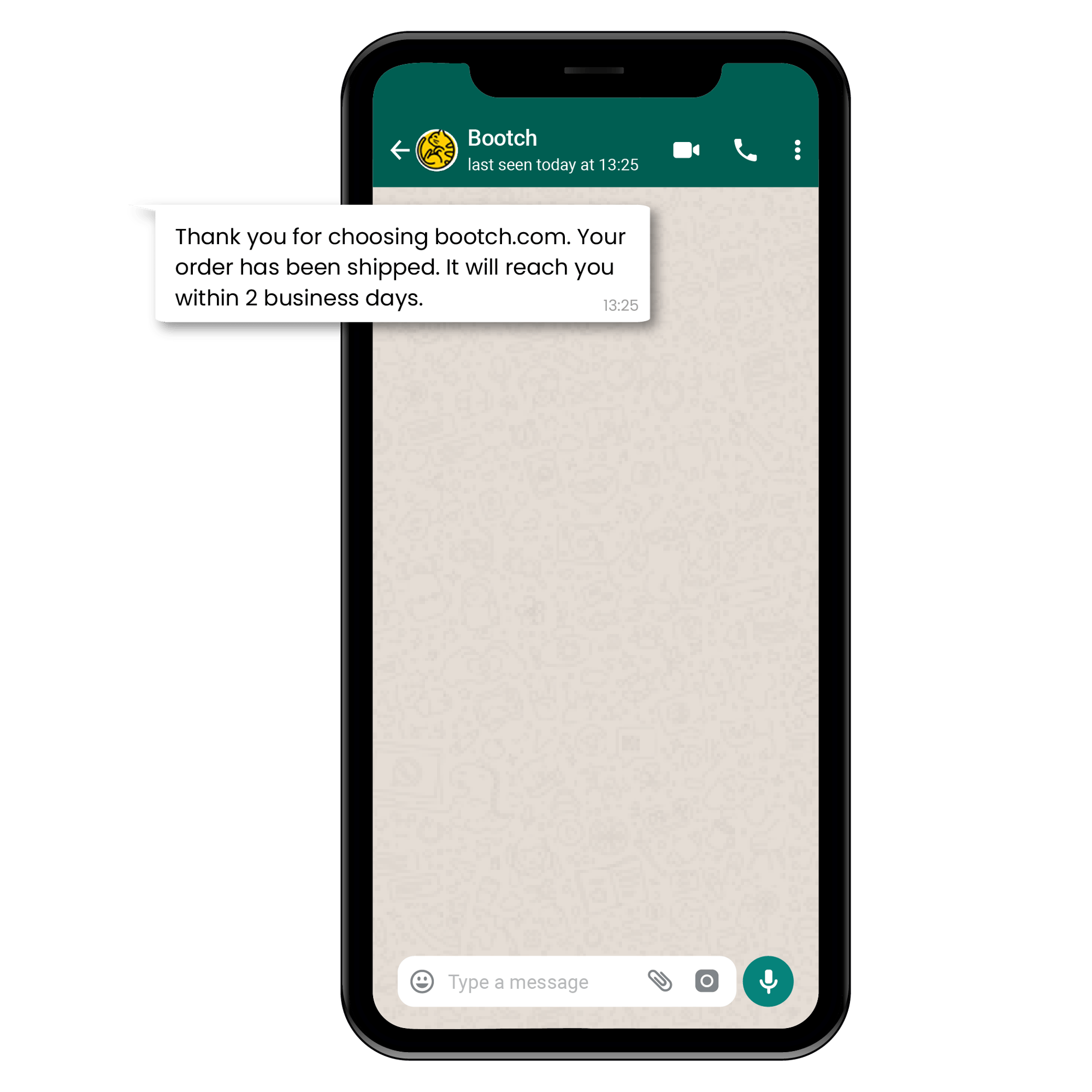 #5. Cart Recovery
An exceptional retail customer experience also requires brands to send targeted messages to shoppers who have shown interest. With WhatsApp, you can send abandoned cart alerts to re-engage with shoppers. You can also offer discounts and deals to incentivize the customer to complete the purchase.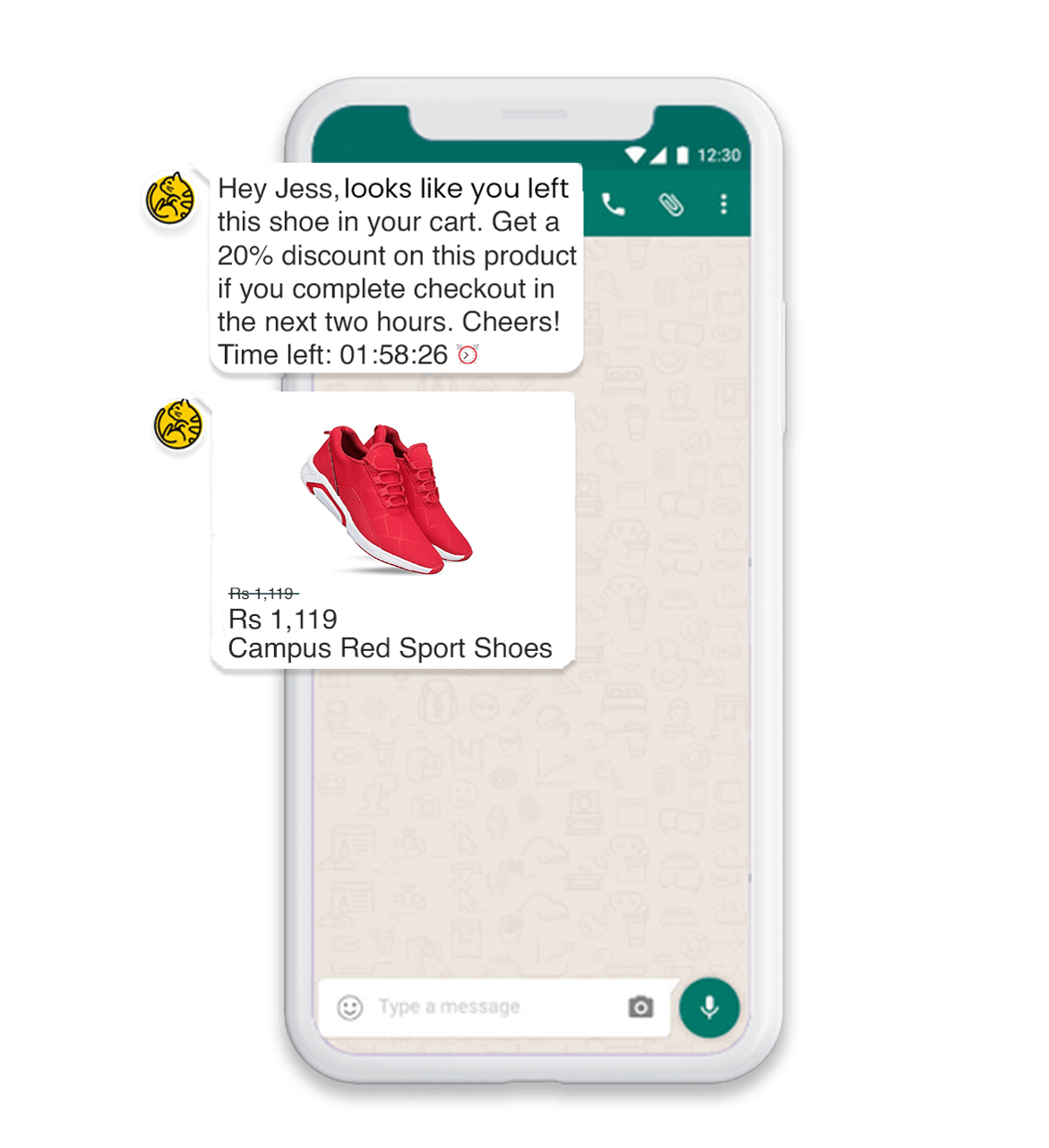 Innovation in Retail
The changing consumer behaviors have made brands rethink retail. Customers are now open to trying new omnichannel models such as buy online, pick up in store (BOPIS) which grew 28 percent year-over-year in February compared with 18 percent in January, and grocery delivery being up by 57 percent. Hence, retailers must rethink and build more resilience in customer experience by expanding their digital presence. Ready to deliver an exceptional retail experience on WhatsApp? Book your demo with Vizury today.