Customer Retention
7 Ways to Reduce Churn with Marketing Automation
Learn how you can reduce churn with marketing automation. Analyze why your customers are churning by understanding the customer's journey and their experiences while interacting with your brand.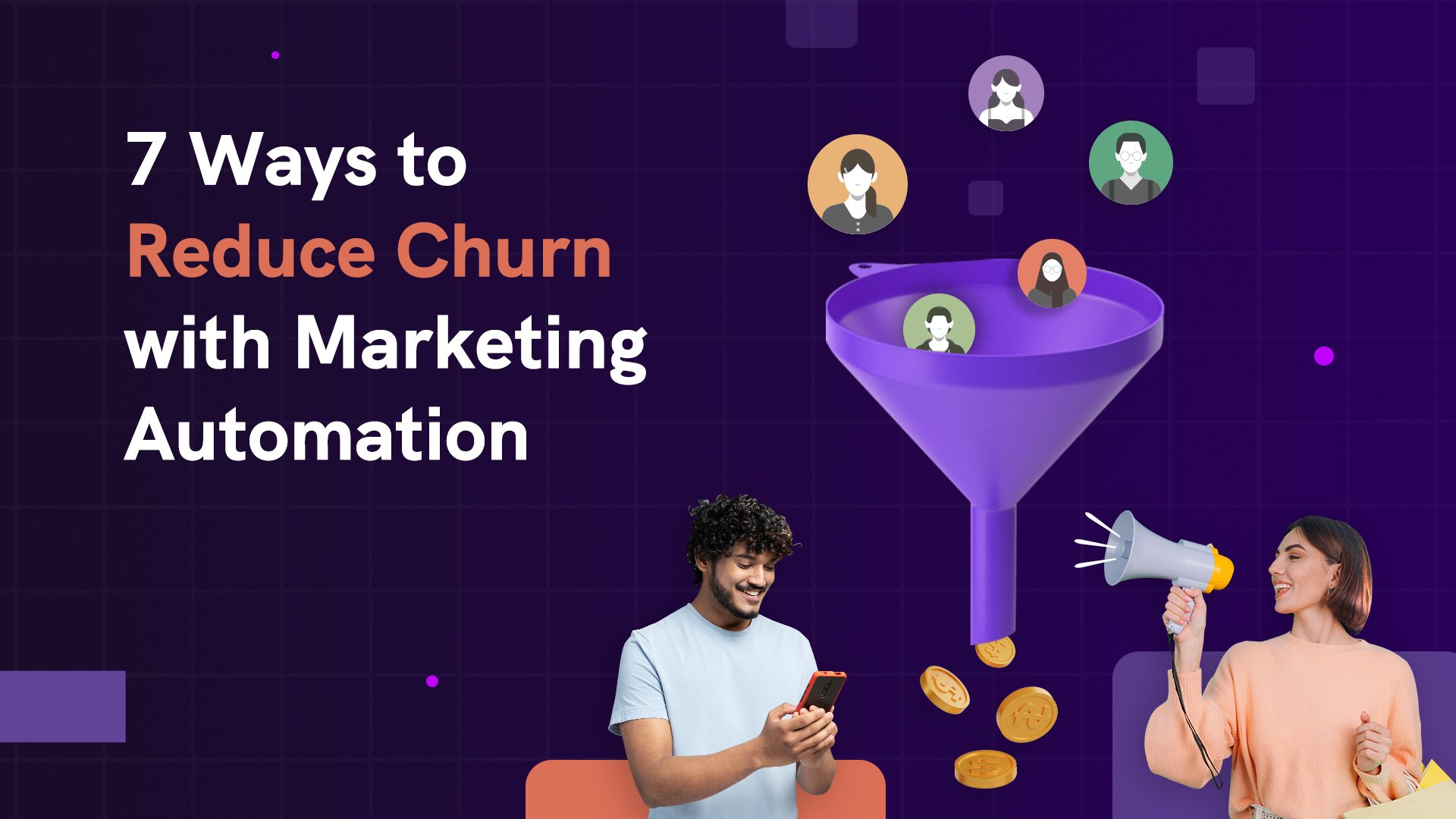 Are you looking to review your customer retention efforts?
With companies losing $1.6 trillion per year due to customer churn, the first step is to select the best customer retention software that can help you reduce customer churn with marketing automation.

Customer retention software is an invaluable tool that can be used to streamline and manage customer relationships and provide insights to help you make more informed decisions. With the right customer retention software, you can transform your business and create a more successful customer experience.

In this article, we will learn how to reduce customer churn with marketing automation.
What is Customer Churn?
Customer churn occurs when a customer decides to stop using a brand's products or services. This could occur due to multiple reasons such as poor quality products, bad customer service, lack of a seamless customer experience, etc. However, with churn analysis, brands can understand the key factors that led the customer to churn. For instance, a customer who gave an NPS of 7 after their latest purchase may have an increased possibility of churning.

To analyze why your customers are churning, you need to start understanding the customer's journey and their experiences while interacting with your brand. You can begin with setting up relational feedback requests that can help assess and diagnose the level of customer satisfaction.
Is Customer Churn a KPI?
Yes, customer churn rate is one of the most important customer retention metrics to measure customer attrition. Measuring this KPI also helps to understand where your brand is going wrong and take necessary action to ensure that you retain your customers.

To measure customer churn rate, divide the total number of churned customers over a specific period by the number of customers you had at the beginning of the specified period.

Customer churn rate = customers at the beginning of the period - customers at the end of the period/ customers at the beginning of the period.
How to Reduce Churn with Marketing Automation?
Marketing automation helps businesses track customer behaviors, preferences, and trends. It can then be further used to create more targeted and effective campaigns that help in customer retention.


#1. Identify high-risk customers
Reducing customer churn is an important goal for any business. Fortunately, marketing automation can help achieve this goal. By automating your customer retention marketing processes, you can stay in touch with customers, build strong relationships, and ultimately reduce customer churn. In addition, businesses can track customer behavior and spot potential churn signs. This helps to identify customers who are at risk of leaving and take action to prevent it.
#2. Proactive communication
Proactive communication techniques can be defined as a way through which a brand can actively communicate with customers about important information, and offers and build a relationship.
It demonstrates that you are invested in understanding and serving your customers. However, it should be kept in mind that any form of communication must be relevant and personalized. For instance, if a customer signed up for your newsletter to avail a discount and hasn't made a purchase yet, you can send a friendly nudge to incentivize them to make a purchase.


#3. Customer feedback
If you don't know how your customers think and feel about your product or service, it's impossible to serve them right. Brands need to have a clear understanding of what their customers expect and take necessary measures to meet them. Churn rates will decrease with time when marketers can find the root cause of this problem and fix it before they lose another one. A great way to reduce customer churn with marketing automation is to automate feedback forms after a specific action is performed by a customer such as after a purchase, a month after a purchase etc. These feedbacks will ultimately help your brand understand your customers better and cater to their needs in the best way possible.
#4. Milestones and incentives
We all love a reason to stick around. The same is for our customers. Give your customers a reason to continue doing business with you such as a loyalty program, a discount coupon, etc. You can also incentivize them to keep coming back to your store by introducing milestone achievements wherein if a customer spends x they get a 50% discount.

However, it is crucial to determine which customers should be receiving these offers. One of the factors to consider is the customer's timeline. For instance, if a customer is at the end of their membership tenure, offering a discount coupon on their renewal just might be the final nudge they were hoping for.

Dropbox has successfully implemented a program that allows users to get extra space for referrals. With the referral program, Dropbox was able to increase its signups by 60%.
#5. Thank and appreciate your customers
Appreciation is a powerful tool to avoid customer churn. It is crucial for brands to demonstrate how much they value their customers. For instance, you can repost customer tags on social media. You can also actively send alerts appreciating their business with you over the years. Here's an example wherein the brand is showing appreciation to its customer on WhatsApp.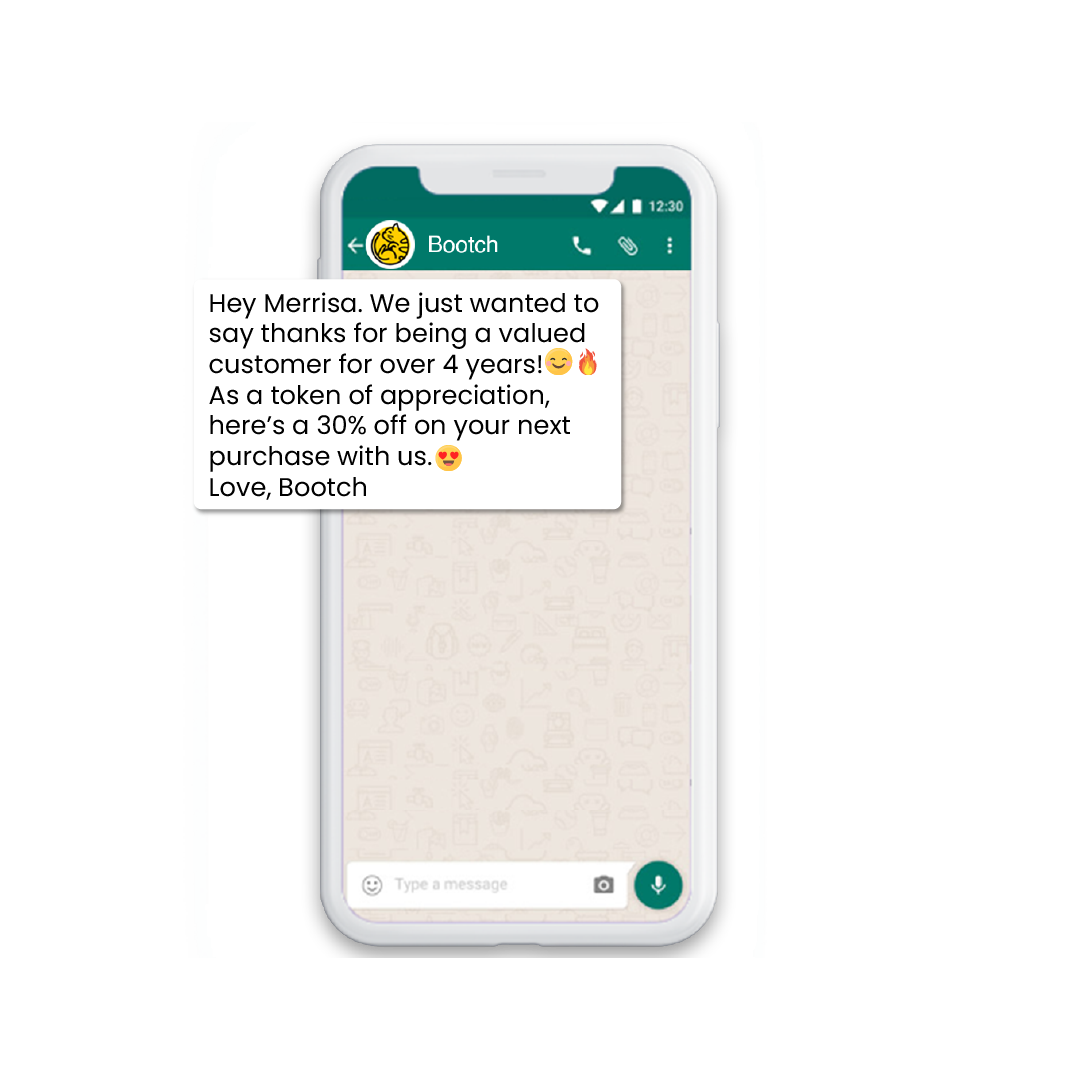 #6. Segmentation
Segmenting users based on location, demography or buying behavior can help brands target customers effectively. Power-targeted conversations to keep your customers from leaving. Leverage data to create unique customer profiles and segment similar profiles to hyper-personalize your conversations. For instance, if a customer receives a recommendation alert based on their recent purchase, they are more likely to browse through and opt to purchase.


#7. Personalized WhatsApp promotional messages
Personalized messages have become an important tool to power meaningful conversations that convert. 80% of Consumers are more likely to purchase from a brand that sends personalized offers. Sending WhatsApp promotional messages can help your brand incentivize customers to interact and purchase from your store. You can also leverage WhatsApp messages to conversationally understand your customers and deliver what they are looking for.


Conclusion
Marketing automation is an important tool for modern marketing teams. When executed properly, it can help you increase revenue, improve customer retention rates, and strategize efficient marketing campaigns. Ready to improve your customer retention with marketing automation? Book your demo with Vizury today