Conversational Marketing
Top 9 Benefits of Conversational Marketing
Discover the top 9 benefits of conversational marketing including increased engagement, real-time communication, and improved lead generation.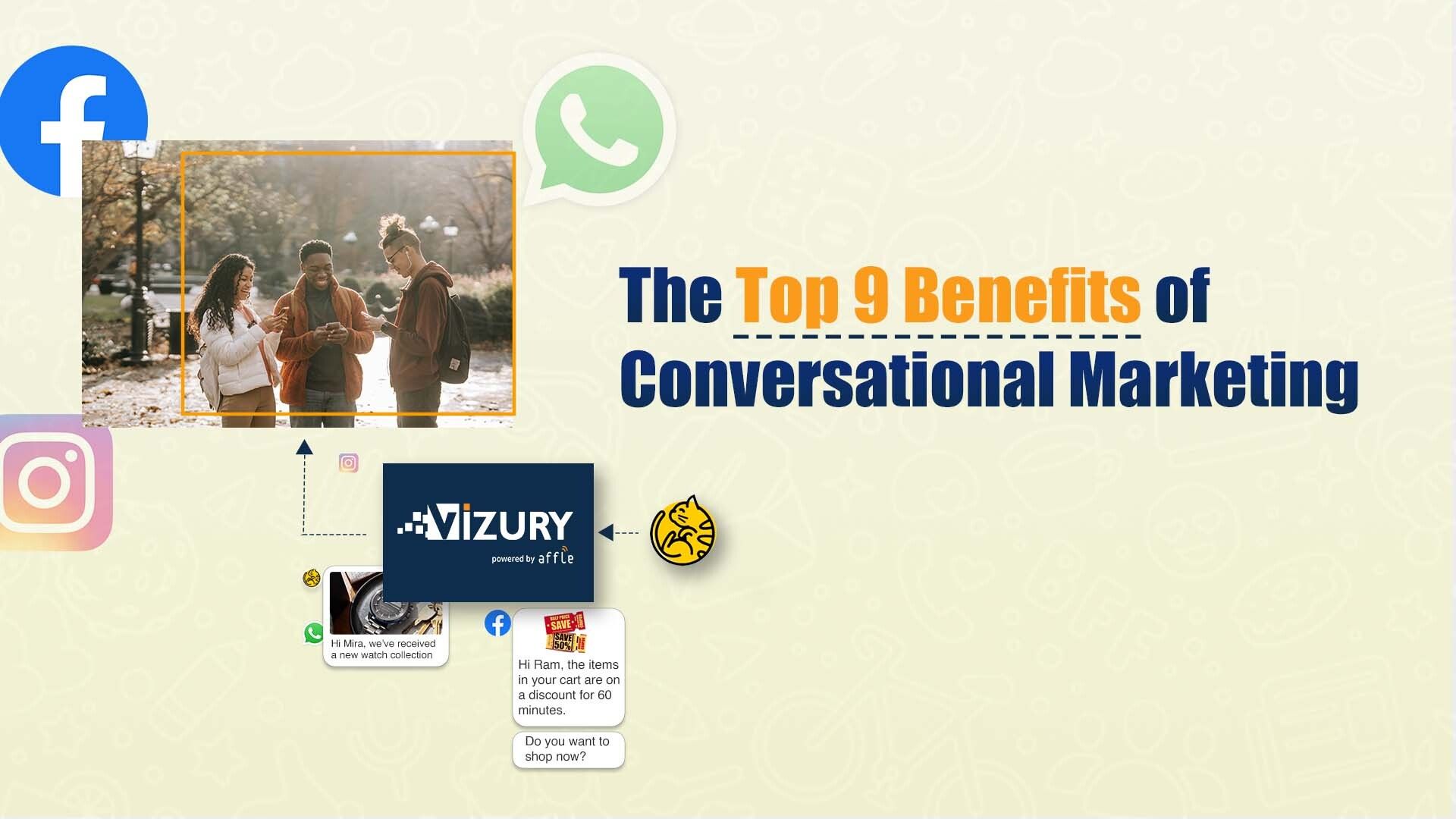 Conversations are key to building great relationships.😎
And it's no surprise that brands that build great relationships are the ones that stand out.
So how do we build great relationships?
How do we serve our customers better?
How do we ensure that your customers are satisfied?
Given that, did you know..71% of customers expect companies to communicate with them in real-time?
That's a number that cannot be overlooked.
This is where conversational marketing steps in.
It is one of the most effective and quickest ways to move your buyers through the funnel. So let's explore top 9 benefits on conversational marketing
What is Conversational Marketing?
Conversational marketing can be defined as having a one-to-one approach wherein brands communicate with customers via messaging channels to learn about their needs and create better shopping experiences. Brands that have been using this as their ally are becoming the market leaders of digital experience. This one-on-one marketing approach poses a lot of benefits. It helps brands build relationships and creates authentic experiences with shoppers
Three Main Components of Conversational Marketing
There are three main components of conversational marketing. They are as follows:
✅Begin conversation
The first component is initiating conversations with the customer. Customers want to be valued and conversations provide the opportunity to understand their wants.
✅Highlighting your message
Once you begin conversing, it is essential to package your words that highlight your brand's message. It should be simple and easy to understand.
✅Automation
Once you determine your message and how your brand wants to proceed with conversations, it can be automated. The key to effective communication is to send responses in real time. With conversational AI bots your brand can be available 24/7.
What are the Benefits of Conversational Marketing?
With this marketing approach, your customers can actually communicate about their wants and needs. Here are 9 amazing benefits:
#1: Know your customers
It goes without saying that conversations are a great way to have an insight into the person you are talking to. When the customer converses with your AI bot on messaging channels, it gathers information about their tastes and preferences, their shopping behavior, and more. These data points can be used to build a unique PII that helps personalize the shopper's experience.
Read also The Impact of Conversational Commerce on your Business
#2: Get more leads
One of the benefits of conversational marketing is that brands can generate more leads. Customers are less likely to engage with your brand if you are having them fill out forms. For instance, when your visitors click on the "download now" button or "book a demo" button, instead of filling out a form, your conversational bot can keep the conversation going and gradually move your potential lead through the funnel.
You can also send targeted messages to customers that are more likely to convert instead of waiting for them to initiate a conversation.
#3: Create a human-like buying experience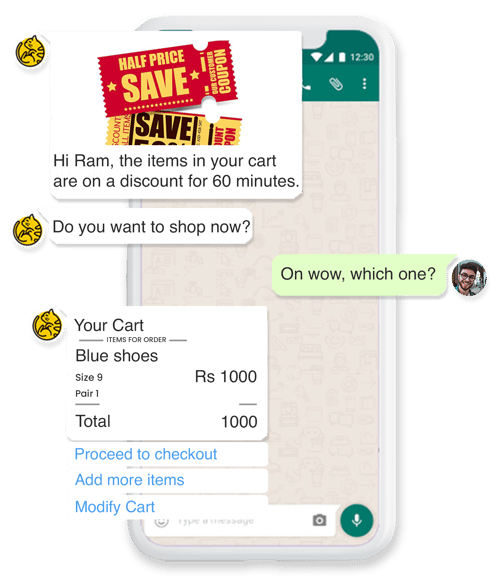 It allows brands to create a buying experience that's more human-like. Your website will not just be a generic catalog where the only way to greet customers is with lead forms.
One of the greatest benefits of conversational marketing is that your brand can actually say hello to your visitors and engage with them conversationally to assist them in what they are looking for.
For instance, a customer visits your website to look for a pair of joggers. Your bot can greet the customer, conversationally ask for what they are looking for and assist them with the correct pair of pants.
Once the customer finds their perfect pair, the bot can send a digital payment link directly on the messaging channel and allow the customer to complete the purchase on the go.
Some brands like Sephora have been using this method to help shoppers with their purchases. The bot acts as a personal stylist who gives recommendations to shoppers based on their preferences and concern. The bot acts as a store staff would by asking questions and delivering answers based on the responses.
Explore Vizury Commerce Bot Builder
#4: Shorten your sales cycle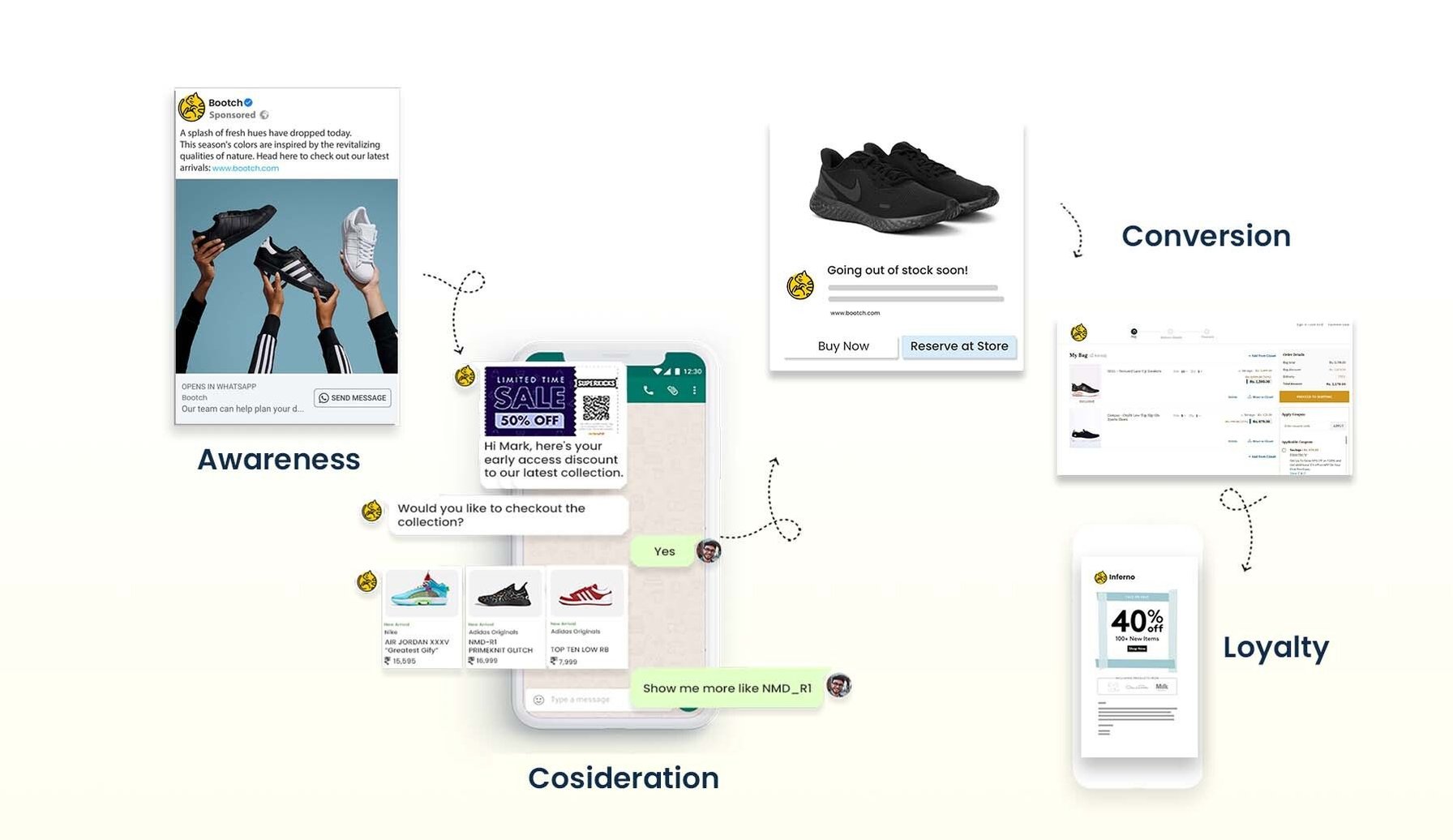 Leads generated from conversations tend to qualify faster than leads generated from traditional methods. Traditional methods require the sales rep to reach out to the lead and nurture them to make a sale. But with conversational marketing, your brand can actually level up your conversion game.
For instance, a shopper adds a product to the cart and drops off. Your bot can conversationally engage with the customer by sending a prompt highlighting that the products they left on the cart are on sale. This will incentivize the customer to revisit the cart and complete their purchase to avail the discount offered.
In this use case, the conversation can begin almost instantly wherein the bot can trigger an alert after the shopper drops off. It can also conversationally look for the reason why the shopper left and give your brand an opportunity to improve your shopper's experience.
#5: Be available 24/7
One of the best benefits of conversational AI is that your brand is available 24/7 for your customers. Most shoppers prefer contacting a brand when its convenient for them i.e after their work hours or maybe on weekends. Using a conversational AI bot will help your brand assist shoppers in real-time even if it's out of business hours.
#6: Build unique user personas
The data points collected from conversations can help your brand to build unique user personas. These conversations provide a window of opportunity to know your customers even better. The bot helps you analyze their wants, their purchase and browsing history, and more that can be used to give a unique shopping experience to every shopper that interacts with your brand.
#7: Collect customer feedback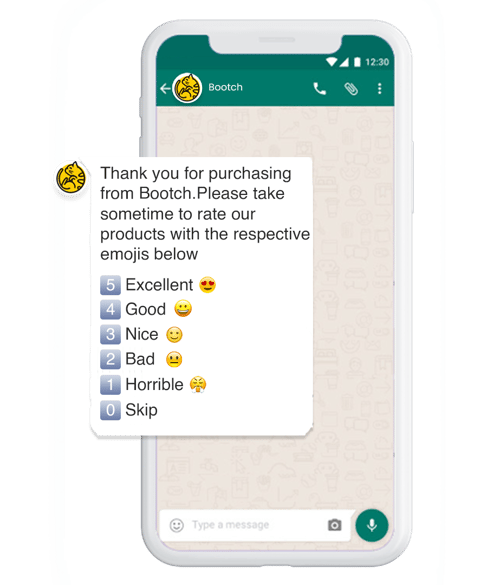 Without collecting feedback, it is not possible to ensure an excellent customer experience. Brands that focus on customer satisfaction and experience are found to grow 2x times than brands that don't. In fact, 86% of buyers are willing to pay more for a great customer experience.
Conversational AI allows brands to collect feedback from customers. This feedback can help you improve your customer experience and ultimately boost sales.
#8: Build customer relationships
A brand that knows its customers can go a long way in building excellent customer relationships. This tool allow brands to collect information about their customer's preferences to create a more meaningful and personalized experience. Conversations that are personalized foster more customer loyalty since it makes the customer feel that your brand knows them and values their business.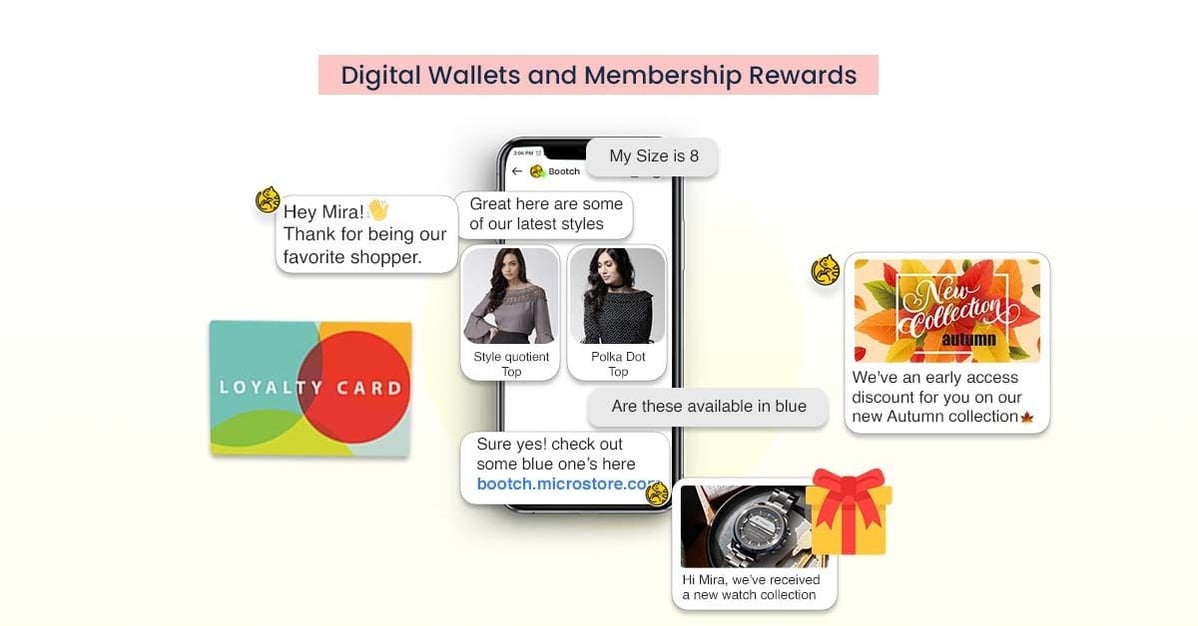 For instance, your AI bot can send personalized offers to shoppers who have spent a certain amount and incentivize them to enroll in your loyalty program. You can also offer certain benefits when they sign up such as access to your new collection first, more discounts, etc.
#9: Boost revenue and conversion rates
Although there are several types conversational marketing, one of the benefits is that your brand can boost revenue and conversion rates by just using conversations. A brand that is collecting feedback to improve customer experience and personalizing conversations using data is bound to boost its revenue outcomes. Real-time conversations are a great way to build a reputation since it emphasizes that your brand keeps customers first.
A conversational AI bot will ask specific questions that are unique to the customers and deliver quick and personalized responses based on the data collected. Hence, a customer-first approach helps brands guide the customer through the funnel to complete their purchase and ultimately boost revenue and conversion rates.
Pave your Way to Intelligent Conversations Now
Technology has made it easier for brands to sell without being available 24//7. The key to being successful is to automate conversations that are more personalized and data-driven. Brands that have a data-driven and customer-first approach are already reaping the benefits of brief, friendly and convenient exchange of messages with their customers.
Are you ready to have intelligent conversations with your customers? Book your demo with Vizury today.