Product Updates
Convert More Customers Without Spamming with Vizury for WhatsApp
Discover how you can engage with customers on WhatsApp without spamming using Vizury's latest features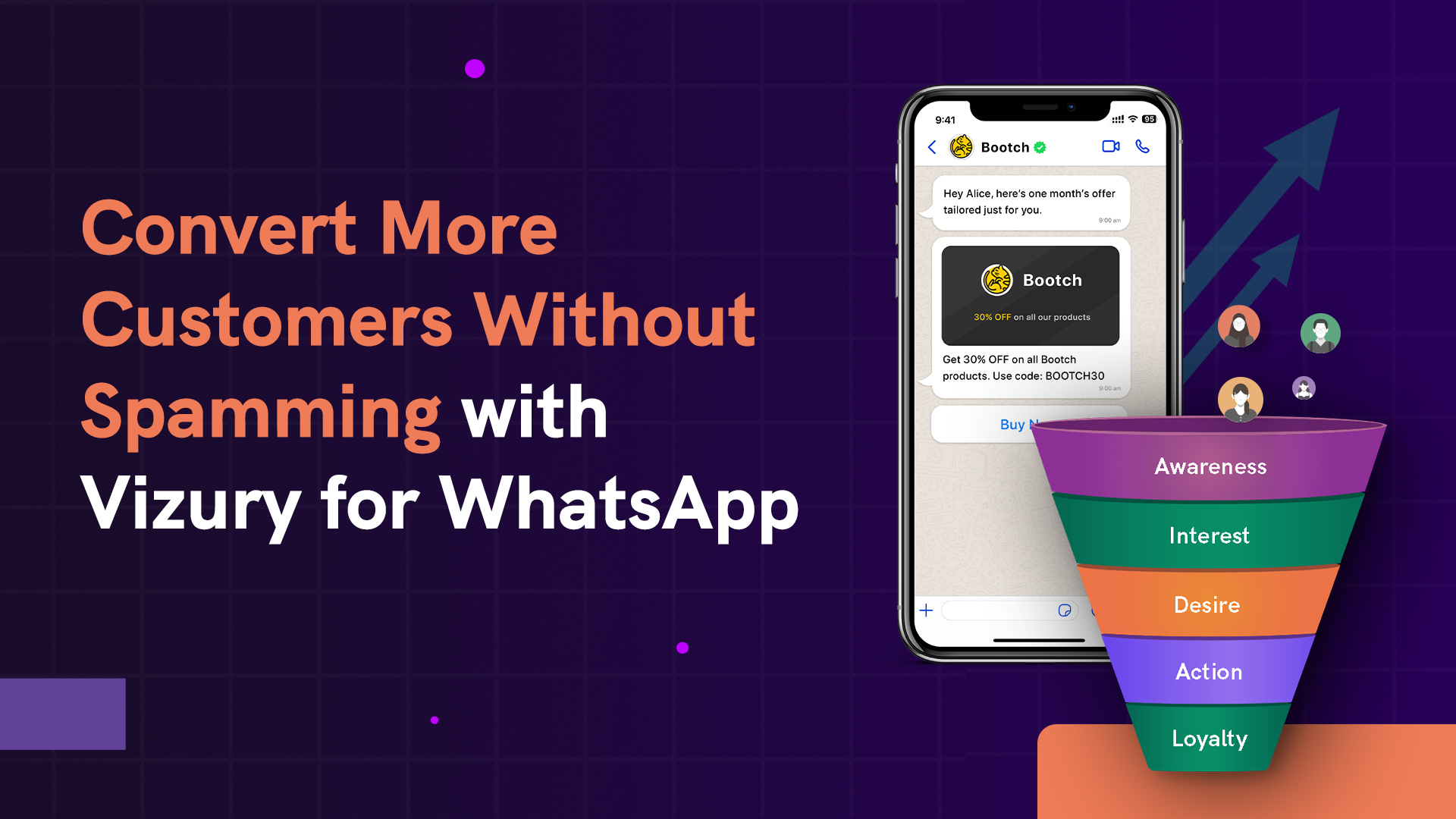 WhatsApp is a popular messaging app with over 2 billion users worldwide. It is used by people to communicate with friends, family, and colleagues. In recent years, WhatsApp has also become a popular channel for businesses to communicate with customers.
There are several benefits to using WhatsApp for business communication. First, WhatsApp is a very popular app, so businesses can be sure that their messages will be seen by a large number of people. Second, WhatsApp is a very convenient app, so customers can easily communicate with businesses without having to leave the app.
However, there are also some challenges to using WhatsApp for business communication. One challenge is that WhatsApp is a personal app, so businesses need to be careful not to send messages that are too promotional or spammy. It is not wise to let WhatsApp become the next SMS that consumers dread and hardly use except for transactional purposes.
Another challenge is that brands struggle to measure and track the impact WhatsApp as a channel can bring to you. Tracking the usual vanity metrics limits can help brands realize the true effectiveness of implementing WhatsApp campaigns due to lack of analytics available.
Despite the challenges, WhatsApp is a valuable tool for businesses that want to communicate with customers in a convenient and secure way. At Vizury, we have been solely focusing on WhatsApp as a channel and have built a marketing stack designed to help brands leverage the best out of WhatsApp.
Only send messages that are relevant to the customer
Vizury's engage360 tracks more than 50+ parameters across your brand touchpoints such as website, app. WhatsApp allows brands to understand the customer's current stage in the journey based on their browsing behavior enabling brands to pick up right where the customer left off and re-target them on WhatsApp to move them down the funnel. This ensures highly contextual and personalized customer engagements.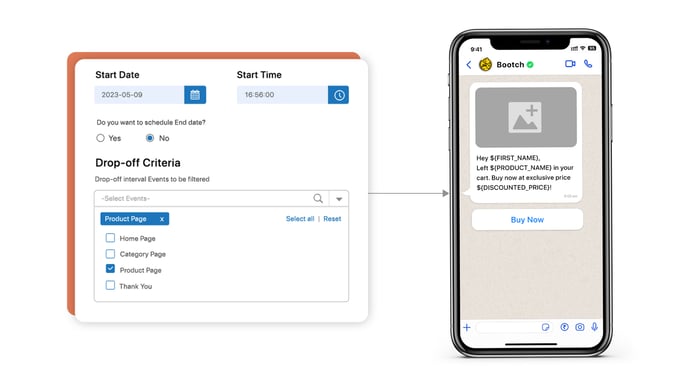 Target customers at the right time with personalized engagements
At any point through the customer journey on WhatsApp, you can also allow customers to opt-out from receiving communications.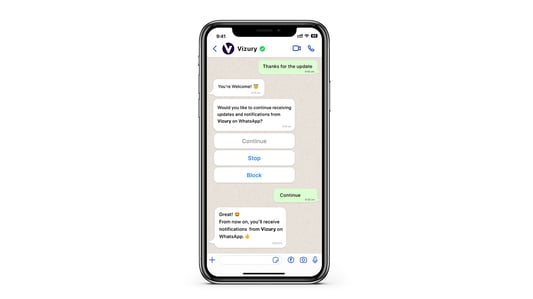 Collect WhatsApp opt-ins/outs proactively
Do not send too many messages
We have seen the fate of SMS as a channel. If there is a sale or festival around, brands don't even shy away from sending the same message multiple times in a day. Eventually, this resulted in SMS being the least engaging channel in today's digital world. With the boom of WhatsApp, we have seen brands deploying a similar strategy of bombarding consumers with promotional offers. Brands should deploy frequency capping for limiting the number of engagements that go out to consumers and deploy the right capping mechanism to the right kind of messages. For example - Time-sensitive alerts will not fall under this category.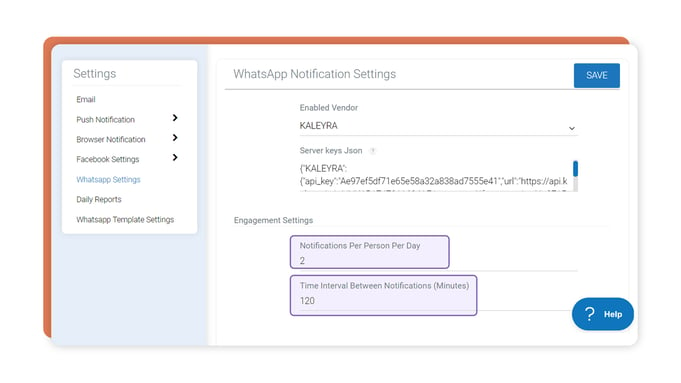 Set campaign level frequency settings
Use the right call to action
A crucial part of your retargeting depends on where do you send back your users to. Anywhere other than the required landing page is a waste of your marketing $$ and losing your customer due to bad customer experiences.
Brands should ensure that their re-targeting engagement takes the user back to the point they left off from, reducing the friction and moving the user towards conversion.
Optimize conversions with A/B testing



A/B testing plays a crucial role in enhancing the effectiveness of WhatsApp marketing strategies. By enabling you to experiment with two different variants of a marketing element, it provides valuable insights into customer preferences and behavior. For instance, a business can use A/B testing on various features like the content of the message, the timing of delivery, use of emojis, inclusion of multimedia, or different CTA buttons. The version that receives a better response in terms of customer engagement, such as click-through rates, conversion rates, or replies, would enable brands to achieve effective results.
Track the effectiveness of your campaigns
WhatsApp is a great channel to reach where your customers are since it provides instant touch of engagement and gratification. But it's also important for marketers to have visibility on how their WhatsApp marketing campaigns are performing not just on surface level, but how much conversion and revenue it's bringing in.
This is where Vizury's 360-degree analytics dashboard, tailored specifically for your business. This powerful tool offers a complete view of your full-funnel analytics, tracking how customers engage and convert throughout their journey. It is specifically designed to measure the impact of your campaigns. This dashboard gives you a clearer understanding of the true Return on Investment (ROI) of your WhatsApp marketing efforts. With our tool, brands can attribute conversions directly to their WhatsApp channel, illuminating the effectiveness and impact of their marketing campaigns in real-time.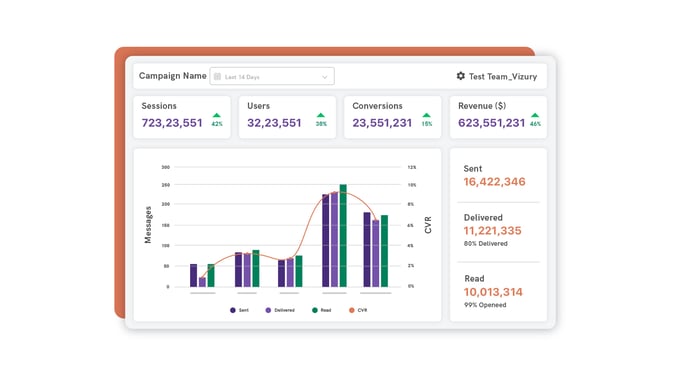 Realize true ROI of WhatsApp marketing campaigns
By incorporating the above, businesses can use WhatsApp to effectively communicate with customers and build relationships.
In addition to these best practices, businesses should also be aware of the new business pricing model that WhatsApp has announced. Read our comprehensive guide on the recent changes implemented by WhatsApp that aligns with our goal of delivering value-driven engagements to customers.
Say NO to SPAM, and a big YES to building meaningful customer relationships. Start now.