WhatsApp Marketing
5 Step Workflow to Improve D2C conversion rate with WhatsApp
A 5-step workflow to boost your D2C conversion rate and connect with customers with WhatsApp.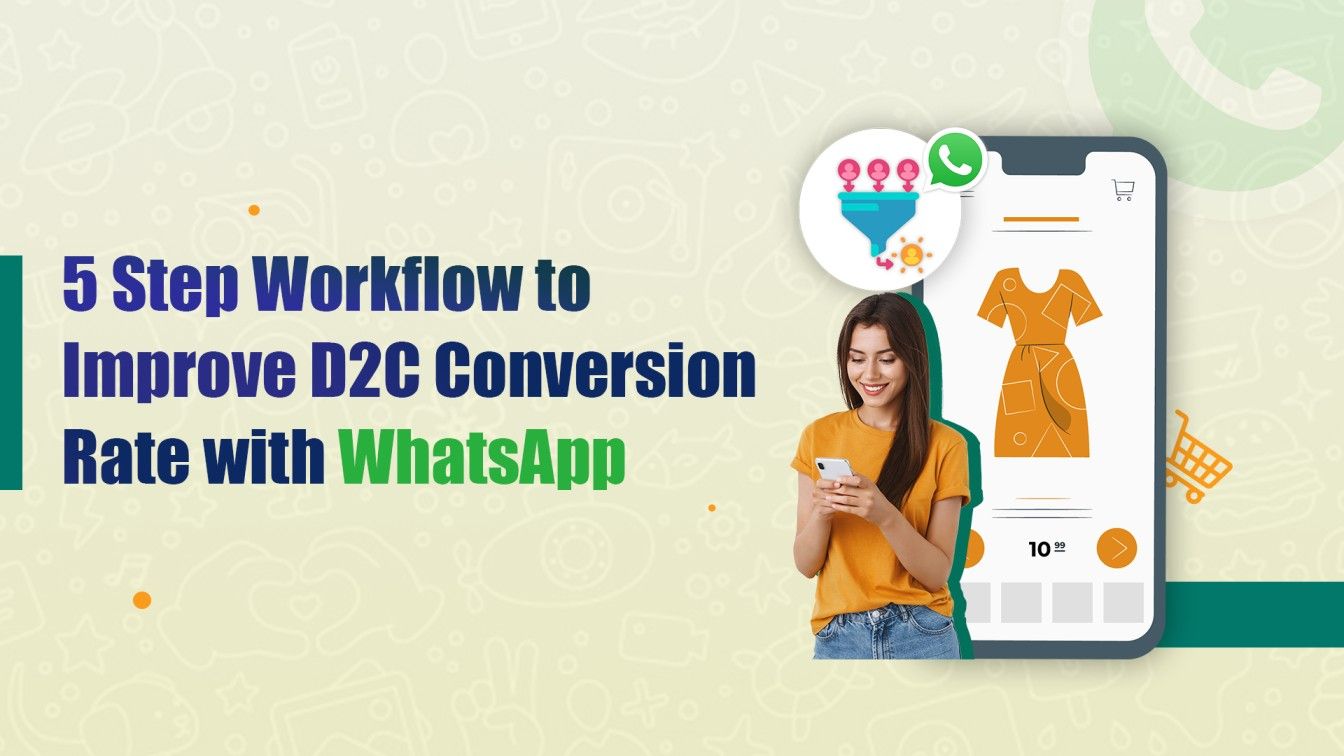 Picture this: your potential customer landed on an advertisement that redirects them to your website. But after browsing for a couple of minutes, they dropped off.
Although you notice an upward surge on website visitors, your conversion rates are not as you had hoped. With the rise in pay-per-click costs and increased competition, it is crucial to consider the importance of conversion rate optimization.
Understanding how your customers are interacting with your business can help your brand deliver better experiences that can ultimately maximize the number of conversions.
What is E-commerce Conversion Rate Optimization?
Ecommerce conversion rate optimization can be defined as the optimization of the shopping experience to drive conversions. An ecommerce conversion rate is the percentage of website visitors who have shopped from your ecommerce site.
An effective optimization allows one to analyze their site, address pain points and understand where visitors are dropping off. For instance, a customer purchased a product from your store. A great way to optimize their experience is to add product recommendations that complement their last purchase.
What are the Common Challenges for E-commerce Brands?
By 2040, it is estimated that 95% of purchases will be made online. However, the growth witnessed in digital commerce over the past decades poses a lot of challenges. Some of them can include:
High traffic, low conversions
A common challenge among ecommerce sites is high traffic yet low conversions. There may be several reasons from targeting the wrong segment to a poorly optimized site. Some of the notable reasons can include
✅Bad mobile experience
✅Poor navigation
✅Poor product images
✅Unclear call to action
In order to ensure that your visitors convert, it is essential to optimize your visitor's experience and to keep your customer engaged from the first click to the last one. When you have a bottom-of-the-funnel approach, you will attract traffic that is more interested in your product and thus, is more likely to convert. To target your ideal customers, you need to strategize and segment your audience based on interests. You can do this by collecting user information and targeting customers based on their behaviors and interests.
Low repeat sales
The best customers are the ones that keep coming back. But how do you keep customers coming back? Once a customer is acquired, it is essential to nurture that relationship to convert them into loyal customers. However, it is also a common challenge for ecommerce marketers to keep their customers engaged. Modern consumers demand more, in terms of relevancy and convenience. Sending out promotional messages that are irrelevant to the consumer can result in low repeat sales. Hence, it is essential to strategize your marketing campaigns to continually engage with existing customers and incentivize them to buy from your store.
Broken Customer Experience
Customer experience plays a major role in the success of an e-commerce site. With the changing expectations of modern consumers, businesses must take necessary measures to address them. The most common challenges that e-commerce marketers face when it comes to cx is:
✅Understanding and meeting customer expectations
✅Ensuring a consistent experience across channels
A great customer experience begins with your customer. Hence, it is crucial to assess how your customers are interacting with your brand. A customer-centric approach can help you listen and understand your customers and deliver exceptional experiences based on the feedback. If done right, estimates suggest that customers are likely to spend 140% more after a positive experience.
How to Use WhatsApp to Increase Conversion Rates?
Brands are missing out on at least 25 - 30% of revenue from WhatsApp marketing campaigns because of low adoption. No matter where your customers are, WhatsApp is by far the most used app. Whether its browsing products or seeking customer support, WhatsApp has proven to be the most efficient channel for almost all use cases. Here are a few steps you need to follow to ace at improving conversion rates with WhatsApp
Step 1: Identify User Behavior
The first step to power meaningful conversations on WhatsApp is to identify and understand user behavior. Brands need to be aware how users are interacting with your product. How much time are they spending on the product/category page? Which page are they most interacting with? At what point did the user drop off?
It is crucial to track these actions to devise a strategic plan to help you increase your conversion rate.
Integrating Vizury's Engage360 (Customer 360) across your brand touchpoints from website/mobile applications to other messaging platforms allows you to have unified view of how your customers are engaging with your brand -

✅Website/App behavior
✅Category/Product page visited
✅Added to cart
✅Checkout page visited
✅Transaction behavior
✅First purchase made
✅Number of purchases done
✅Last purchase date
✅Intent
✅Frequency of visit
✅Amount of time spent
✅Payment page visited
Step 2: Capture first-party data with WhatsApp Opt ins
WhatsApp prioritizes its users and thus, requires brands to collect consent before sending any messages on WhatsApp. You can collect WhatsApp opt ins using multiple ways. If you want your existing customers to reach you on WhatsApp, the following methods can be used
✅Email blast
✅SMS blast
✅Website pop ups
✅Contact forms
✅Social media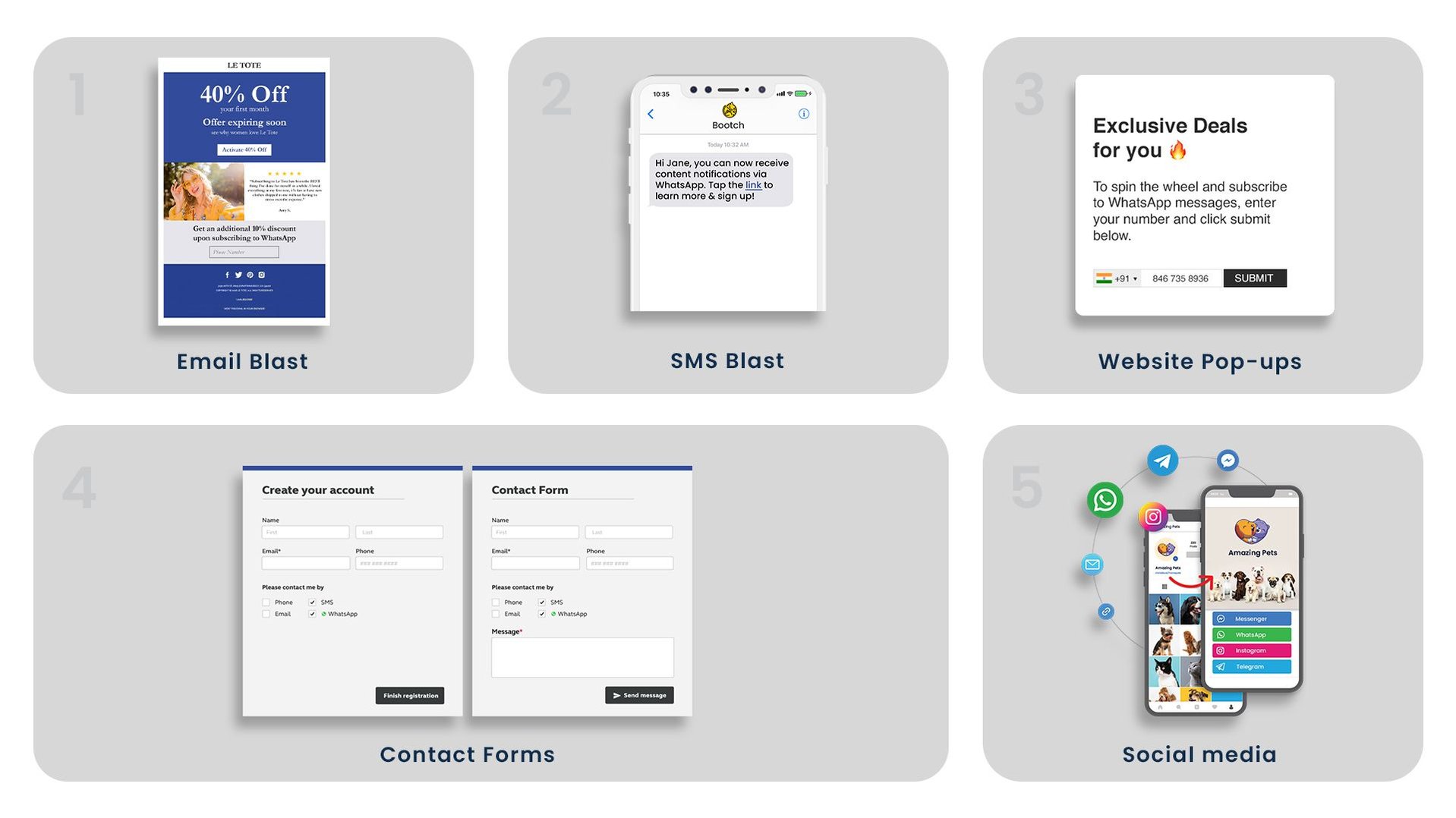 Vizury's Engage360 enables you to understand user intent and behavior, allowing you to launch dynamic on-site notification based on real-time actions/events such as exit event trigger, dropped off from cart's page. You can personalize on-site notifications to engage high-intent visitors' attention and nudge them to avail latest offers/discounts by capturing their mobile number with built-in WhatsApp opt-in.
There are other methods that you can leverage to drive your website traffic to your WhatsApp channel:

✅Click to WhatsApp Ads
✅Live chat
✅QR codes
✅Click to chat links
Step 3: Segment your Audience
Once you've collected the user's consent, its time to segment your audience. Create segments based on user behavior, preferences, demographics, purchase history and more.
Vizury's Engage360 captures user behavior across 50+ attributes allowing you to create hyper-targeted segments with high precision. This enables you to customize every customer's journey uniquely based on the past behavior and preferences.
Once the audience is segmented, you can pick up right where your customers left off on the website or application. For instance, if a customer completed a purchase a week back, you can take feedback and send recommendations based on the product they have purchased.
Step 4: Guide the Customer Through the Funnel
Once the customer opens your chat, it is essential to guide the customer through the funnel. For instance, in the previous example, the customer was sent a recommendation based on their purchase history. If the customer doesn't respond, you can send an interactive video that showcases how the product can be used and add buttons for the customer to respond.
Step 5: Complete Transaction
After the customer understands how to use the product, its time to nudge the customer to make the final purchase decision. If the customer browses and drops off mid conversation, you can incentivize them with offers and discounts to complete the purchase. For instance, offering a limited period offer on the recommended product.
How is Vizury's Solution Different?
Our proprietary technology, Engage 360, is designed to integrate seamlessly with your existing tools and vendors to have one view of the entire funnel as customers navigate through different stages from product discovery to purchase.
Leveraging data-driven insights, you can launch seamless integrated journeys as customers navigate from website to WhatsApp and nudge them down the funnel to achieve faster conversion rates.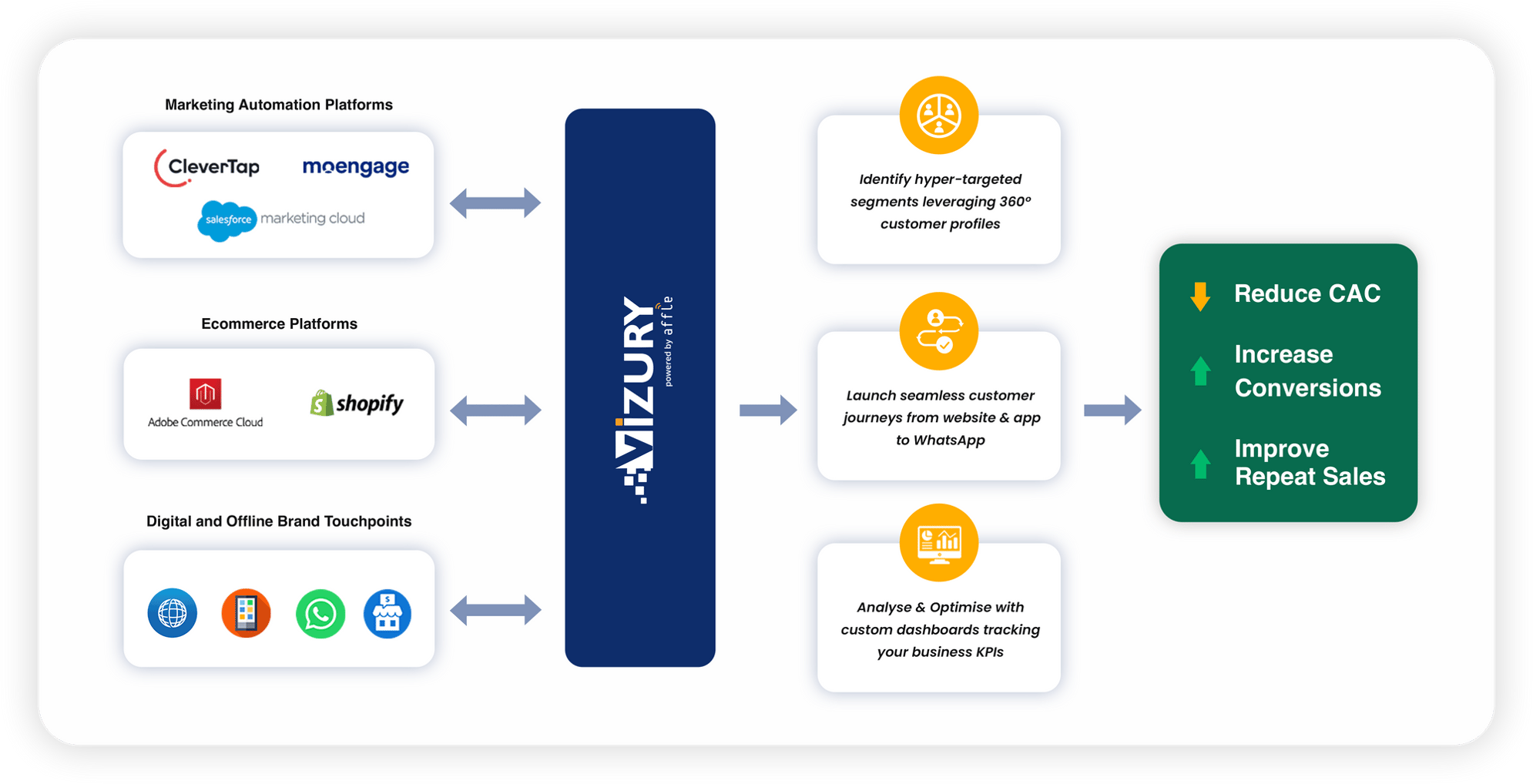 With WhatsApp as an emerging channel with potential to fulfill your brand's goals, we bring you industry expertise in effectively using WhatsApp as a revenue channel, then support.

Our 360 custom analytics tracks your marketing KPIs and are not limited to vanity metrics such as CTR, number of conversations, number of sessions. It gives you the right information to keep optimizing your campaigns for higher ROI.
Conclusion
An effective CRO strategy helps you get the most out of your website traffic. There may be several best practices when it comes to CRO, but the best way to devise the perfect one is to understand and experiment. Ready to increase your conversion rates? Book your demo with Vizury today.